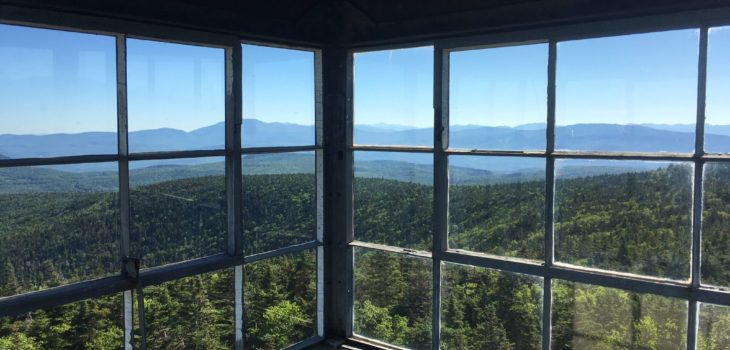 The summer solstice arrives which also happens to be Hike Naked Day. Afterwards I inch closer and closer to the daunting White Mountains. Enjoy reading my latest journal entry as I backpack the Appalachian Trail from Georgia to Maine. If you missed it, here are my previous entries and videos from the trail.
---
VIDEO
If you missed it in the last post, here's my latest video from the trail featuring my hike through the state of Vermont!
---
DAY 114
I woke up on the couch at Hal's apartment. He had been kind enough to let me stay at his home for the night. He drove me back to where I left the trail in downtown Hanover. There was a bakery called Lou's that gave hikers a free pastry. I took advantage of their offer.
I walked out of Hanover and into the woods. There was a bag of cookies tacked to a tree with a note saying it was courtesy of Trademark, a thru-hiker heading north. I ate some cookies and headed on.
It was the first day of a summer, the summer solstice, the longest day of the year, and Hike Naked Day. Apparently it is a hiker tradition that on June 21st many hikers choose to hike in the buff. I imagine most of them do so quickly and snap a picture for their Instagram and return to being modest.
I decided to indulge in the tradition. I waited until I was far enough away from Hanover, maybe a few miles and past any major road crossings. And so I stripped down and doused myself in bug spray. It was an incredibly freeing feeling to be out in nature wearing only my birthday suit. I hiked along, hanging my bandana over my hip belt for the bare minimum of censorship.
It was great hiking along, feeling the breeze, staying cool. The bugs seemed to stay away and the temperature was perfect. I came across a day hiker sitting in the woods. He looked up at me and simply said, "Oh, is it Hike Naked Day?" He knew what was up. Eventually I began the climb up Moose Mountain. I began to sweat and had to grab my bandana to wipe the sweat away constantly. At the summit I had a great view of New Hampshire. I used the timer on my phone to snap some pictures until an elderly hiker came from the north. He was a bit surprised at my lack of attire and I explained the holiday to him. He asked what women think when they see me. I told him he's only the second person I've seen. We chatted a bit about the trail and we parted ways.
Soon I arrived at the Moose Mountain Shelter. It was empty and I stopped for lunch. I had hiked naked for over two hours but decided to put my clothes back on. I was sweating away my bug spray and all the sweat was going to lead to some mad chaffing. It was fun and freeing while it lasted. There was also some interesting trail magic at the shelter in the form of candy bars, ibuprofen, and vodka. I left the latter for some underage hikers who would be much more excited for alcohol than I am.
I descended down the mountain before climbing an even steeper mountain. This one had a nice cliff at the top called Holt's Ledge. I met a hiker finishing his hike he started last year. His name was Slacks.
The finale to my day was an extremely long and steep climb up Smarts Mountain. The trail climbed up and up over huge rocks. The last two miles were nonstop climbing. At last I reached the summit. I had barely seen any hikers the whole day and was hoping the shelter would be empty. I was wrong and caught up with Trademark as well as a few others hikers I did not know. There was a fire tower and Trademark and I talked atop it while the wind howled.
I was waiting for the sunset on the longest day of the year. The 360° views from the fire tower were awe-striking. The mountains of New Hampshire surrounded us. The forest of conifers was beautiful; it felt so alpine. Absolutely gorgeous. The sun set and treated us with nice pink and orange sky.
I set up camp on an overlook and made dinner. The stars came out with a bright Jupiter and waxing gibbous moon. What an awesome solstice!
Day's Mileage: 23.0
Total Miles Hiked: 1,780.8
Remaining Miles: 418.9
---
DAY 115
I woke up with a beautiful view atop Smarts Mountain. I climbed the fire tower and took it all in. Absolutely spectacular! I stayed later than I normally would and started hiking around 9am.
It was a quick hike down Smarts Mountain. The antibiotics had really been helping my toe and it didn't hurt much. Unfortunately my new shoes were giving me a blister on one heel. I thought this might happen since it happened in Maryland as well. Just one spot on one foot. So annoying to be this far along and dealing with this issue again but it wasn't as bad as the beginning of my hike. I was a blister pro now.
After descending Smarts Mountain I immediately climbed Mount Cube. It featured fir tree forests that smelled of Christmas and lots of large rock faces. The summit was mostly rock with more amazing views. I stopped for lunch there.
After Mount Cube the trail was very easy with rolling hills. At one road crossing there was a cluster of hikers around a truck. It was a tailgate party and a man called Carl the Omelette Guy was cooking up his namesake. He said he sets up everyday for the whole summer cooking hikers omelettes. I had a hearty ham, cheese, and pepper omelette. I needed the extra calories.
I hadn't paid attention to the water sources in my guide and there weren't many ahead. I rationed myself in the heat. I was hot and tired but my day was almost finished.
I arrived at the Hikers Welcome Hostel. There were a number of other hikers staying here. I met up with Gandalf who should have been ahead of me but broke his toe and had to slow down. We took a picture together.
After a quick shower I met up with a guy named Casey who lived in town. We had been messaging on Instagram. It's cool how other hikers or just hiking enthusiasts can connect so easily on the internet. He drove me to the Walmart in the next town over and we got dinner. I ate an entire 16-inch pizza and then had a McFlurry. Casey also drove me to the lumber mill where he works and gave me a tour. It was really quite fascinating to see how it all works. It was dark but I was able to snap a picture.
Tomorrow I will officially enter the White Mountains by climbing Mount Moosilauke, an extremely difficult, steep, and tall peak.
While I was hiking I received a message from No Worries, a hiker who I'd met in Virginia but she had to get off the trail due to an injury. She told me that a hiker named Choo Choo has been missing for ten days. I met Choo Choo in VA but hadn't seen him lately. Fresh Ground had also posted on Facebook about his disappearance. Apparently he last posted a picture on Instagram while atop Mount Greylock in MA. The picture was dated June 12, the same day I summited Greylock. It was a very scary thought to think I was at the same place just before he was and then he disappeared. I've been hiking alone most of the time and haven't felt afraid. Did Choo Choo try and hitch and got abducted? Or did he fall somewhere? So scary to think I've met him and I was there on the mountain the same day he was last seen. Very disconcerting.
Day's Mileage: 20.2
Total Miles Hiked: 1,801.0
Remaining Miles: 398.7
---
DAY 116
It was a pretty good night's sleep. I took my time in the morning. I talked with Gandalf and relaxed. I received another message from No Worries. Apparently Choo Choo had been found and was okay. I didn't get the details but it sounded like he took a sabbatical from his phone.
My friend Leslie had sent me my winter sleeping bag and my gloves for the White Mountains. Unfortunately the package was still in transit and the post office closed at 1pm. I figured I'd just go into the mountains with my summer bag and risk being cold at night. I walked over to the post office to see if I could have the package sent back when it does arrive. Well luck be a lady, the package had just showed up. I was pleasantly surprised. I switched out my sleeping bags and sent the summer bag farther down the trail.
Eagle showed up while I was getting ready to go. He had to pick up a package as well. He left just before me and hit the trail. I finally got out of the hostel just after 11am.
Soon enough I was climbing Mount Moosilauke. It was an elevation gain of over 3,400 feet in less than four miles! It wasn't as hard as I expected, just long. It was all about maintaining stamina as I hiked uphill with the steep slope never ending.
When I neared the top, I ran into fifteen or so people all part of the Boston chapter of the Appalachian Mountain Club. They gave me Oreos, granola bars, trail mix, and an apple. They had tons of questions about my hike. It was really nice to talk to them. They told me to put on my coat as it was cold at the summit, so I got my rain coat out.
Sure enough, I walked a bit further and was above tree line and the wind was blowing. It was very cold. The summit was beautiful. The White Mountains towered in the distance. A rain storm was blowing in from the east. The view was breathtaking.
Though the trail has had its up and downs (literally and figuratively), a few moments stand out. This was one of them. Standing there on top of Moosilauke surrounded by nature's beauty with the wind gusting, I felt truly alive. It was an amazing feeling.
As I descended I ran into Eagle. We hiked down together. I took my rain jacket off as I got hot and then of course it rained. It got worse as we climbed down. It was extremely steep, slippery, and dangerous going down. My knees were killing me from the descent. Eagle and I hurled expletives constantly as we hiked. I was soaked by the time we reached the bottom. Eagle left me to hitch a ride to town where he had booked a hotel. Without an invitation, I hiked on.
The rain continued and I every part of me was wet. Whatever my blister situation was, I didn't even want to know. My feet were swimming in water. The trail became tedious, climbing up and over large rocks; I had to be strategic about climbing so as not to slip on their wet surfaces. Puddles were everywhere. It was like pretending the ground was lava and you could only step on rocks to avoid the mud and puddles. I couldn't take any pictures or videos to document the experience because my hands and phone screen were so wet, the screen wouldn't acknowledge my fingers.
I tried to stay in good spirits. I put my rain jacket back on to stay warm. My clothes probably needed the wash since I hadn't done laundry in days. I was grateful I had a great view at the summit because now everything was fog. I was happy it wasn't any colder and that I still had a dry tent, clothes, food, etc. I counted my blessings.
It was sundown when I made it to the shelter. Of course it was full and all the designated tent sites as well. Though we're not supposed to, I set my tent up in an undesignated area (their are strict rules in the White Mountains). Some of my pack's contents were wet but not too badly. I cooked dinner and strung up a rope in my tent to hang my clothes. At least my winter sleeping bag was nice and warm. I took some Aleve before bed for my knees and it seemed I'd developed some new blisters from my wet shoes. I was so tired I didn't even put my food in the bear box that was fifteen feet from my tent.
Day's Mileage: 16.8
Total Miles Hiked: 1,817.8
Remaining Miles: 381.9
Daily Average: 15.7
---
MISCELLANEOUS
Some of you might remember a hiker named Gazelle. We started the same day on February 28th. I hadn't seen her in a while since she'd gotten off the trail to visit friends here and there. I saw on her Instagram that she decided to end her hike for personal reasons after about 1,400 miles. She plans to come back and finish next year. It's always sad to see hikers leave the trail, especially someone as strong a hiker as Gazelle. She was fast and seemed so determined when I was with her. It's interesting to see how hikers like Nomad and Gazelle, who had so much enthusiasm at the beginning, have been the ones who dropped out. I thought for sure Gazelle would finish before me.
---
To follow along with my adventures, sign up via email below or like/follow my Facebook page aStrayLife! For more photos, follow me on Instagram.