The Te Araroa (the long pathway) is a 3,000km trail across New Zealand. Check out my gear list and daily trail blog as I hiked the TA in 90 days.
Here's a brief overview of my trek from day 1 to 90:
---
Hiking from Cape Reinga to Bluff is no easy task. In November 2019 I began my journey across New Zealand. In 90 days I walked (and canoed) 3,000km. Find the complete chronicles of my trek below as well as my gear list detailing what I packed for this incredible journey!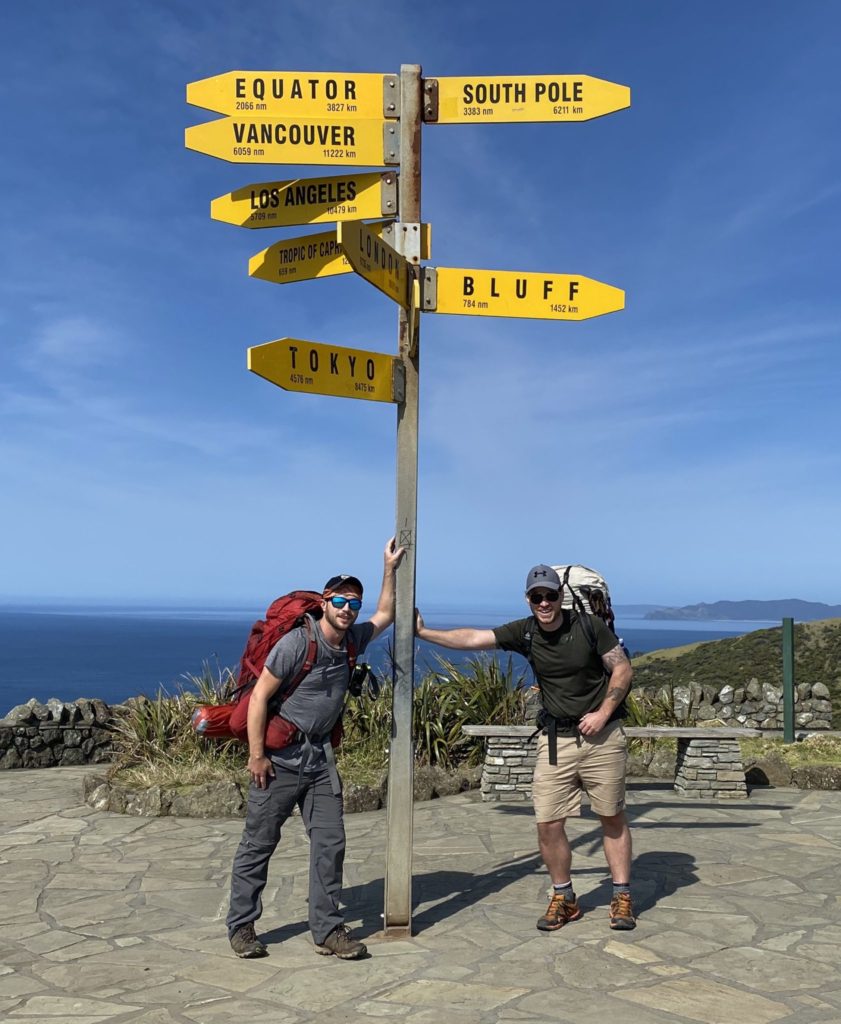 WHAT TO PACK
A journey of this length requires exactly the right gear and nothing extra! Check out my comprehensive gear list and video showing every item I brought with me on the trail:
GEAR LIST – What to Pack and Why
---
TRAIL JOURNAL
Follow along on my 90-day journey across New Zealand. From towering mountains and raging rivers to bustling cities and grazing sheep, I crossed the country one step at a time!
NORTH ISLAND
1–Ninety Mile Beach
Days 1-4: Cape Reinga to Ahipara
2–Northland Forests
Days 5-8: Ahipara to Kerikeri
3–Bay of Islands
Days 9-11: Kerikeri to Whananaki
4–Beaches & Estuaries
Days 12-14: Whananaki to Waipu Beach
5–Northland to Auckland
Days 15-17: Waipu Beach to Stillwater
6–Auckland
Days 18-22: Stillwater to Mercer
7–Waikato River
Days 23-26: Mercer to Pirongia Forest
8–Days 27-28: Pirongia Forest
Days 27-28: Pirongia Forest to Te Kuiti
9–Timber Trail
Days 29-32: Te Kuiti to Taumarunui
10–42 Traverse
Days 33-34: Taumarunui to Tongariro Alpine Crossing
11–Tongariro Alpine Crossing
Day 35: Tongariro Alpine Crossing to Mangahuia Campground
12–Fisher Track
Days 36-37: Mangahuia Campground to Whakahoro
13–Whanganui River
Days 38-41: Whakahoro to Whanganui
14–Halfway to Bluff
Days 42-45: Whanganui to Mangahao Road
15–Tararua Ranges
Days 46-47: Mangahao Road to Parawai Lodge
16–Kapiti Coast to Wellington
Days 48-50: Parawai Lodge to Wellington
SOUTH ISLAND
17–Queen Charlotte Track
Days 51-55: Wellington to Davies Bay Camp
18–Pelorus River
Days 56-57: Davies Bay Camp to Rocks Hut
19-Richmond Range Part 1
Days 58-59: Rocks Hut to Mid Wairoa Hut
20–Richmond Range Part 2
Days 60-61: Mid Wairoa Hut to St. Arnaud
21–Waiau Pass
Days 62-63: St. Arnaud to Caroline Bivvy
22–Harpers Pass to Goat Pass
Days 64-68: Caroline Bivvy to Bealey
23–Rakaia & Rangitata
Days 69-72: Bealey to Rangitata River
24–Stag Saddle
Days 73-74: Rangitata River to Tekapo
25–Lakes and Canals
Days 75-76: Tekapo to Lake Ohau
26–Lakes Hawea & Wanaka
Days 77-79: Lake Ohau to Glendhu Bay Campground
27–Motatapu Valley to Queenstown
Days 80-81: Glendhu Bay Campground to Queenstown
28–Mavora Walkway
Days 82-84: Queenstown to Aparima Hut
29–Southland
Days 85-88: Aparima Hut to Colac Bay
30–Bluff
Days 89-90: Colac Bay to Bluff
---
TOM'S HIKE
The Te Araroa isn't for everyone. My hiking mate, Tom, attempted the trail with me. His journey was vastly different from mine. I compiled this comical yet enlightening video of the realities of thru-hiking across New Zealand!
---
VIDEO CHRONICLES
Here's the playlist of all the videos from the trail:
---
Shop Te Araroa Merchandise
---
From apparel to prints, grab some awesome trail merch at the A Stray Life Shop!
To follow along with my adventures, sign up via email below or like/follow on Facebook, Instagram, and YouTube: