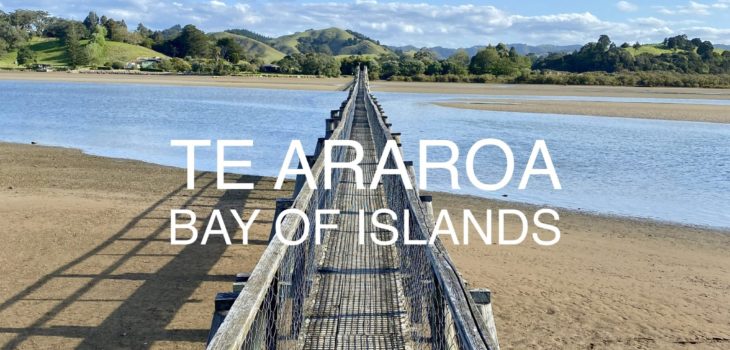 As I hiked the Te Araroa past the Bay of Islands, I was treated with beautiful views as well as mental challenges.
If you missed it, here's my last post as I hiked through the Northland forests.
---
VIDEO
Check out the latest video as we continue south through Northland:
---
DAY 9 – Kerikeri to Paihia
I didn't want to leave the plush hotel bed. Breakfast was leftover Dominos pizza as we lazed around until 10am checkout. As we left the hotel it began to rain. And then pour. It was a miserable slog through the town of Kerikeri to the trail. Back on the trail we meandered alongside the river which would have been very pleasant in favorable weather.
After a few kilometers we ran back into John. Together the three of us continued through some parks before being dumped back onto the road. It was very irritating to be walking on the road again. The paved road continued before we turned onto a dirt logging road. We stayed on this road for hours.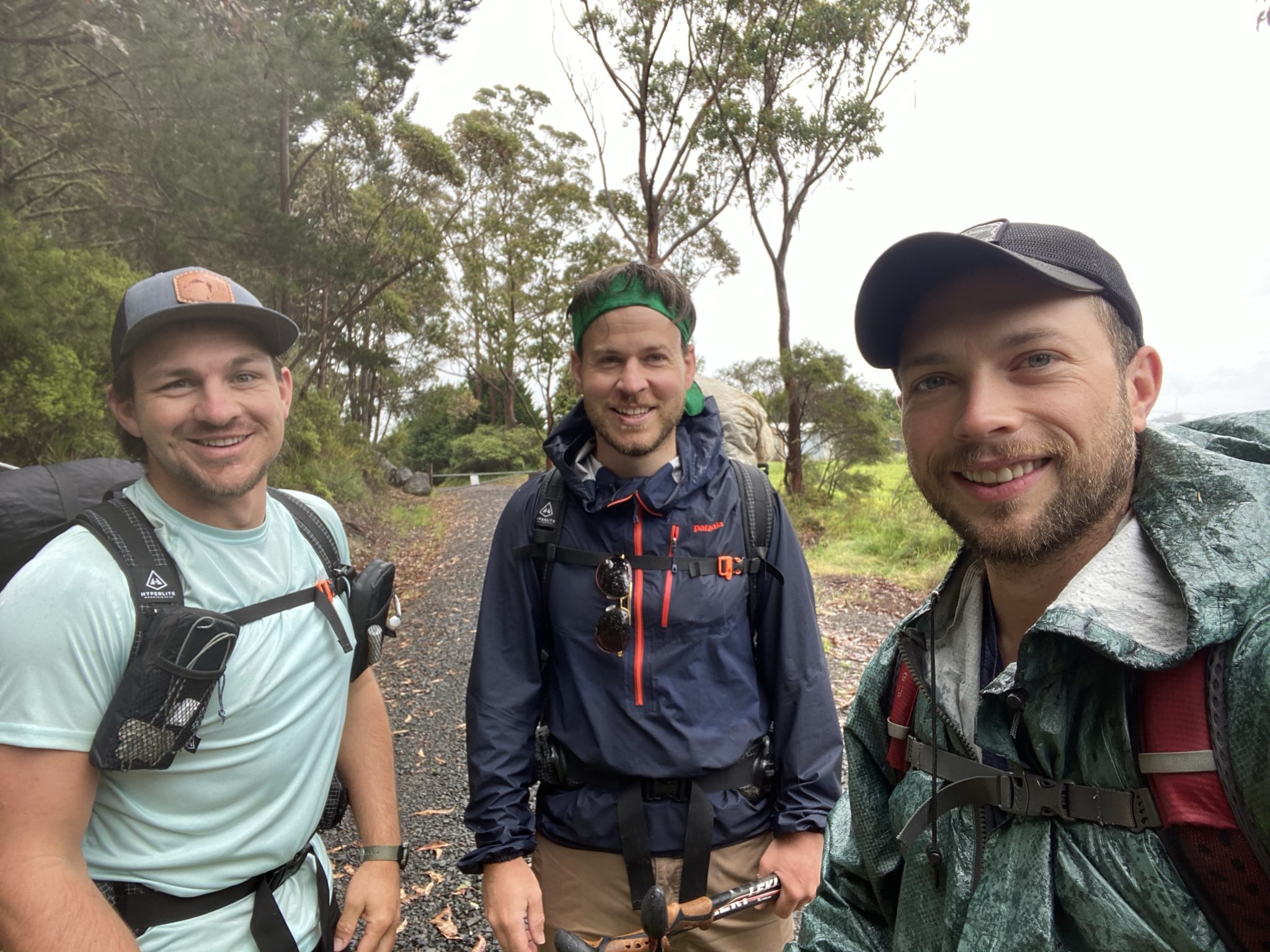 The rain and road walking nearly broke me. It was day nine on the trail and I wondered if we'd been on road as much as trail. I always knew that thru-hiking was as much a mental challenge as it was physical. I seriously was contemplating if I wanted to continue. I was so sick of walking on roads. I wanted to hike on a trail and a logging road was not cutting it. Not to mention that this logging road was actually a detour from a different logging road! If I hadn't been with John and Tom I'm not sure what I would have done.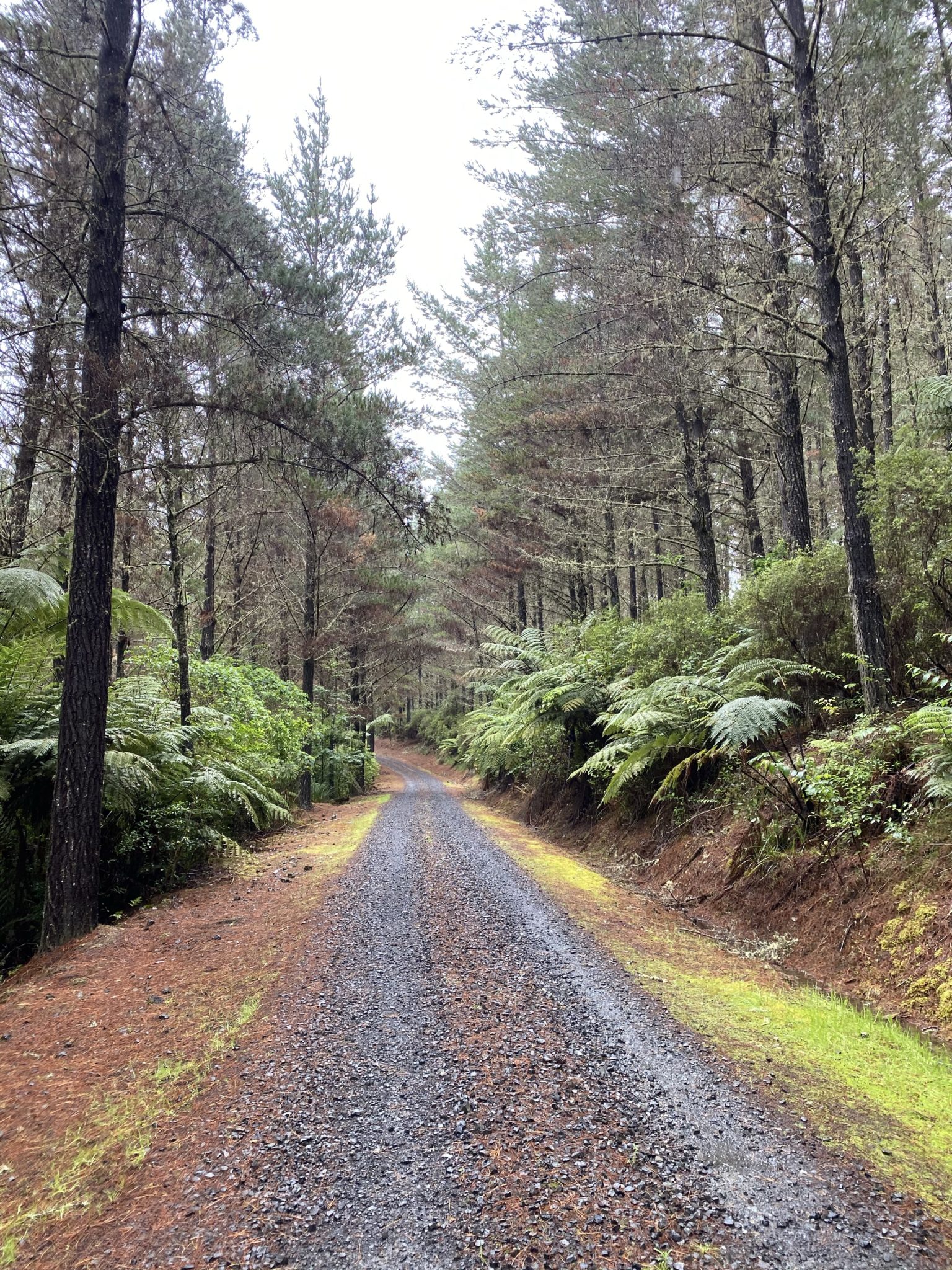 By mid afternoon the rain slowed. We took a wrong turn and hiked a bonus kilometer. Finally the rain seemed to stop. We continued on the road as it passed through a golf course. Could they not even run a trail around a golf course?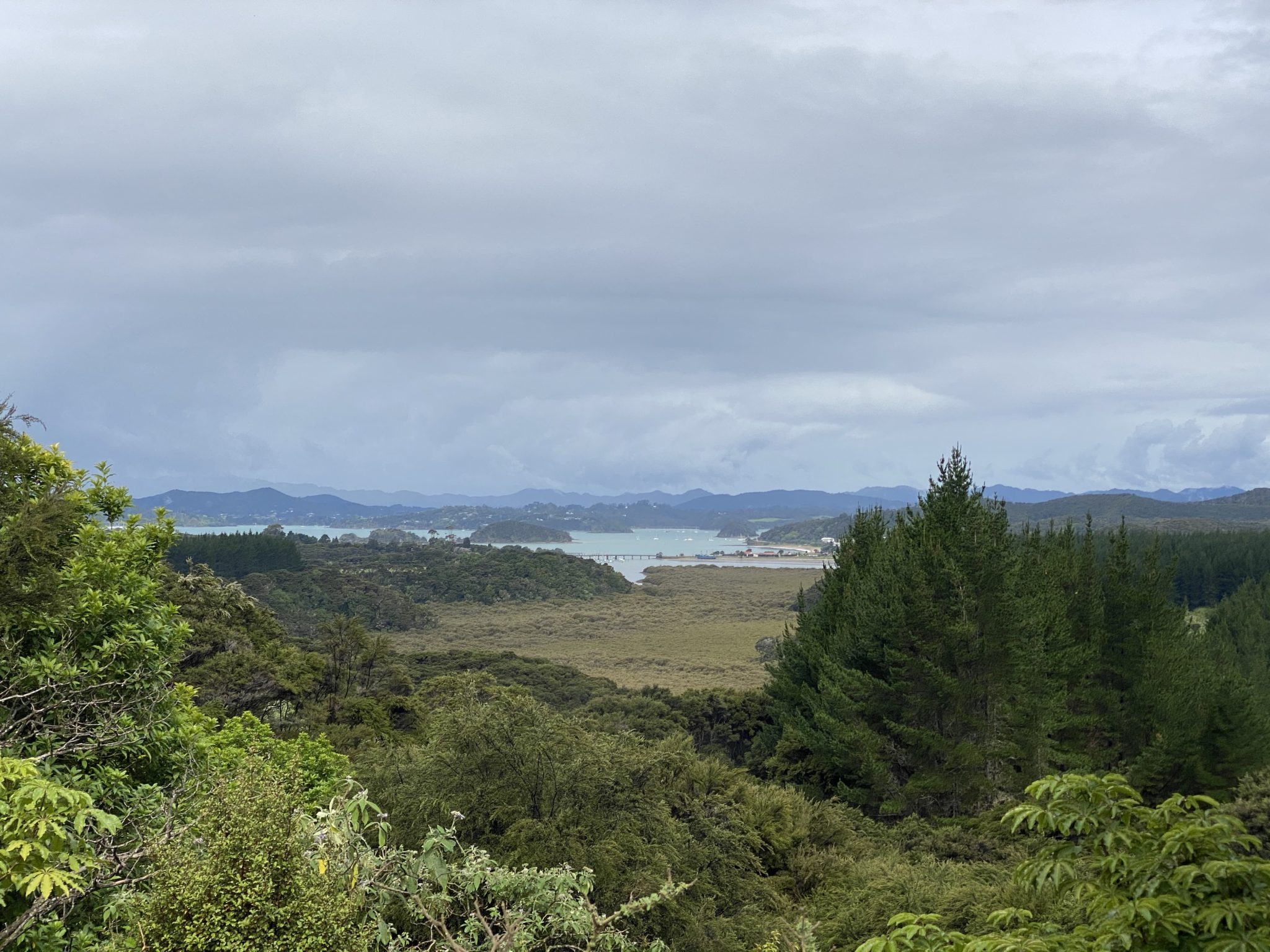 We reached the Waitangi Treaty Grounds. This is where the native Maori chiefs and the British Crown signed the founding document that created Aotearoa New Zealand in 1840.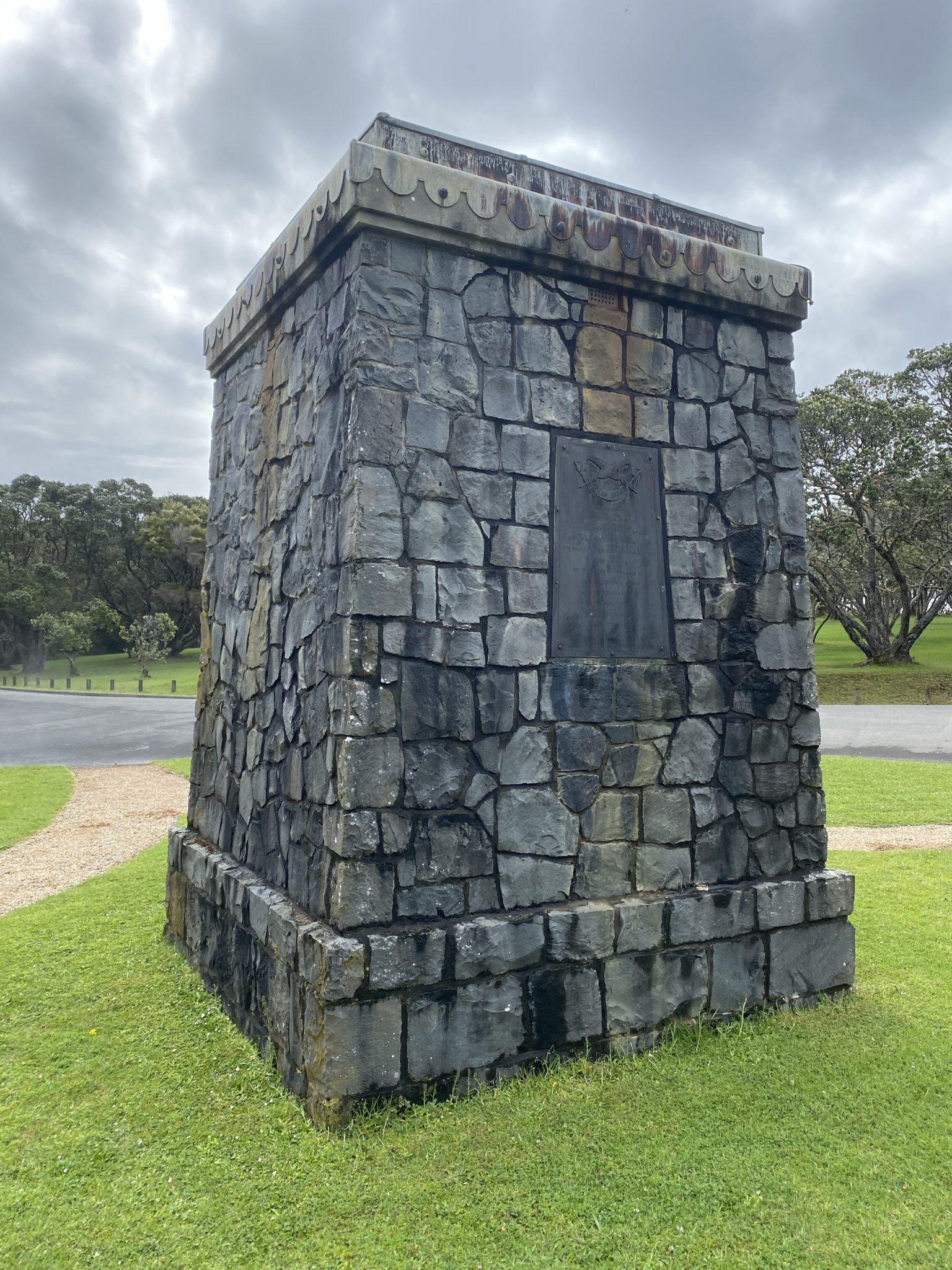 Our road walk turned to sidewalk as we walked beside the beach into the town of Paihia. It's a resort town in the Bay of Islands area. A cruise ship left the bay as we hiked. Our feet were killing us and my shoes were completely soaked.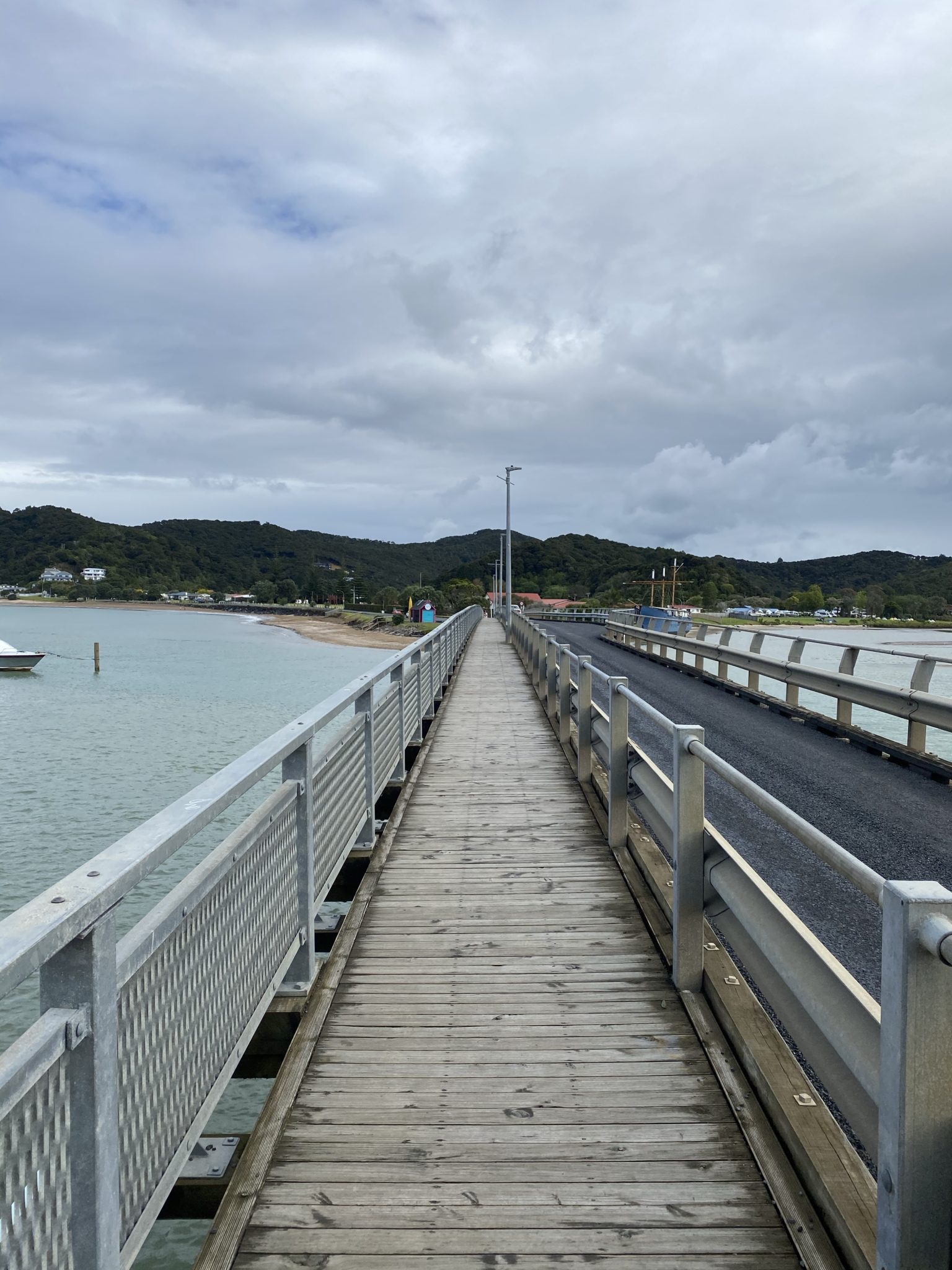 Dinner consisted of kebabs and Tom and I set up our tents at a hostel. John hiked on a bit further. Later Tom and I had a second dinner of burgers; I guess the hiker hunger is finally here! The evening had turned pleasant but it was a rough day. Hopefully we will get some real wilderness hiking in soon.
Day's Distance: 26km (16.2mi)
Total Distance: 247km (153.5mi)
Distance Remaining: 2,750km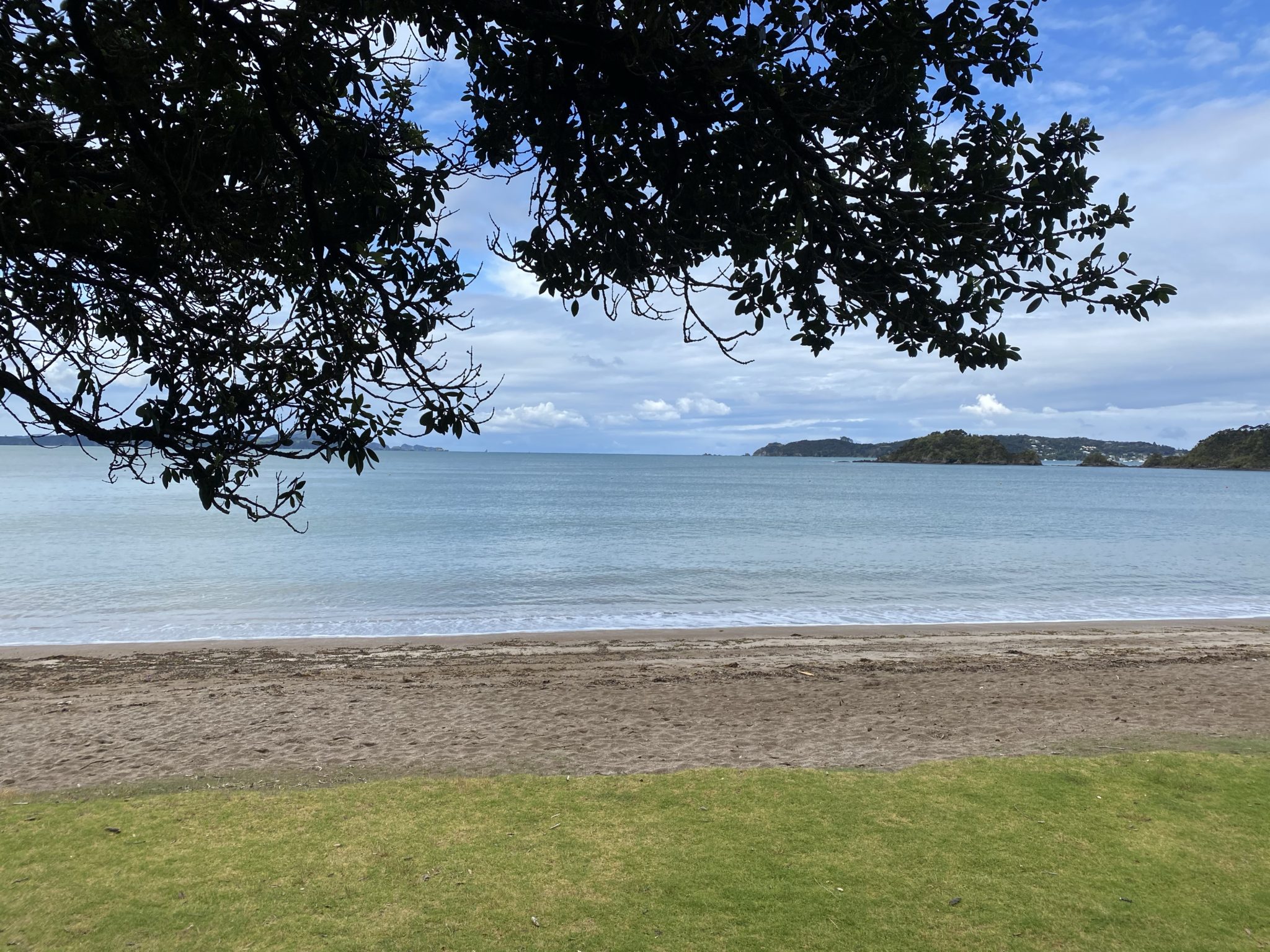 ---
DAY 10 – Paihia to Helena Bay
Tom and I left the Pickled Parrot hostel and started down the road. It sprinkled at times; I was not very happy. After some road walking we finally got on the Opua coastal walkway. We meandered along the waters edge and were treated to beautiful views of the Bay of Islands.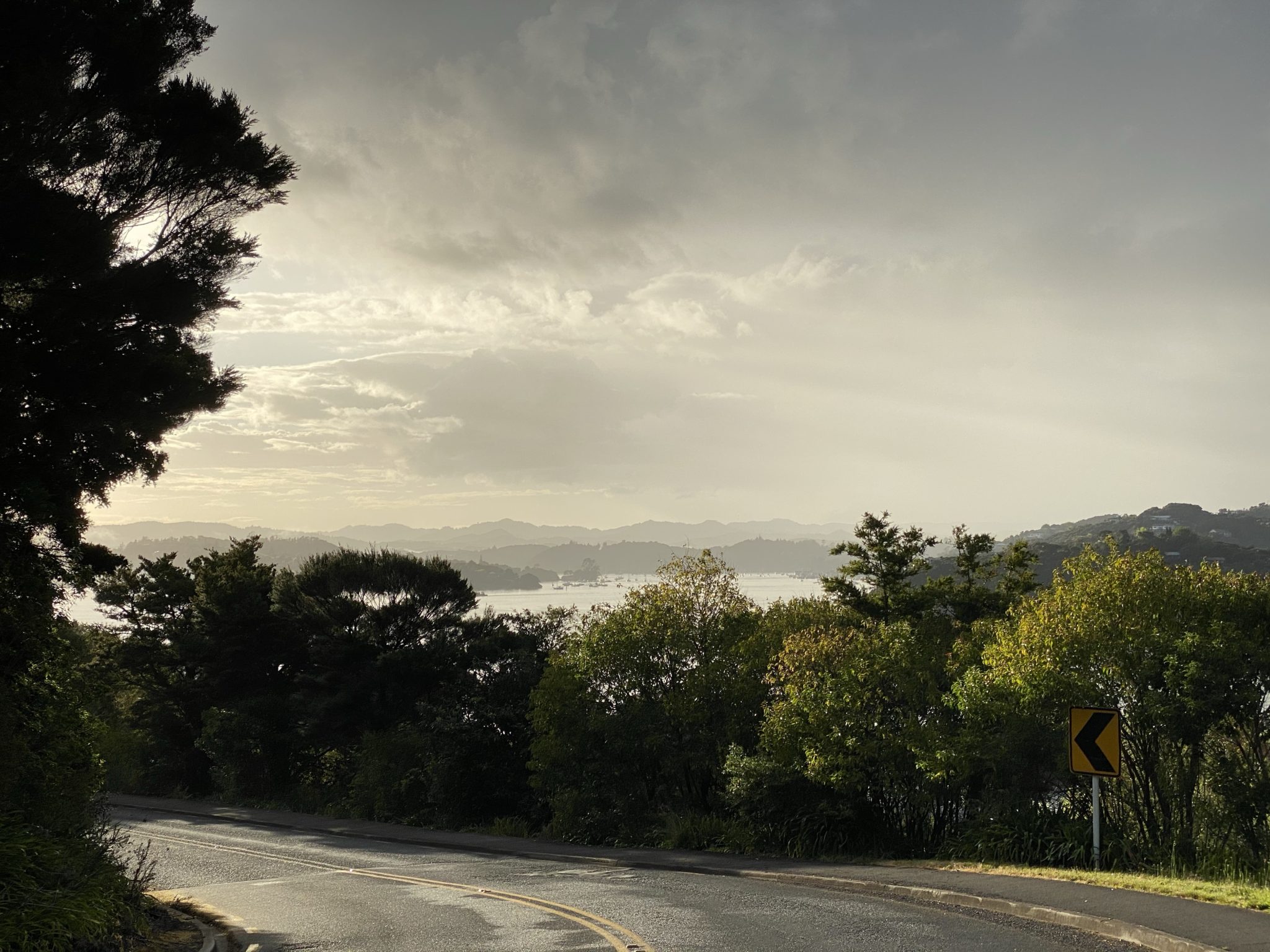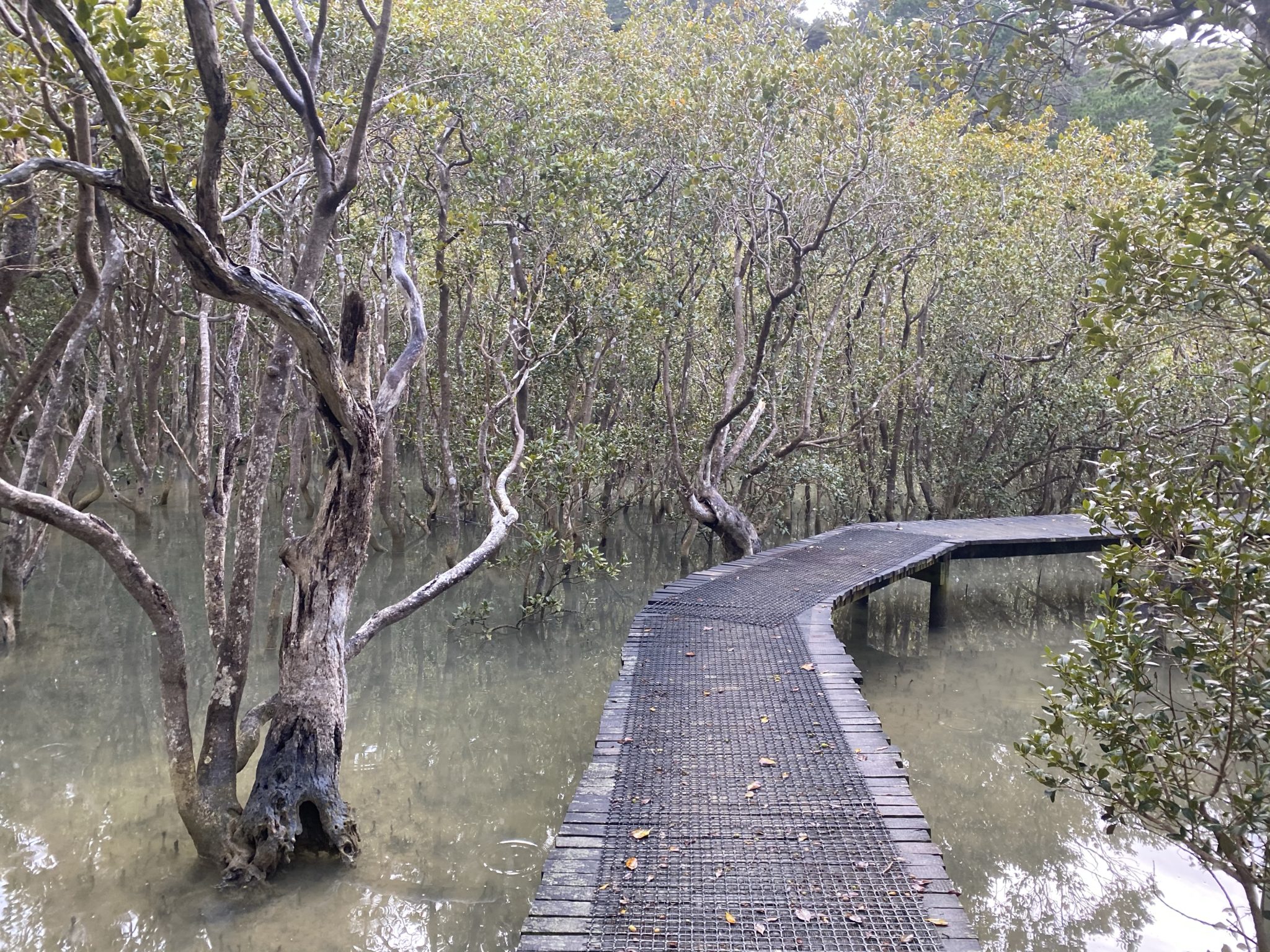 Soon we arrived in Opua where a car ferry crosses the inlet. The official TA route gives one the option of kayaking across the length of the inlet for several hours and skipping the coastal walkway or taking the car ferry and road walking 14km to where the kayaks land. Kayaking cost $100 per person and were booked up so we opted for the car ferry. Besides, I rather enjoyed the coastal walkway.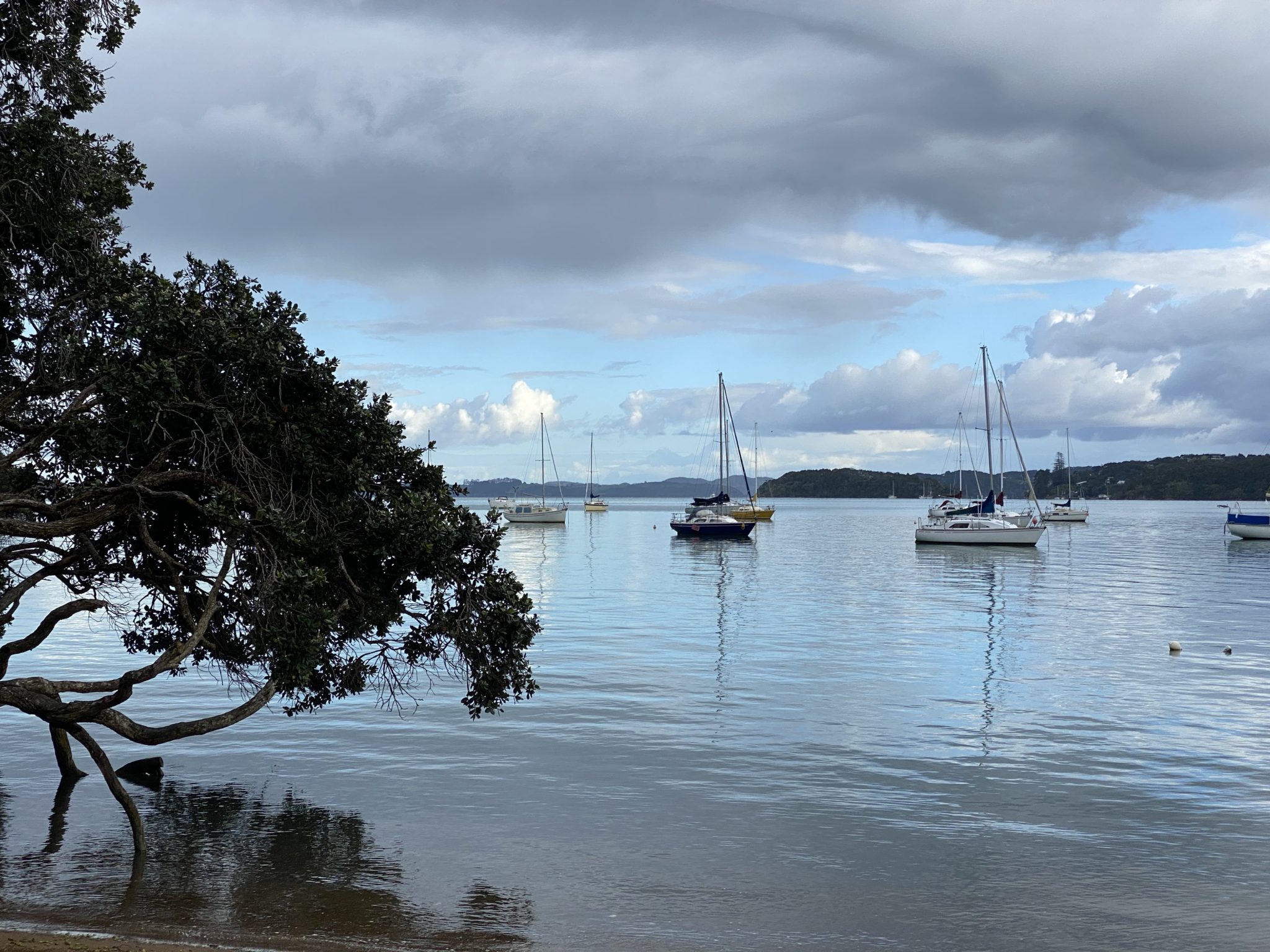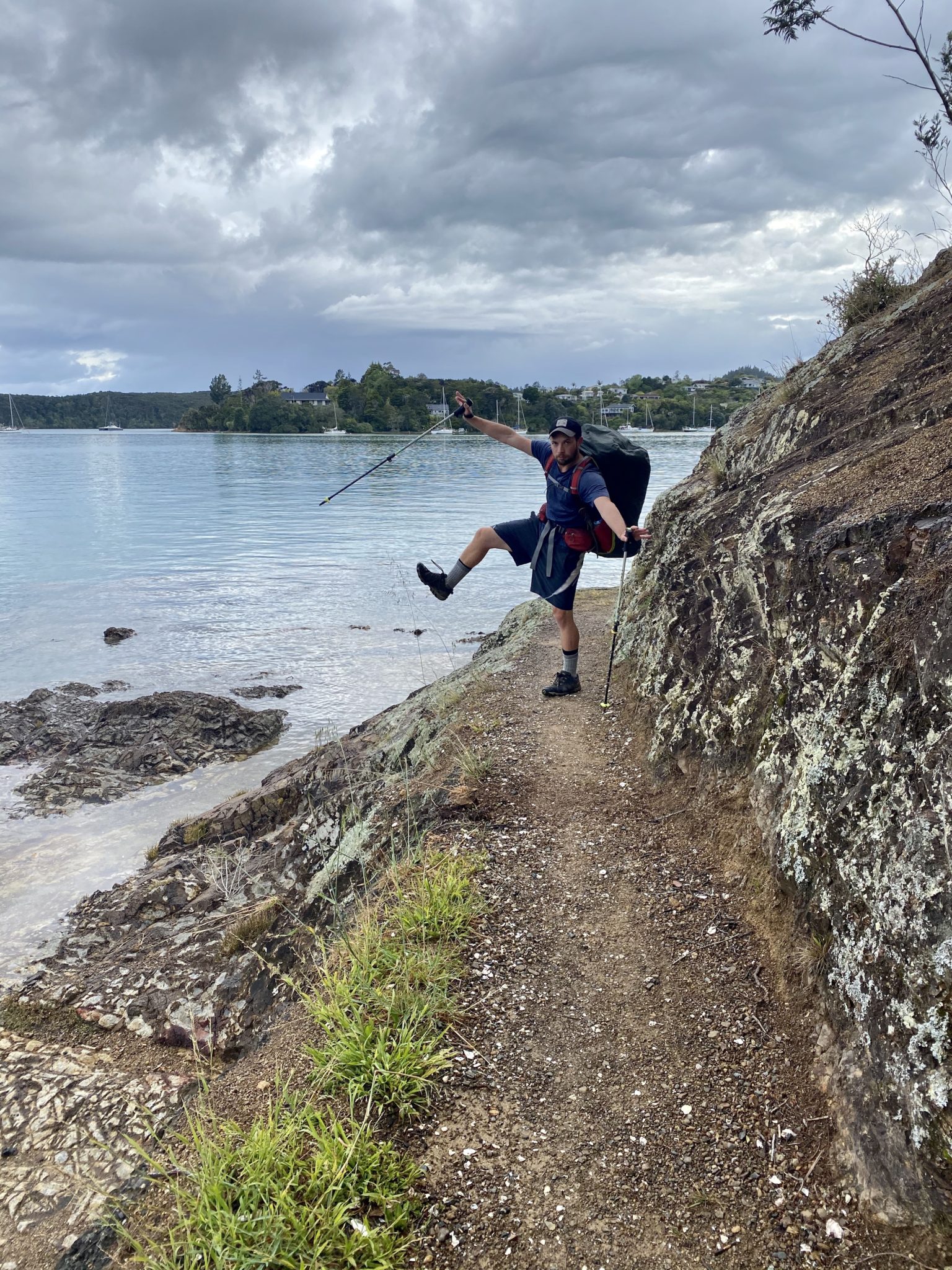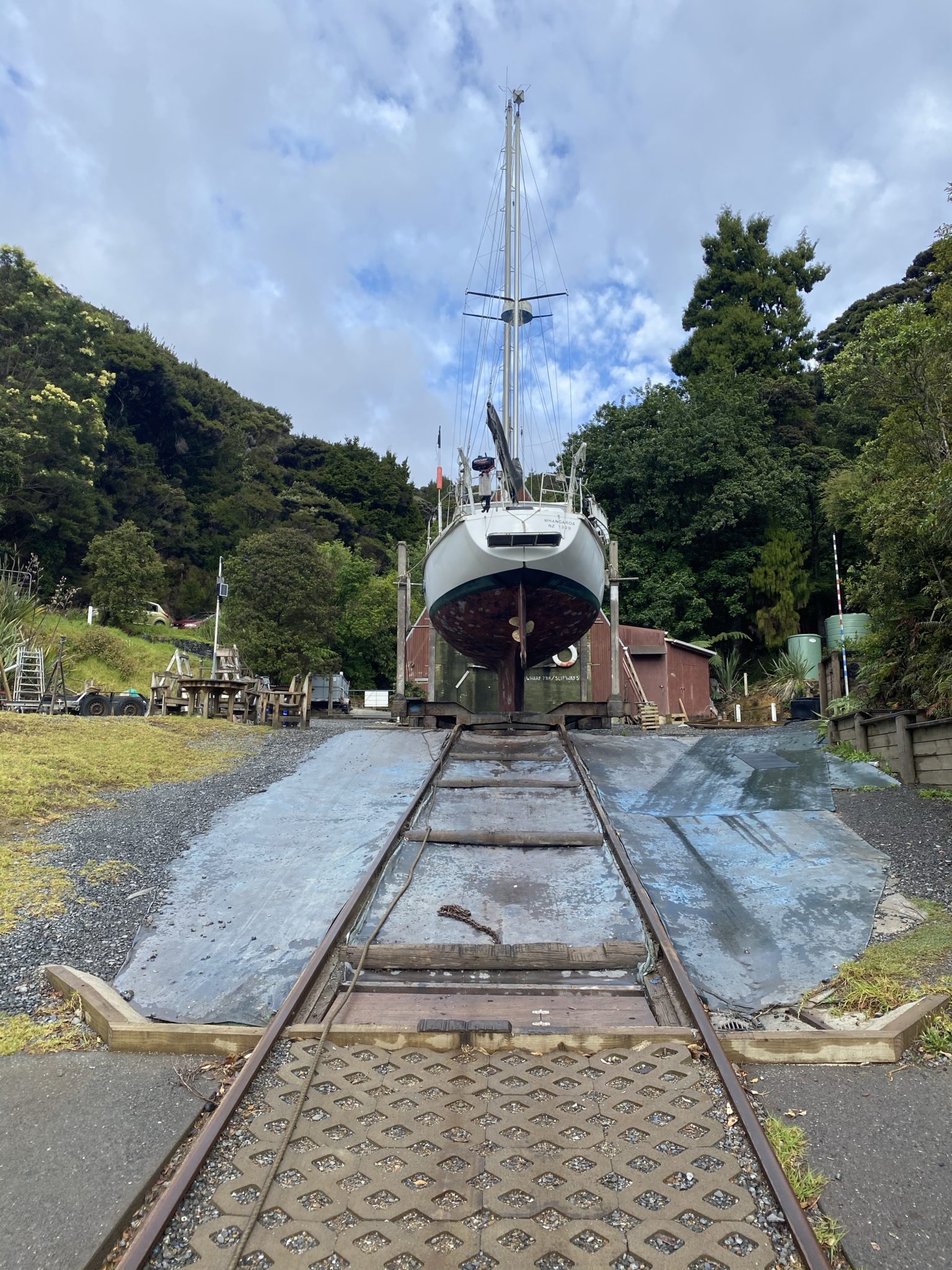 We met up with John in Opua and had some quick cheese on toast for breakfast. We boarded the ferry and were able to secure a hitch with for the road walking section. We got in a van and our driver only took us 4km down the road after we exited the ferry. We still had 10km to go. We were back on the road, walking with hardly any cars in sight. No one was picking us up.
Soon it began to pour rain. I was feeling miserable. I was so sick of road walking. And rain. At last, a friendly driver pulled over and took us all the way to the end of the bay, nearly 10km. We were so grateful.
From there we took the trail up a dirt road into the woods. The rain stopped and it was sunny. We passed many abandoned cars in the woods.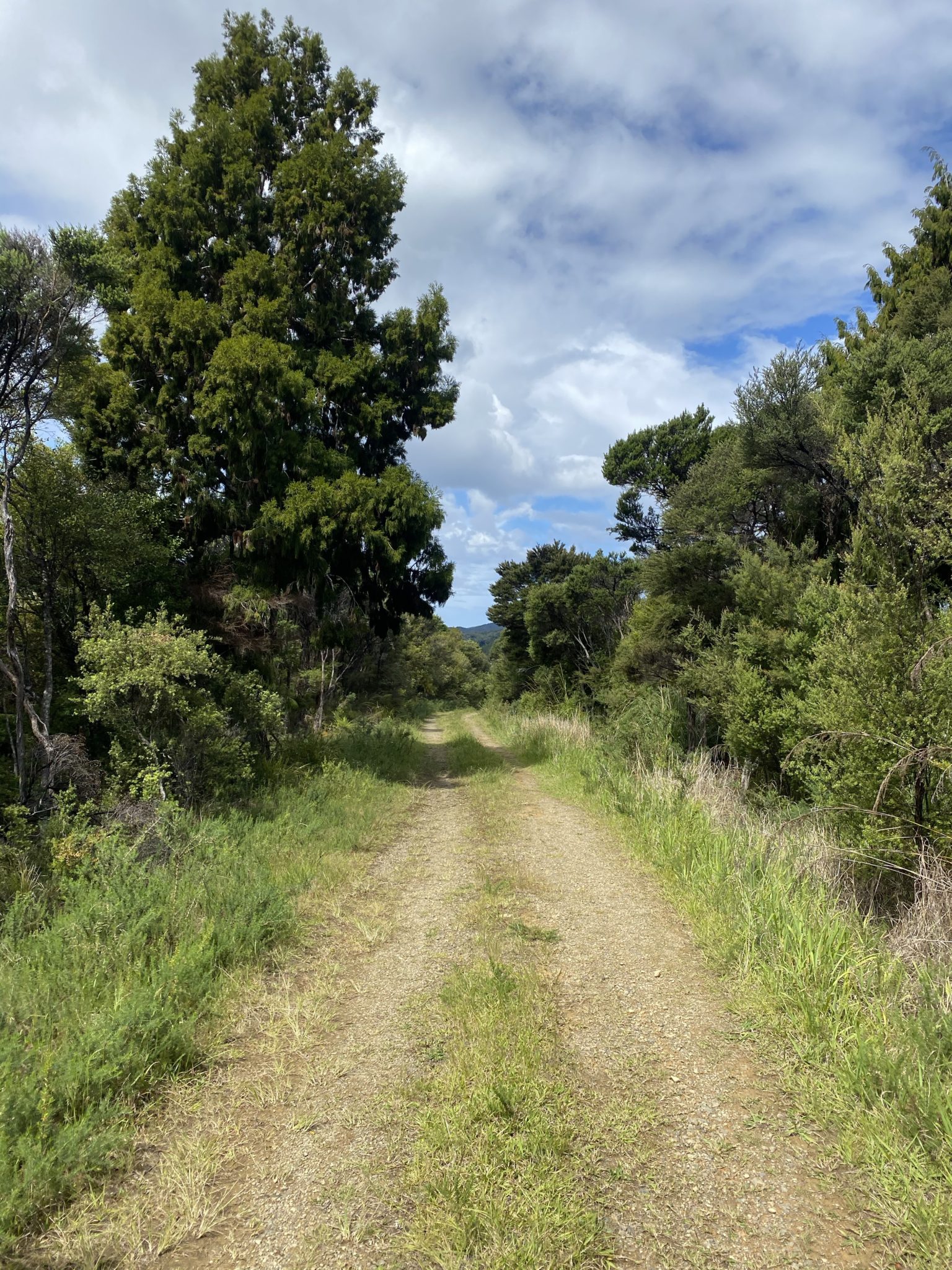 Next we descended to a river which we followed upstream for several kilometers. It was pleasant and cool, deep in the New Zealand bush. We ran into many hikers that had kayaked that morning.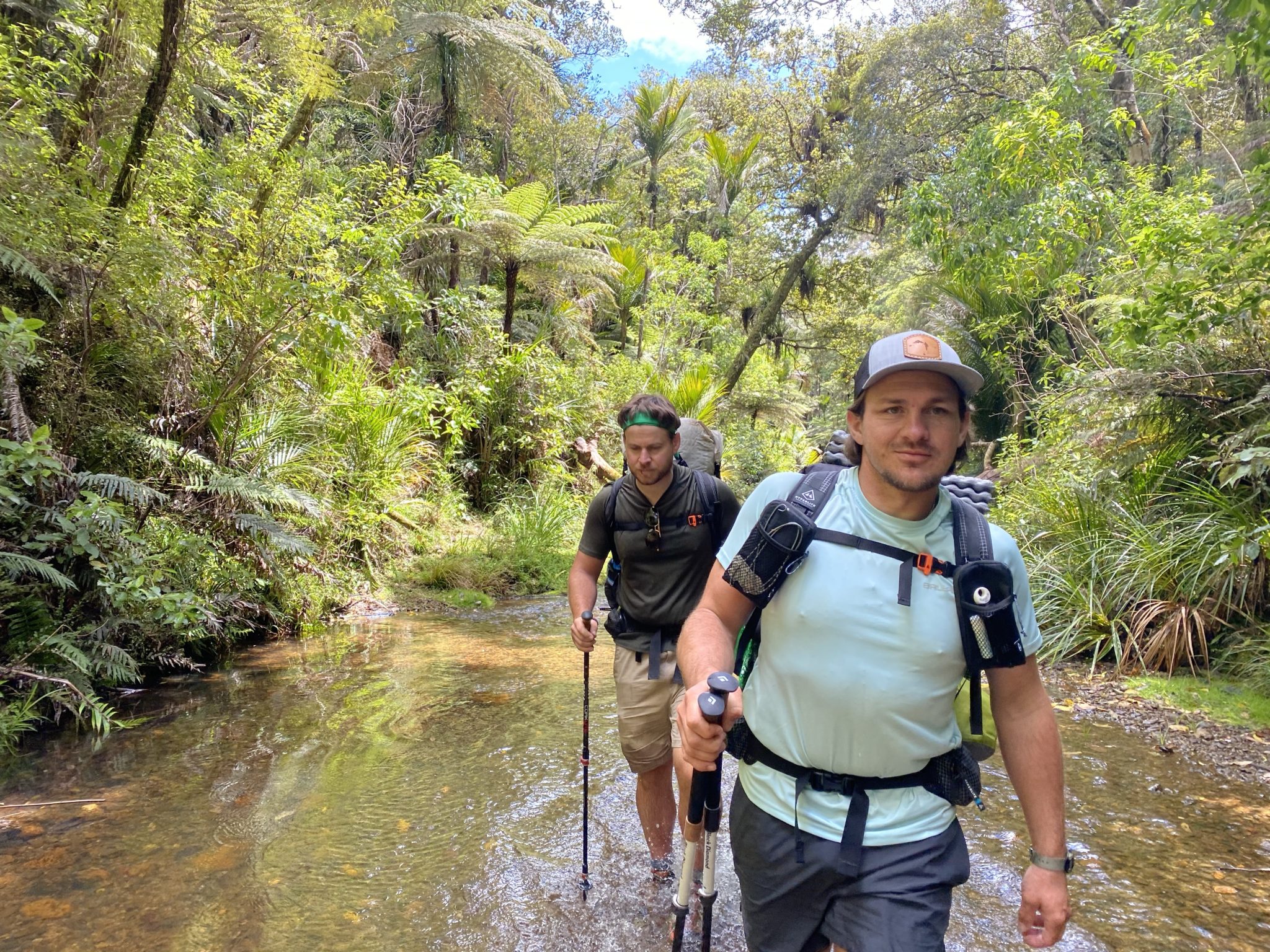 For lunch we stopped at a hut and got to know some of these hikers. It was nice to see a hut for once and a decent place to camp but it was too early to stop for the day.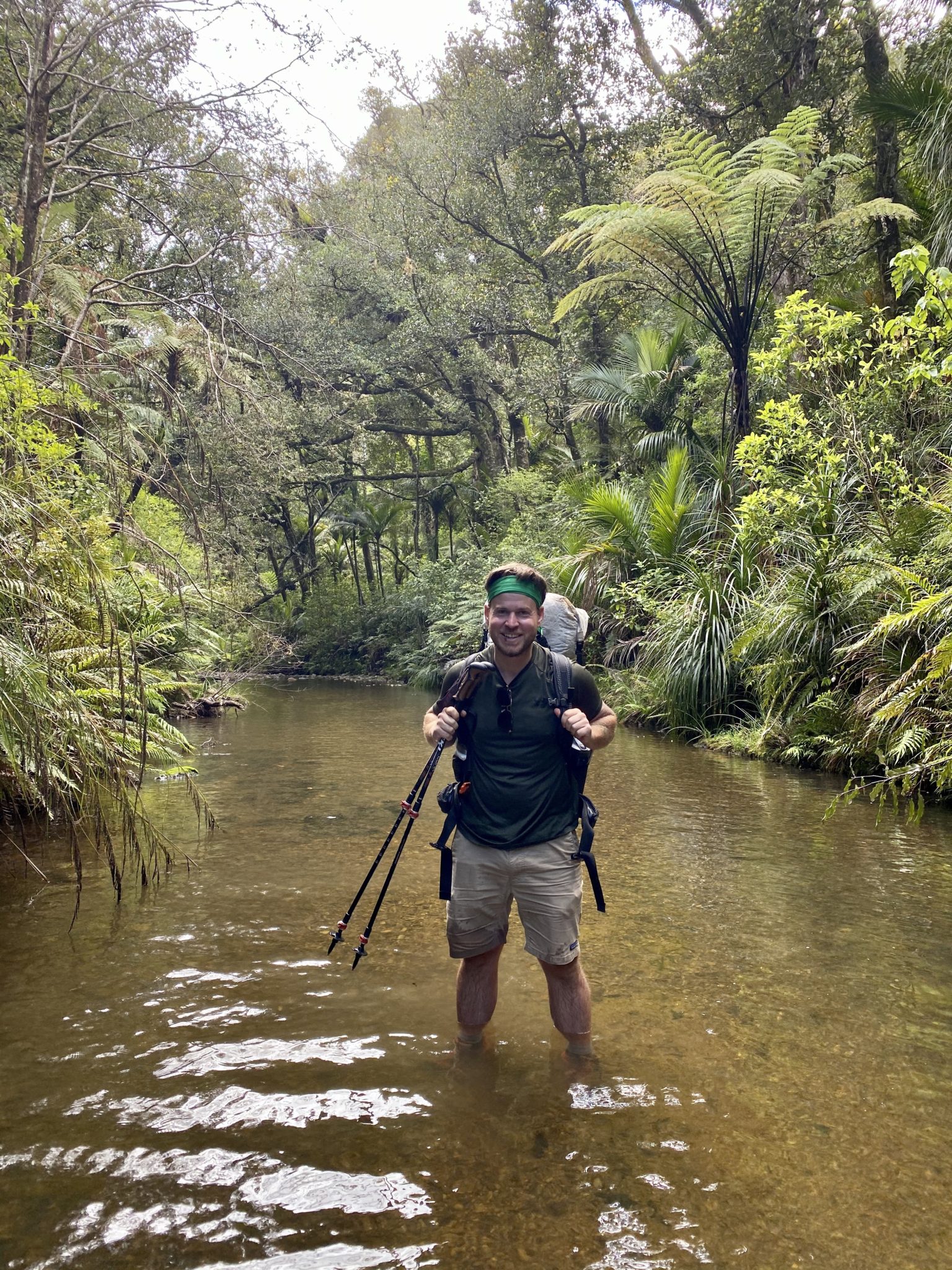 Though Tom and John's feet hurt, we continued on. With soggy socks and shoes, we climbed up into the hills before descending to…another road.
We walked along the hard pavement in the hot sun. The only delight was watching some piglets playing in the field.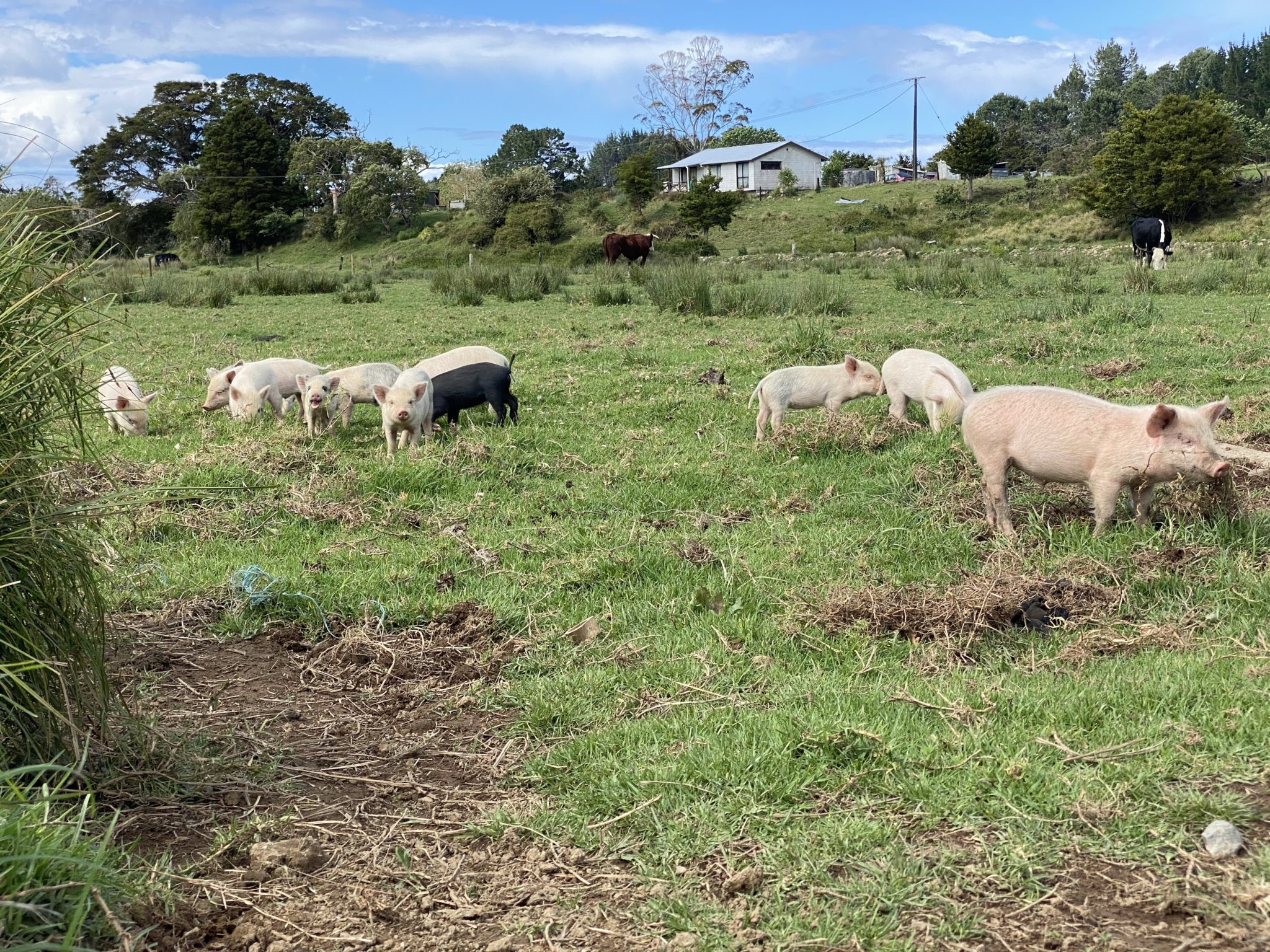 It was late afternoon and we didn't know where we were staying the night. We couldn't camp on the side of the road and the guide specifically stated not to camp on the private land the next section takes us through.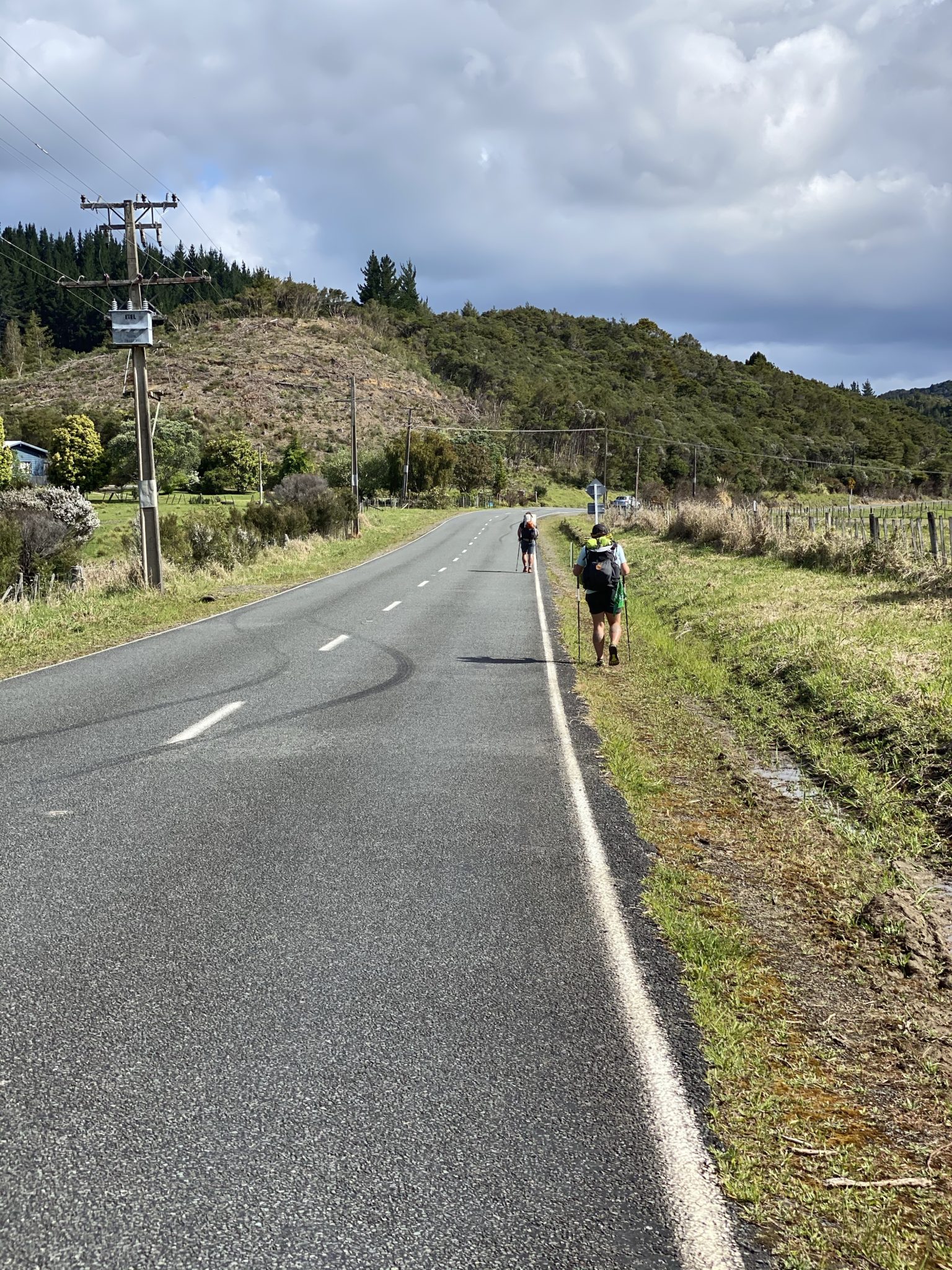 I was starting to feel irritated again. We had 14km of road to walk and it was sometimes dangerous with oncoming cars and no shoulder to step off to. I was running low on water and there were no sources save for some gross drainage ditches. So far the TA seemed not very organized. Many days so far we've been forced to camp at holiday parks which become expensive to constantly pay to camp. The trail doesn't really provide adequate campsites that are spaced out properly. I was feeling very frustrated.
As we passed a small, old house, John asked the owner if she knew where any water sources were. She immediately offered us water and to tent on her yard. We were so grateful. Several other hikers joined us. It was a miracle.
The homeowner's name was Devina and she was a gracious host. We set our tents up and enjoyed the beautiful views of the sea and plenty of water. I met Alex from Sweden, Zilla from the Netherlands, and Matthew from Australia. Later, Michael showed up, the hiker we had met on our first day on the trail! The seven of us had dinner and a campfire. Devina even brought us extra food! My how the day turned around!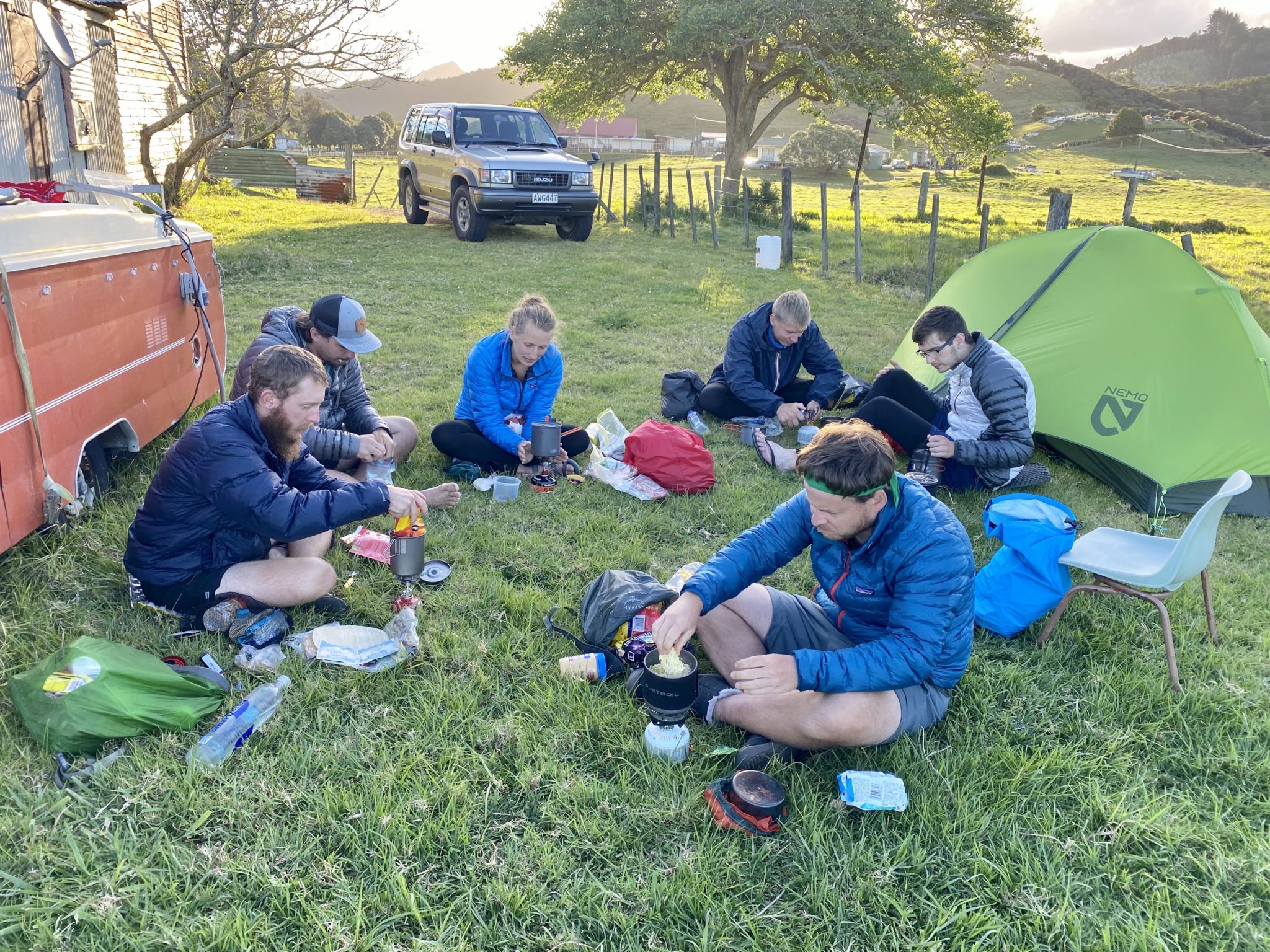 When it comes to the day's distance, technically we did hitch about 14km. But as far as the trail goes, according to John our footsteps are continuous as we left from the ferry terminal and began walking again at the kayak landing so the hitch doesn't discount our thru-hike. Either way, we're still walking.
Day's Distance: 38km (23.6mi) – about 14km was hitching
Total Distance: 285km (177.1mi)
Distance Remaining: 2,712km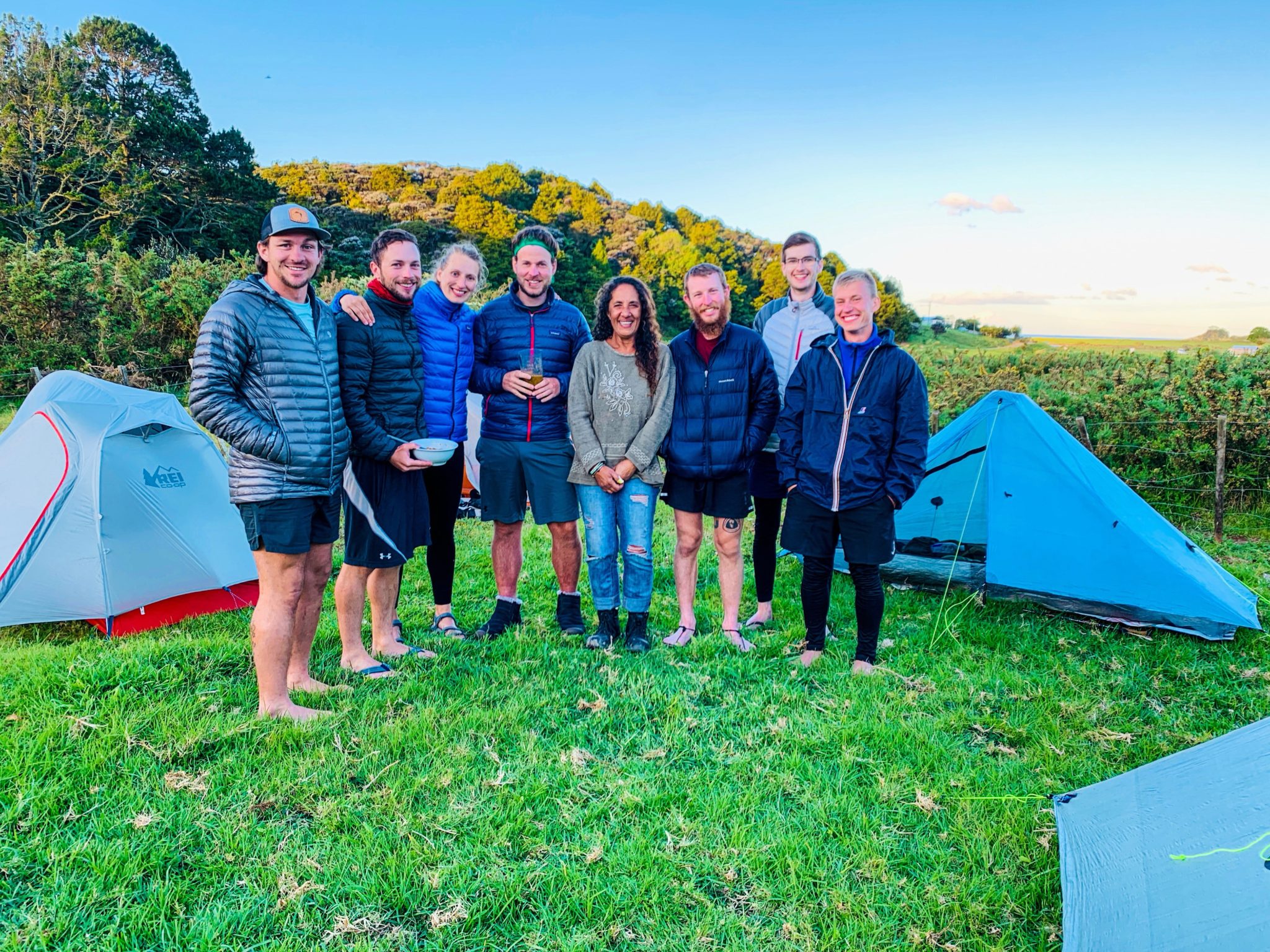 ---
DAY 11 – Helena Bay to Whananaki
John, Tom, and I left Devina's house feeling refreshed. Our tents were soaked, though. The dew collects in the morning and they are just drenched. It was a short 5km of road walking until we walked through a bit of farmland with beautiful views of the Pacific.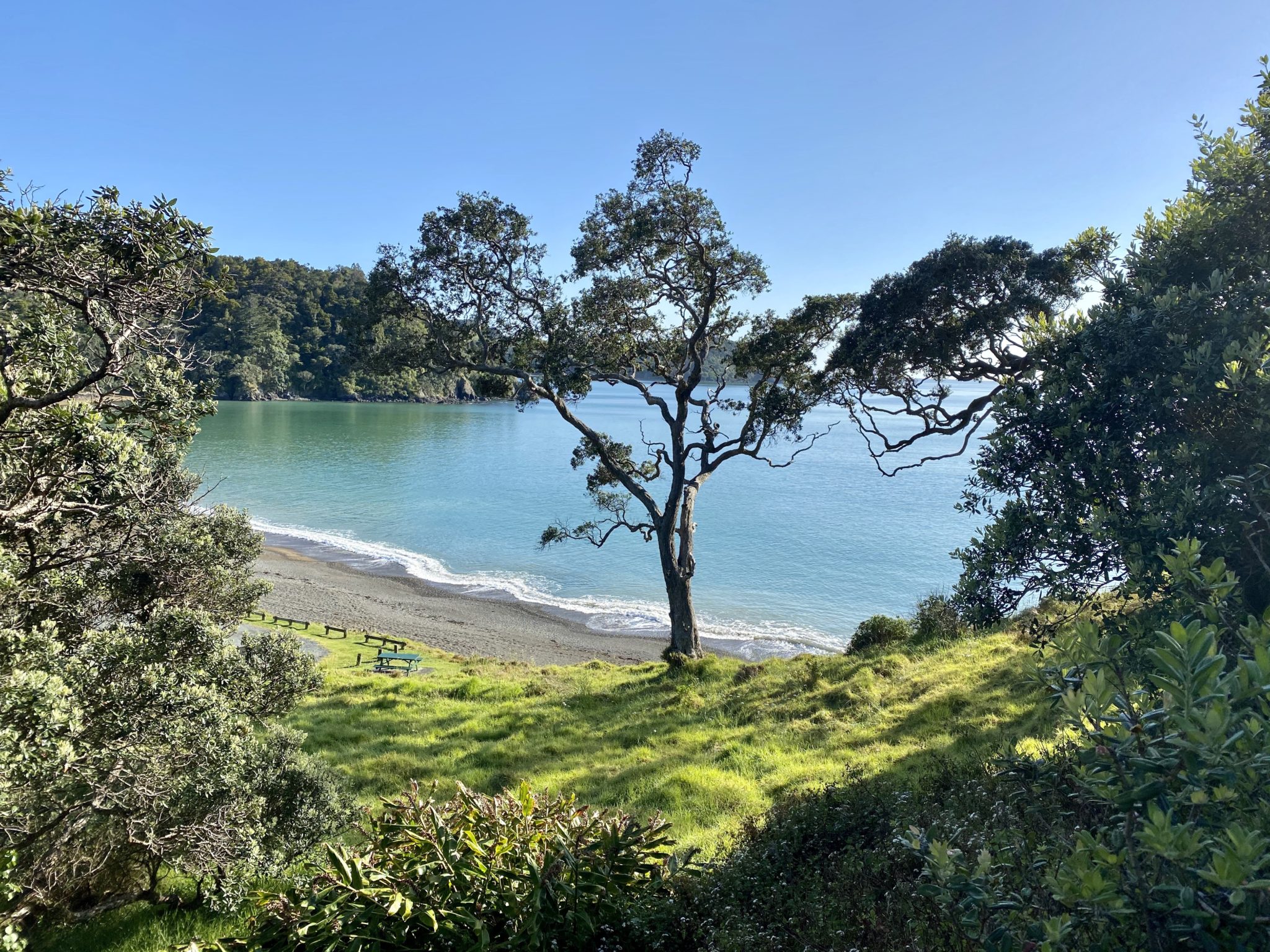 At last we reached a real track and entered the wilderness. We followed a high ledge through the bush and eventually had some steep climbs.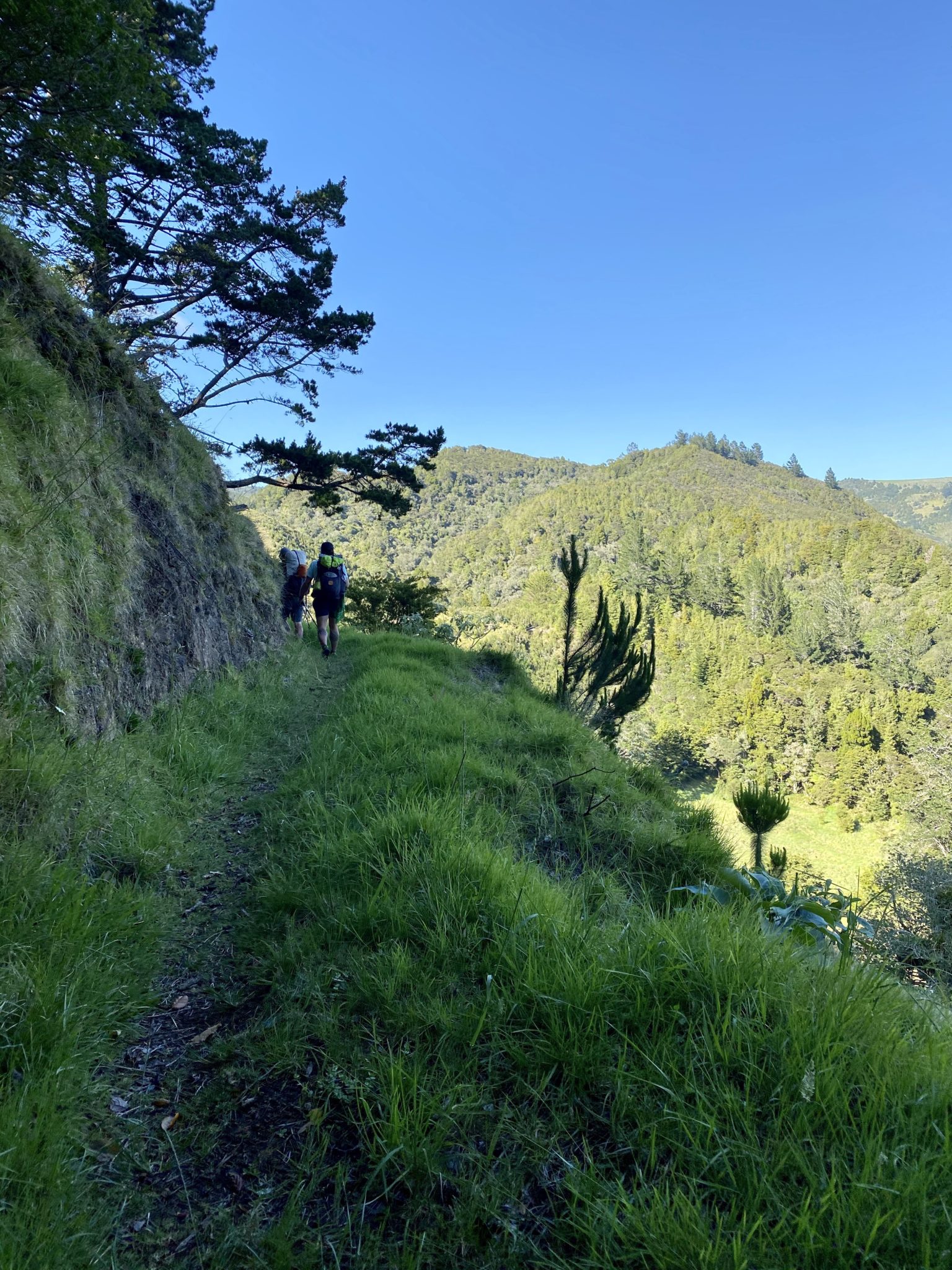 We were treated with some great views at the tops of our climbs. The descents and ascents were tough and exhausting.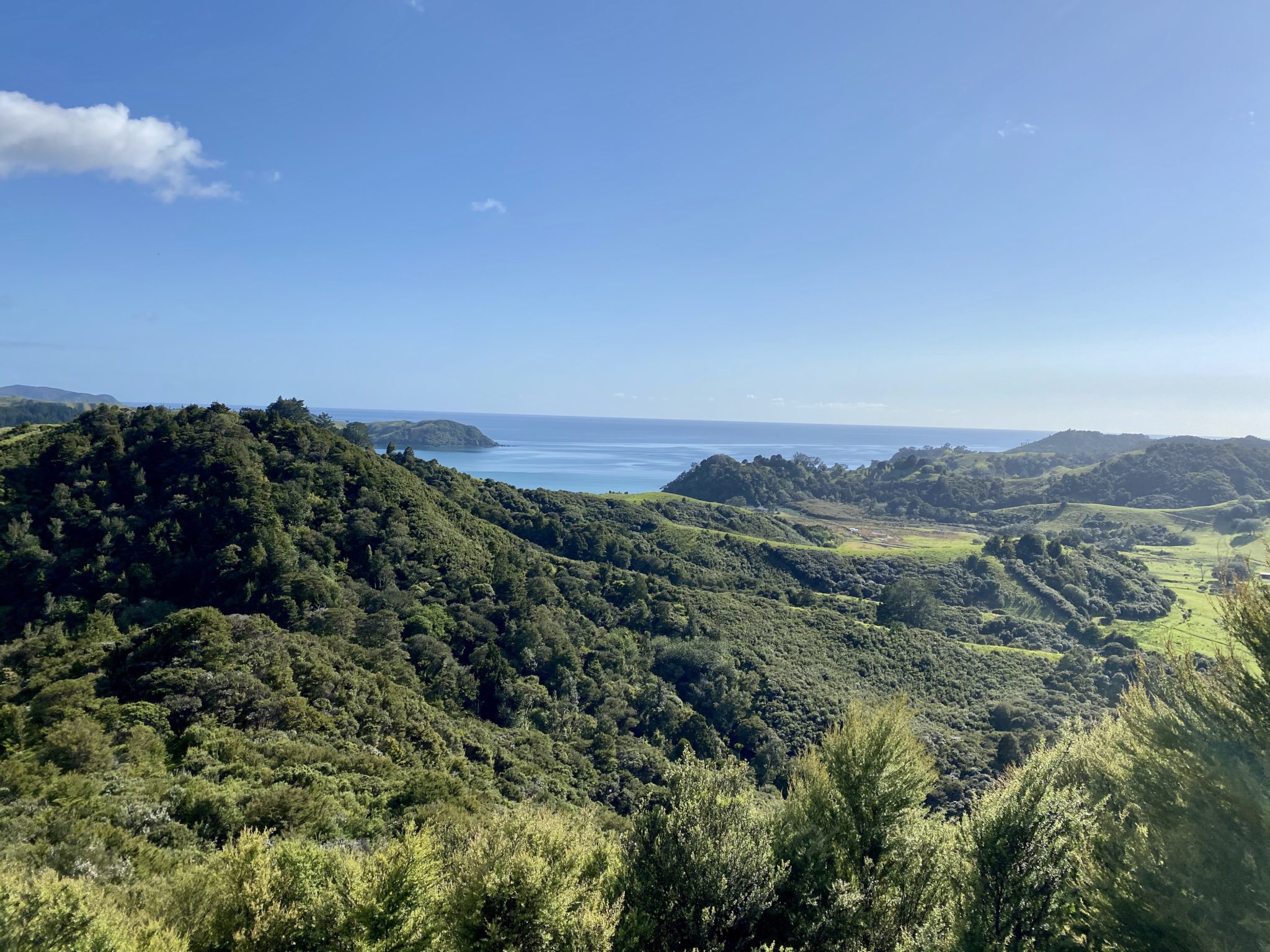 Our spirits were much higher today. This was real hiking in wilderness! We crossed some farmland mixed with forests but all on trail! Tom spoke with some French hikers who told him they estimated there are 300km of road walking on the trail or about 10%. I feel like we must have done half that by now!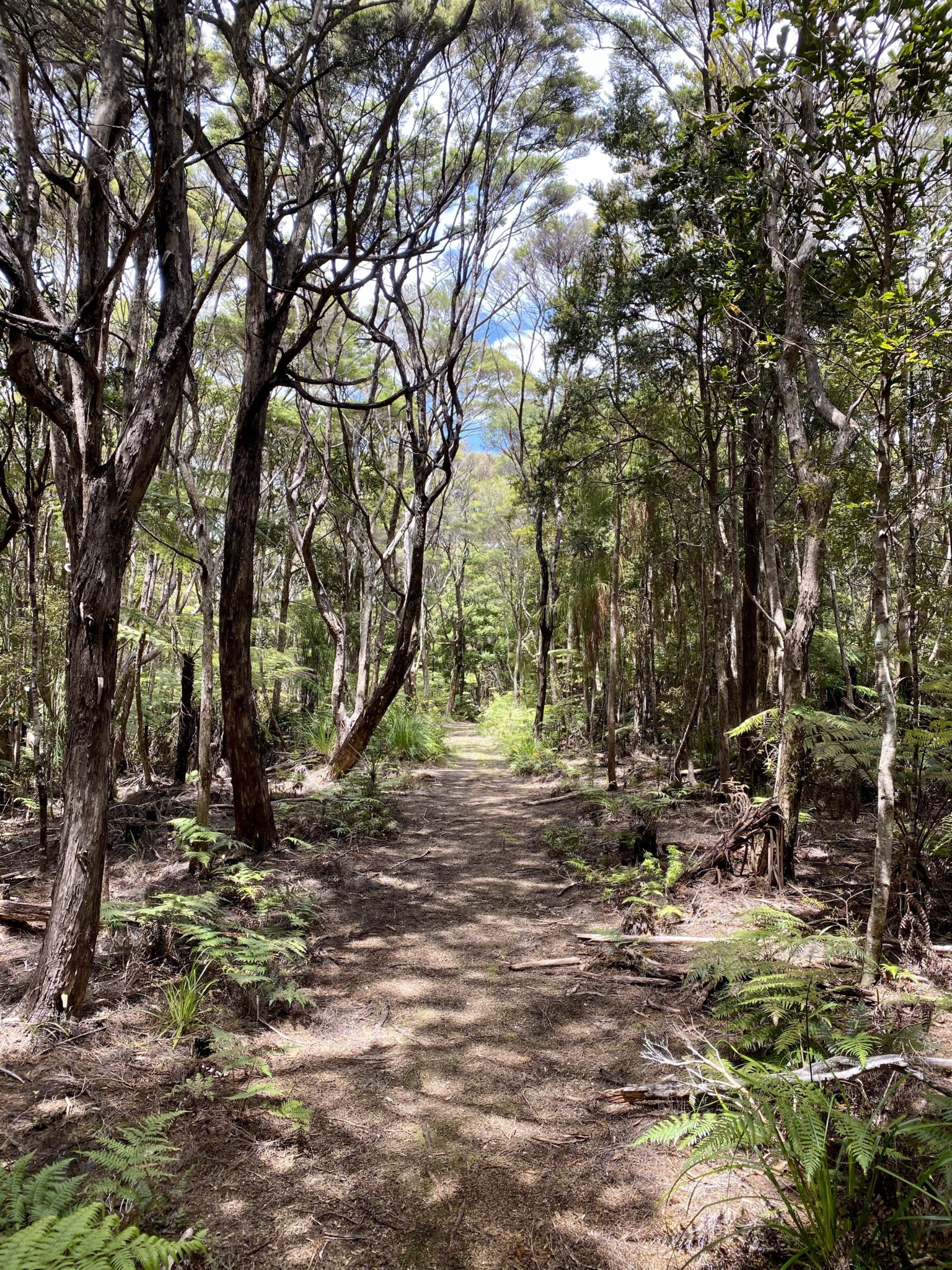 Eventually we came down into the town of Whananaki. It wasn't much of a town. A small store fried us up some fish and chips. John also ate 2 liters of ice cream which turns out is more than the half-gallon ice cream challenge from the Appalachian Trail!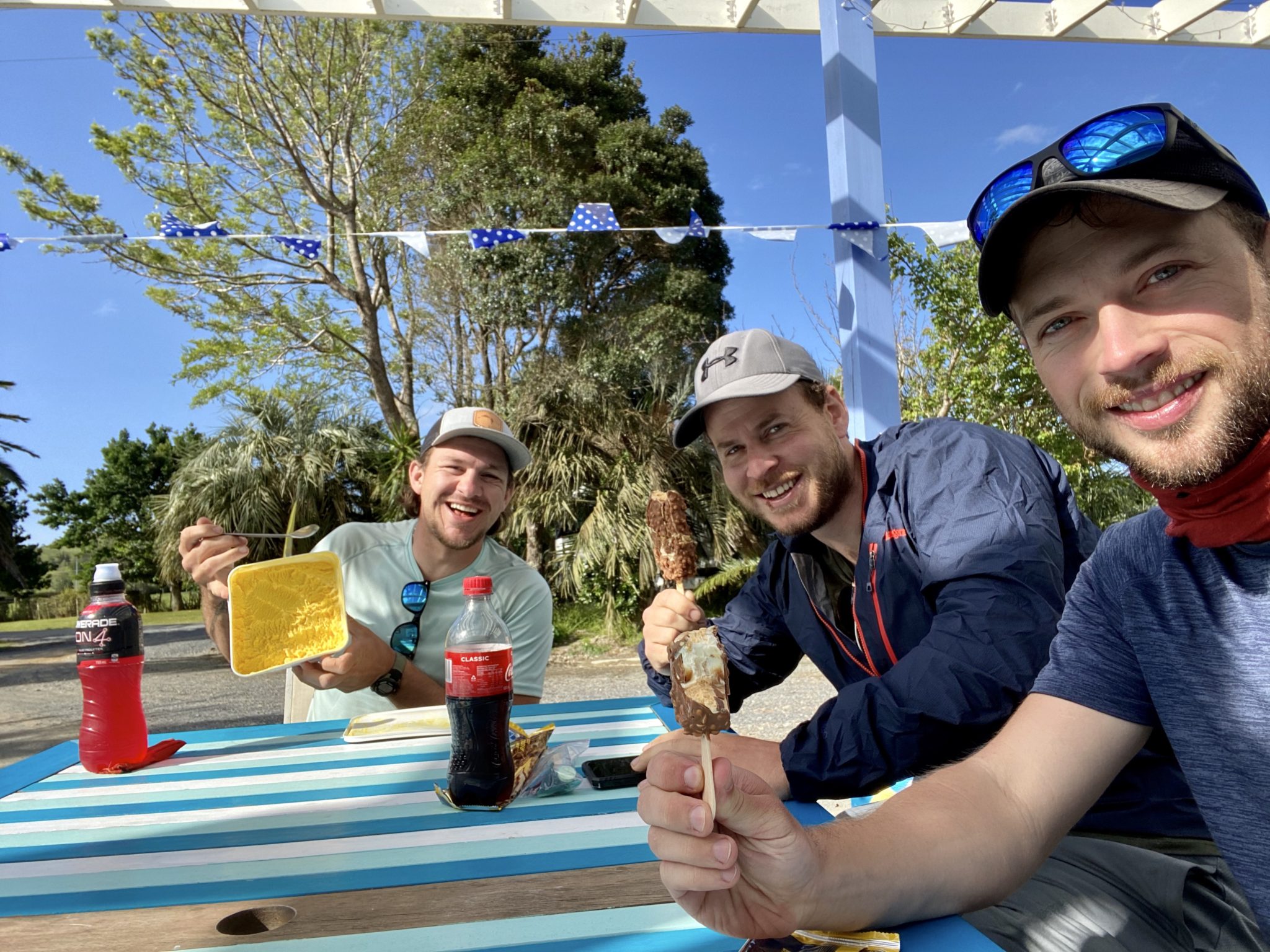 It seems that our trail legs are finally coming in. My feet and legs are hiking well. However, on one of the big climbs today I felt so winded. It really wiped me out but the food later made up for it.
Many of our hiker friends from the previous night opted to camp in town but the three of us pushed on across the longest footbridge in the Southern Hemisphere.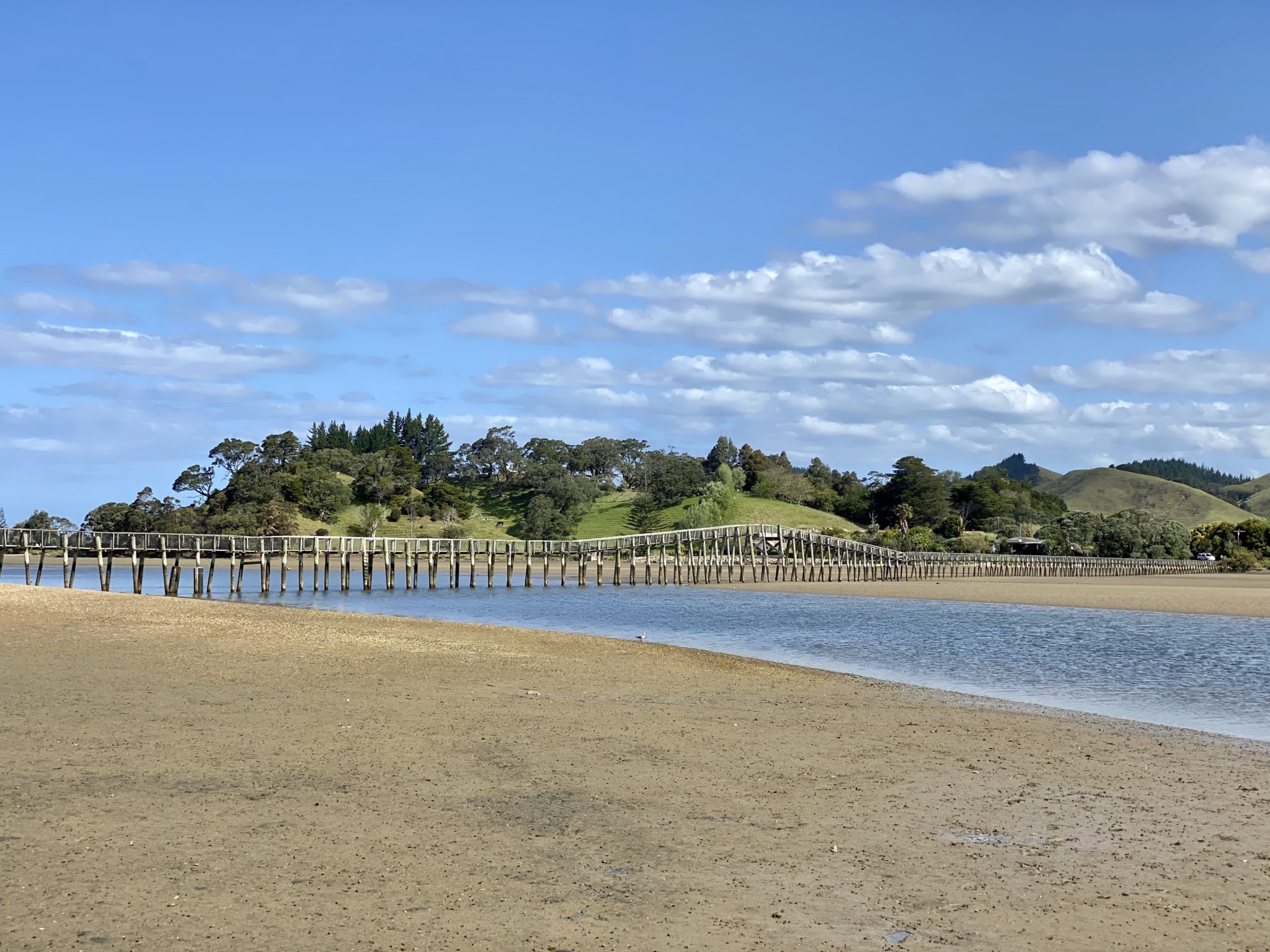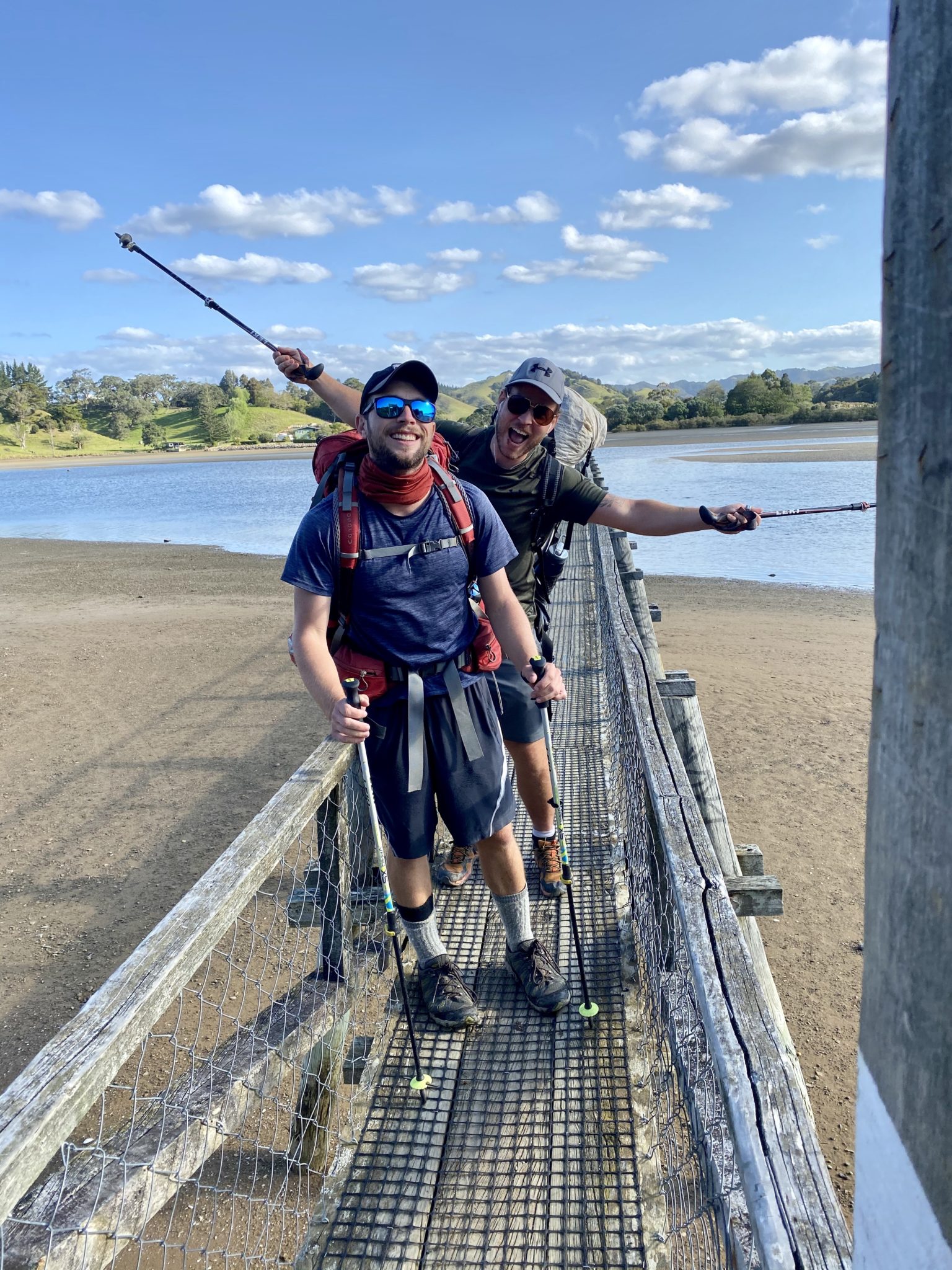 We followed the beach for a bit and then climbed into the bush overlooking the ocean. We weren't completely sure we were allowed to camp up at this monument to a shipwreck but we risked it.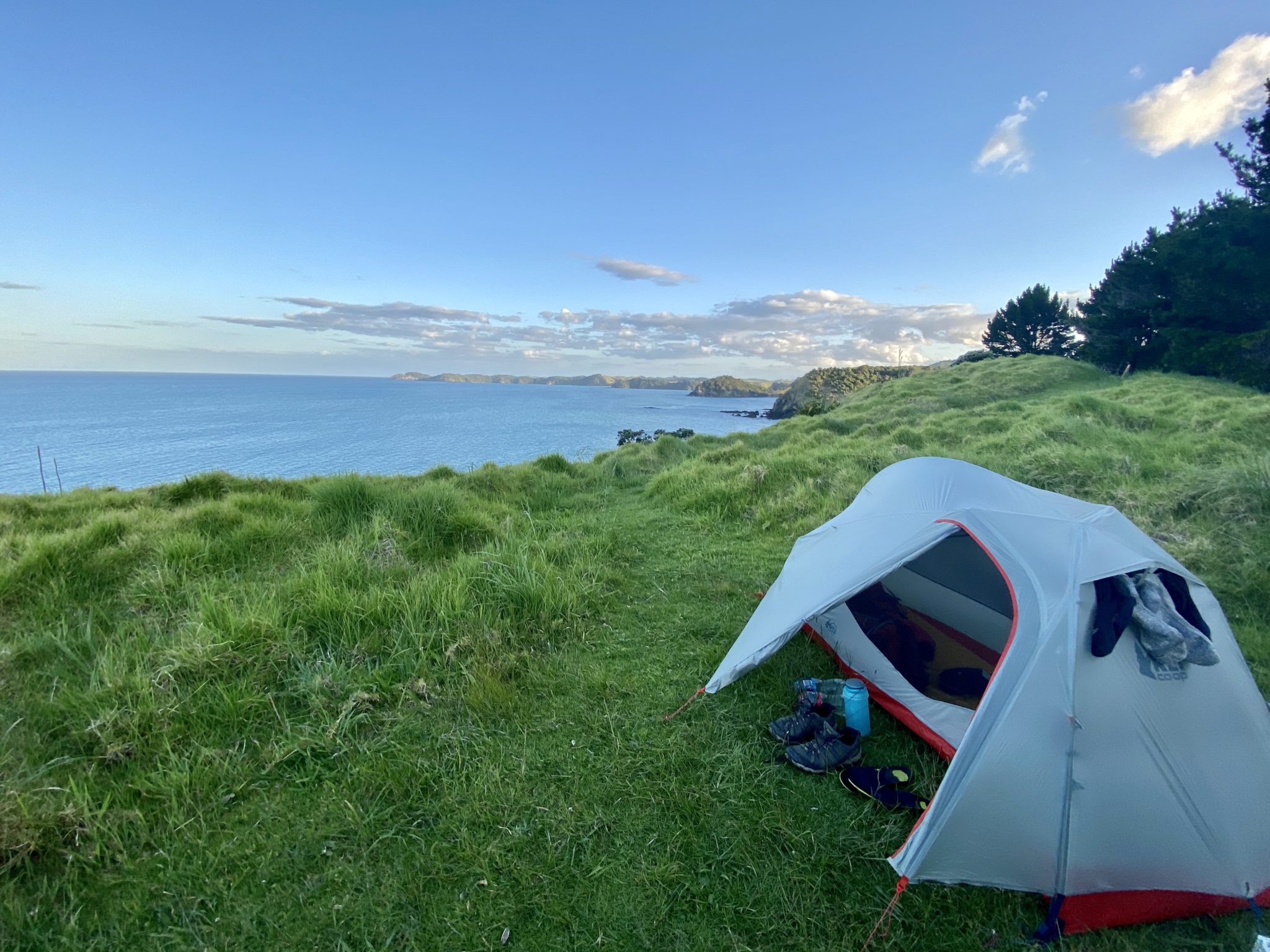 It was an overall fantastic day and perhaps the most beautiful place I've ever set up my tent! Things are looking up! And we crossed the 300km mark and are over 10% finished with the trail. I watched the moon rise over the sea as I went to sleep. It was truly magical.
Day's Distance: 32km (19.9mi)
Total Distance: 317km (197mi)
Distance Remaining: 2,680km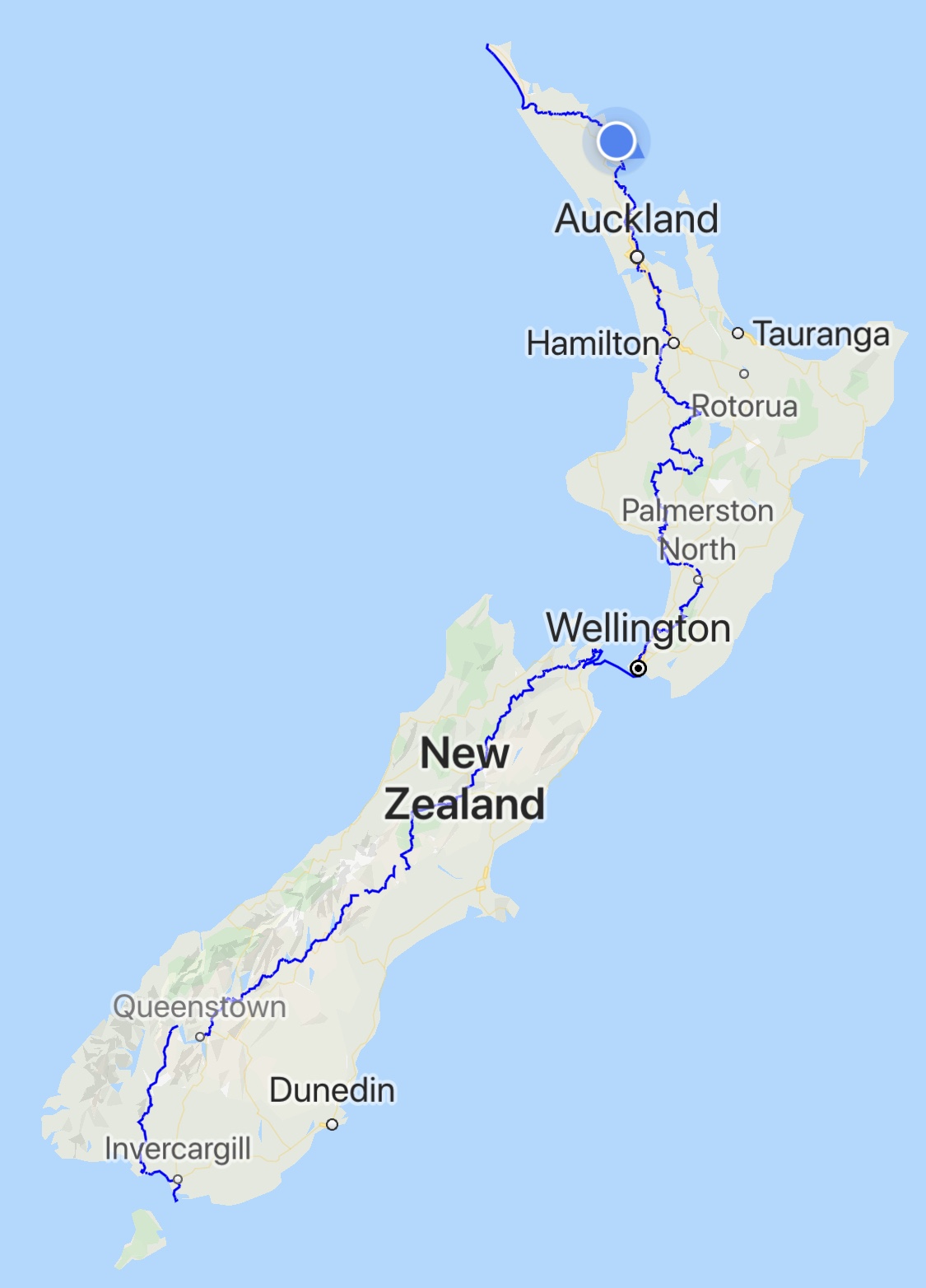 ---
TRAIL TUNES
Tom and my favorite ABBA tune to shout in the forest:
---
Shop Te Araroa Merchandise
---
From apparel to prints, grab some awesome trail merch at the A Stray Life Shop!
To follow along with my adventures, sign up via email below or like/follow on Facebook, Instagram, and YouTube: