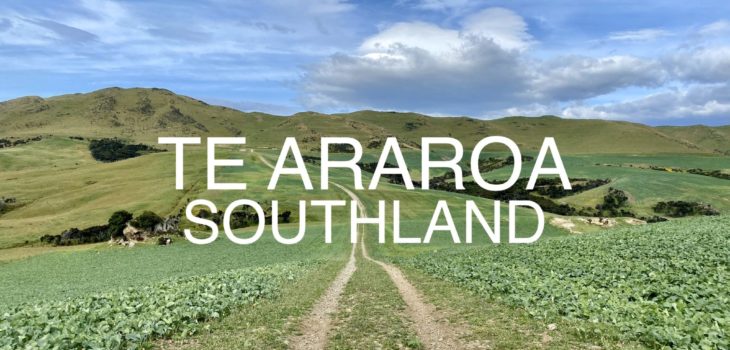 With the end in sight, we pushed on through the last few forests and farms of the Te Araroa.
If you missed it, here's the last post as well as all the previous blogs from the trail.
---
VIDEO
The trail takes on a familiar combination of farms and forests as Tom and I inch ever closer to the finale.
---
DAY 85 – Aparima Hut to Telford Campsite
Just like old times, Tom and I awoke in our tents and packed up. The sand flies were horrible as we rolled our tents up. Once we began walking they stopped bothering us.
We crossed a river on a swing bridge and then crossed a field of tussock. Then we entered the native beech forest. I was so ready to be finished with the trail; I really didn't want to hike but had six days left. I was glad Tom was back and our conversation helped pass the time. He planned to hike the remaining days with me to the trail's end in Bluff.
Unfortunately as the day wore on, Tom expressed pain in his ankles and his same blister problem on his little toe that plagued him on the North Island returned. How short-lived his return to the trail seemed to be.
We stopped at a hut for a break. It turns out Tom only had two apples and some wraps to get him through the next days! I gave him a KitKat with some peanut butter. We talked with some Dutch hikers who were very positive regarding the trail, despite the poor quality of trail as of late. But they had also hitched all the road sections so they have had a very different experience than mine.
We left the hut and climbed steeply through the forest. The break at the hut seemed to help Tom's pain a bit. We emerged at the top of an exposed, rocky ridge. Here we enjoyed the view and took our lunch break. This also helped Tom's ailment.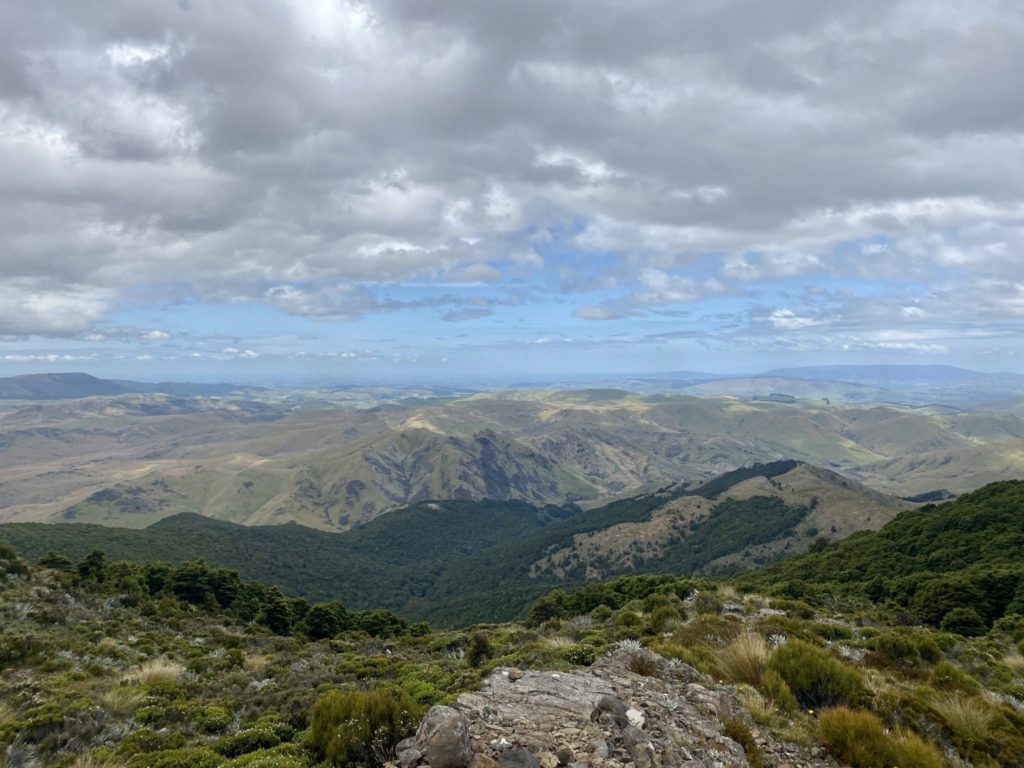 As we descended, we discussed the options for Tom remaining on trail or if he would get off trail. I had planned 34km a day for the remaining days but Tom didn't feel up to that today. Maybe we could make up the distance on the last day which promised some easy road walking.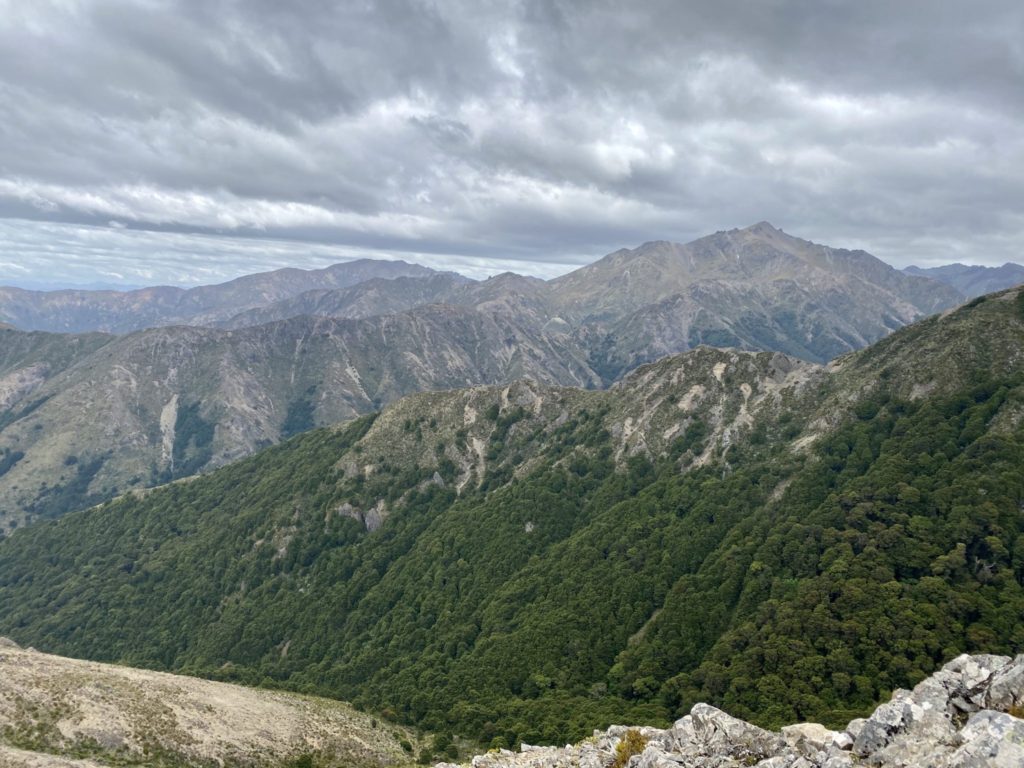 We descended off the ridge and eventually down to a campsite. This would be the last place to camp for a long while. The next section of trail is on private farmland and hikers are not allowed to camp. This threw a wrench in my plan to go farther. But since Tom didn't want to push on, I figured what was the point of him returning to the trail if we were to split up after one day together.
And so we pitched our tents at 4:30pm and relaxed. It was nice for a change to rest and not push on. I collected my thoughts and also seemed a bit more at ease with the remaining days. Maybe slowing down made the trail more enjoyable. I was so ready to be finished but this relaxing afternoon seemed to help my attitude. I went to sleep as hundreds of sand flies surrounded my tent, trying to get a piece of me.
Day's Distance: 21km (13.1mi)
Total Distance: 2,816km (1,750.2mi)
Distance Remaining: 184km (114.4mi)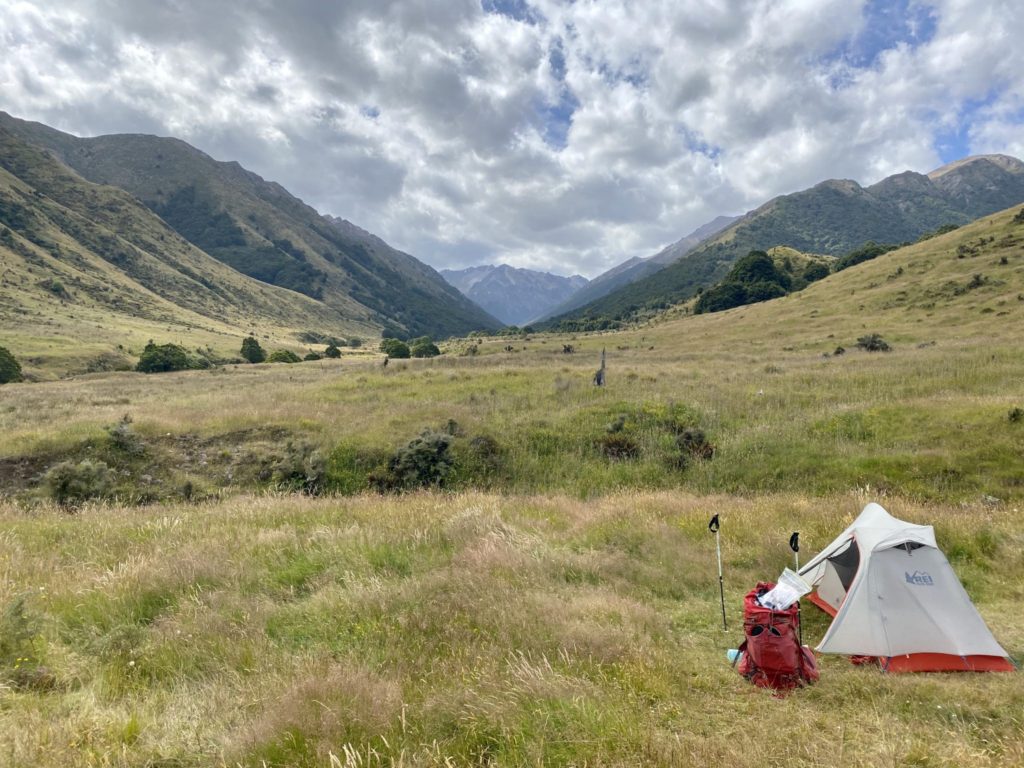 ---
DAY 86 – Telford Campsite to Twinlaw Forest
Tom and I packed up as quickly as we could. I've never seen so many sand flies. Even with bug spray on, the flies swarmed. The mesh backing on my pack had nearly ripped completely off so I used dental floss to sew it back together. Hopefully this would last the remainder of the trail. I had tried to sew my shoes up with dental floss the previous day but the needle couldn't pierce the leather.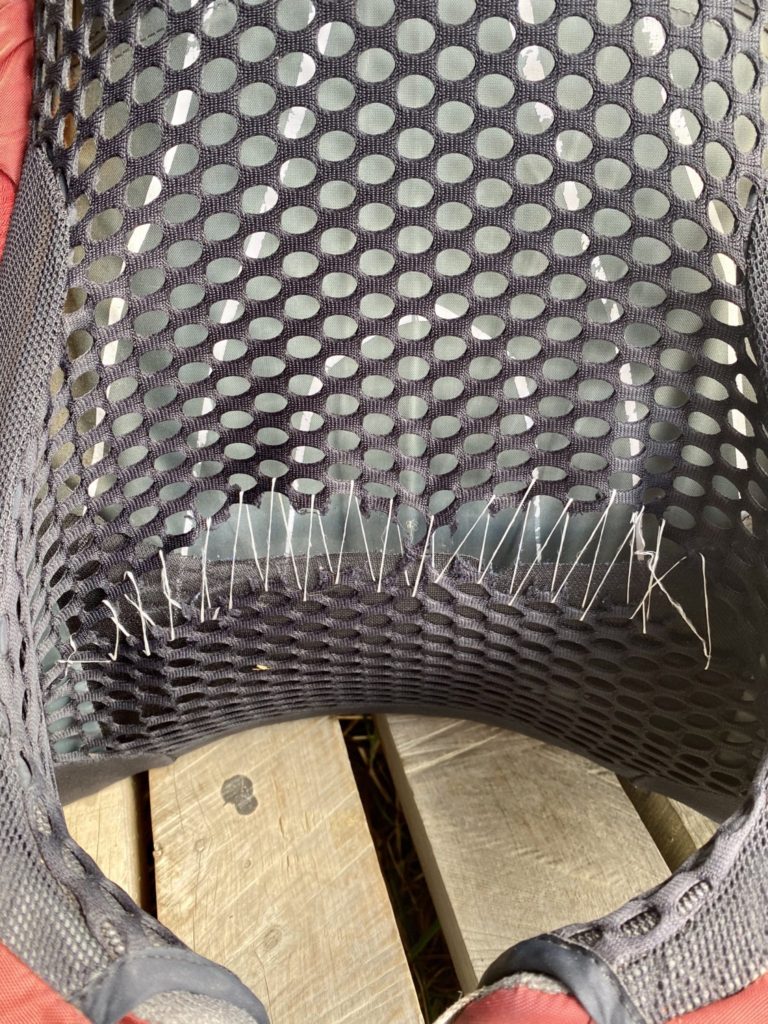 We set off and were quickly on our way. The first order of business was a climb up a farm track. It wasn't too difficult and Tom's body seemed to be in good shape today.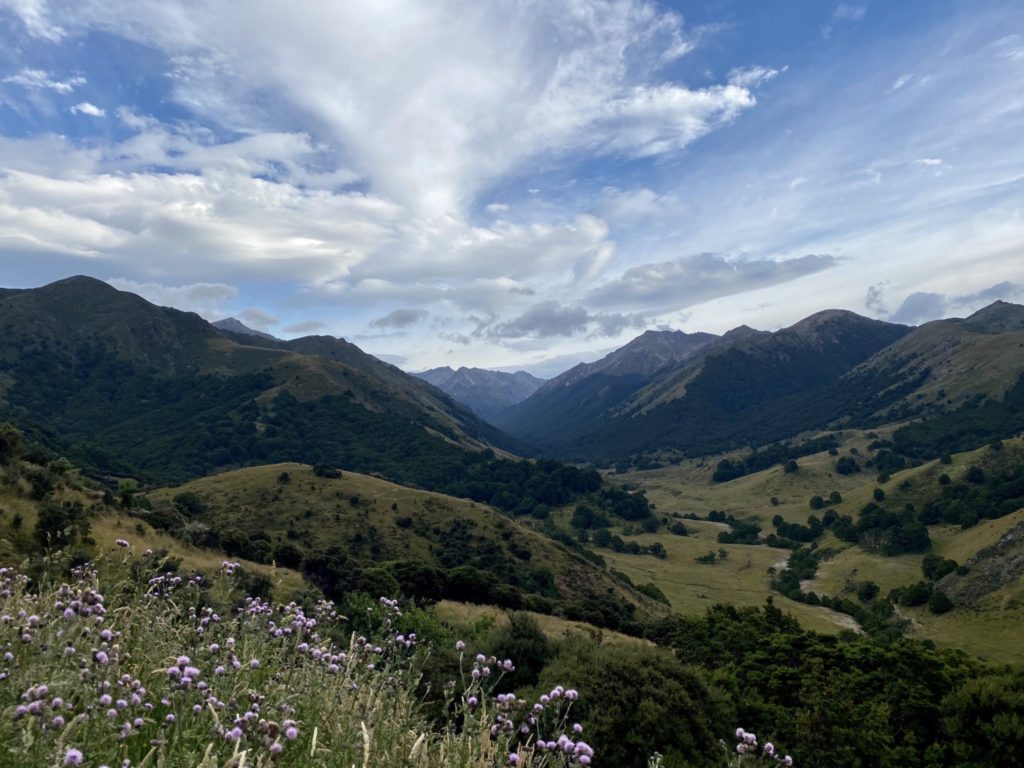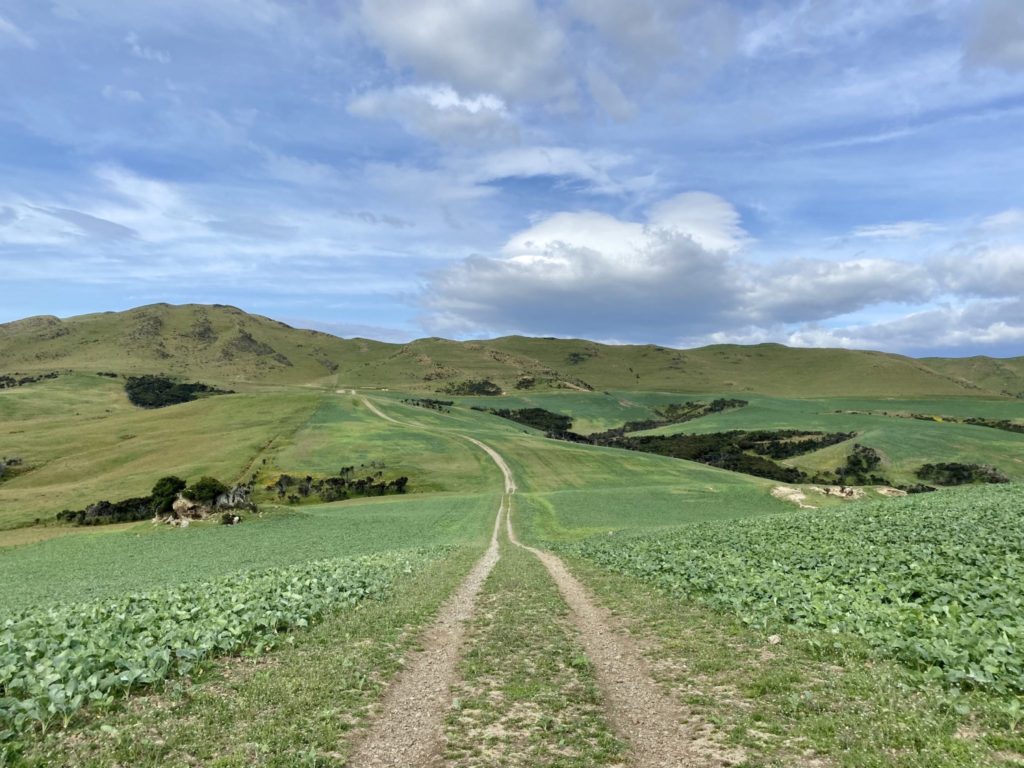 We descended down to a river and crossed, wetting our feet. Afterwards it was farm track for most of the day.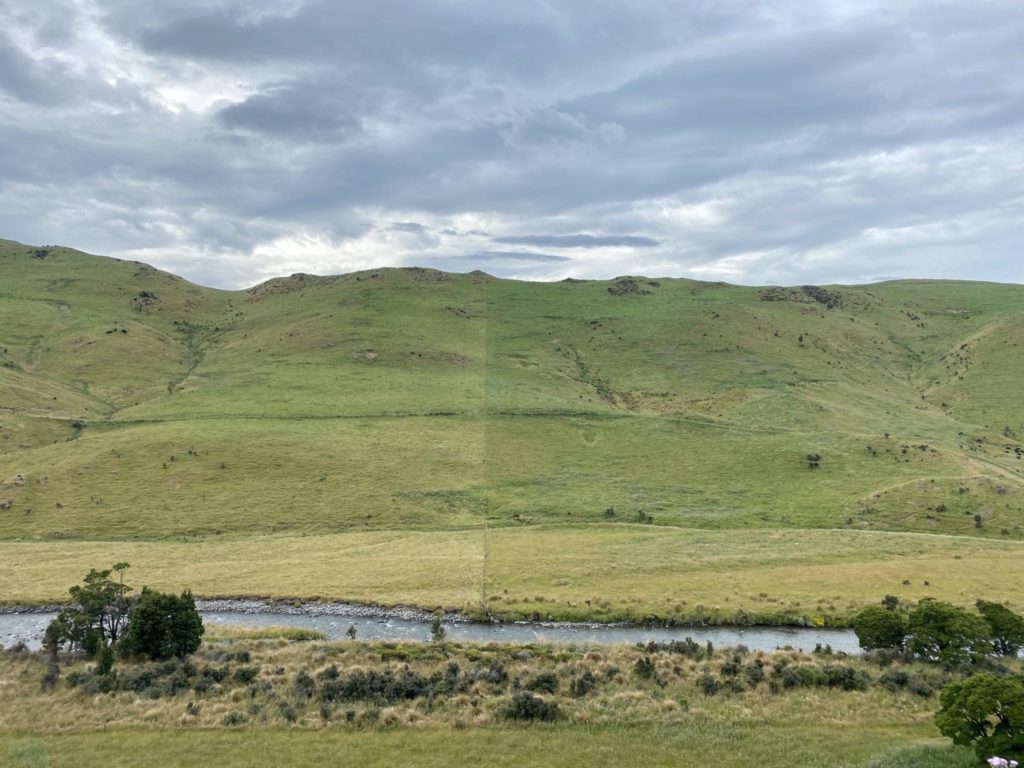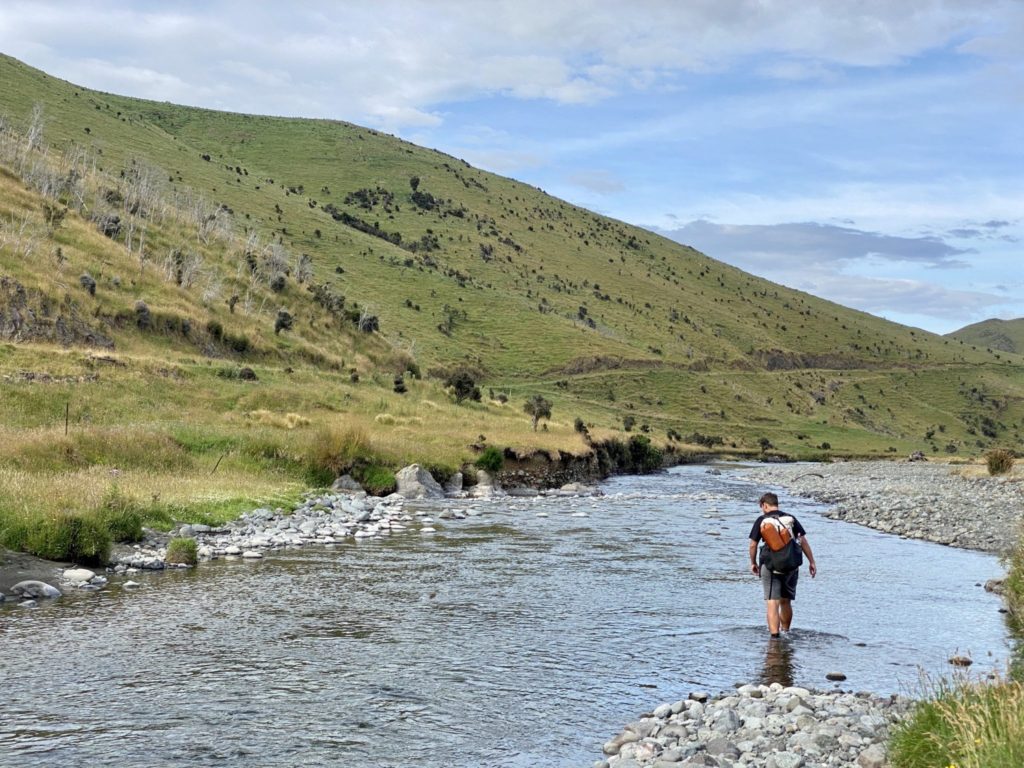 The views were decent but I've seen enough farms. The mountains in the distance were nice. The sky was mostly cloudy which kept us cool.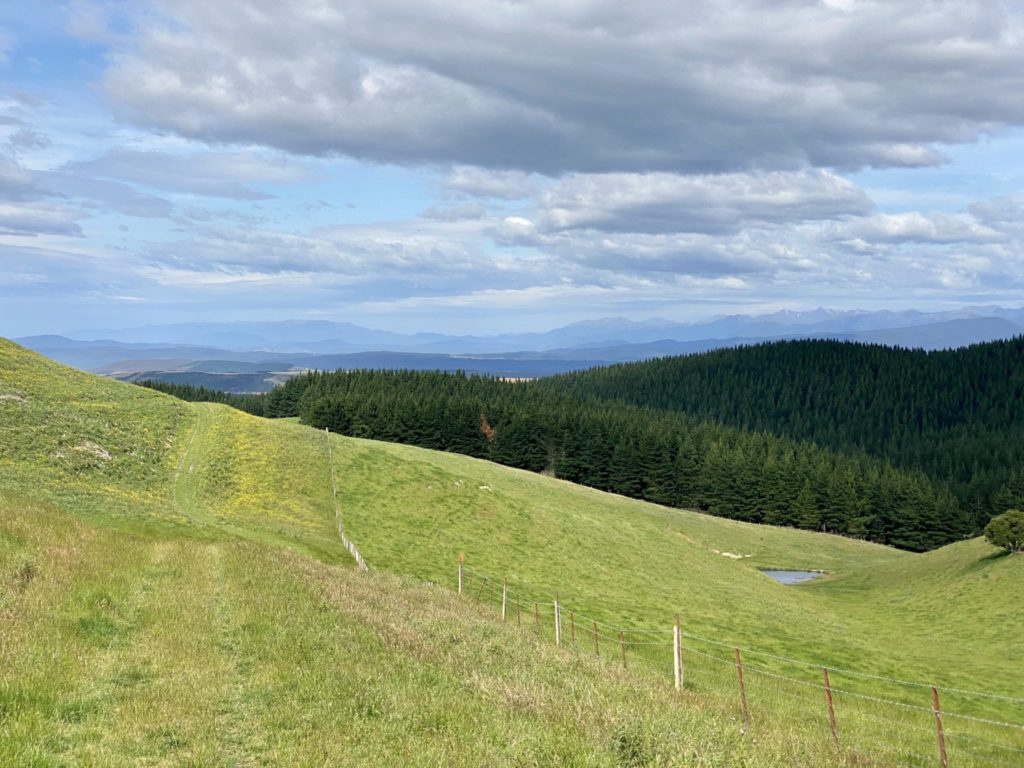 We took some breaks and relaxed a bit. It was an easy day and we were in good spirits. We were starting to plan our remaining days on trail. Campsites were almost nonexistent in the next sections and we had to figure out how much food we had left. Tom didn't have any food at all, really, and so I gave him what I could spare.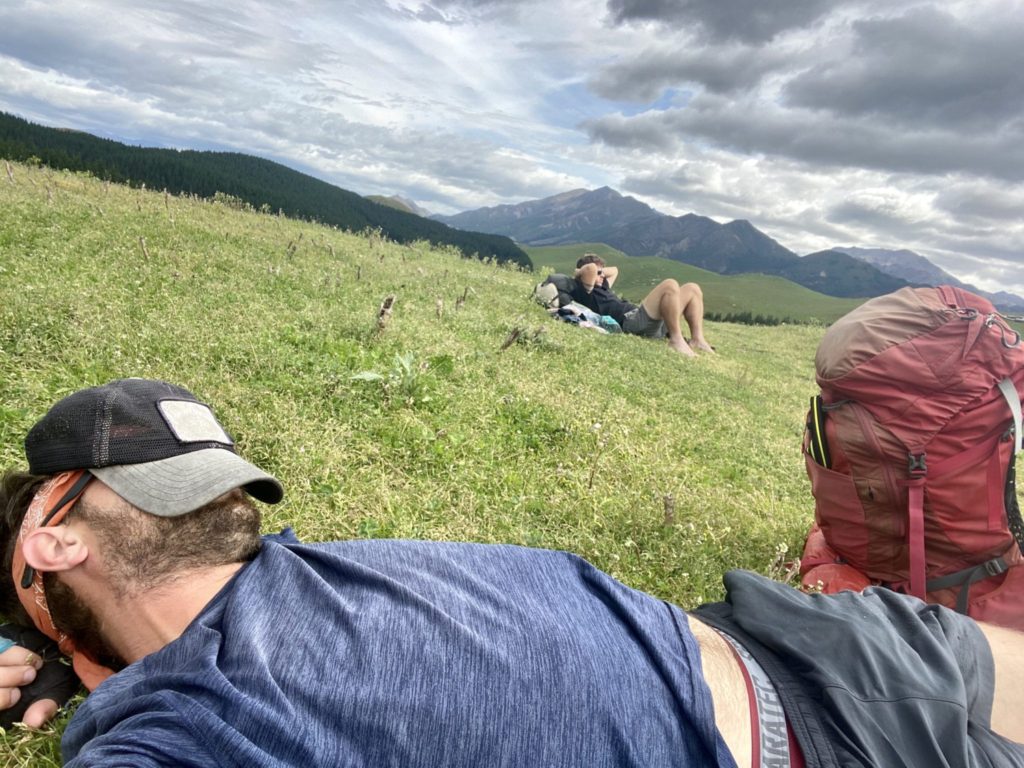 The end of the day we ascended a mountain covered in sheep. Since we'd walked on farms all day we hadn't had a chance to refill our water. All the streams we passed were sourced from areas with livestock so we didn't want to pull water from them.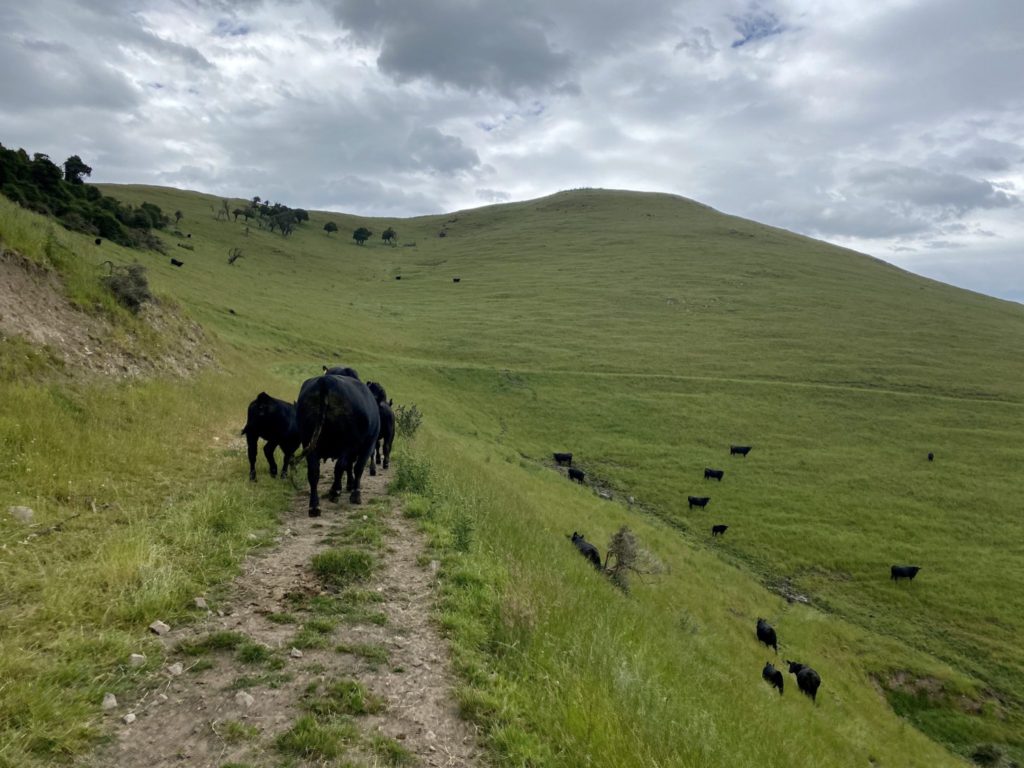 As we climbed up the mountain I was worried about rationing my last liter of water. There wouldn't be any water from here to camp. My remaining liter would have to be enough for this climb, dinner, and the morning until we reach another source. I'd be dehydrated all night.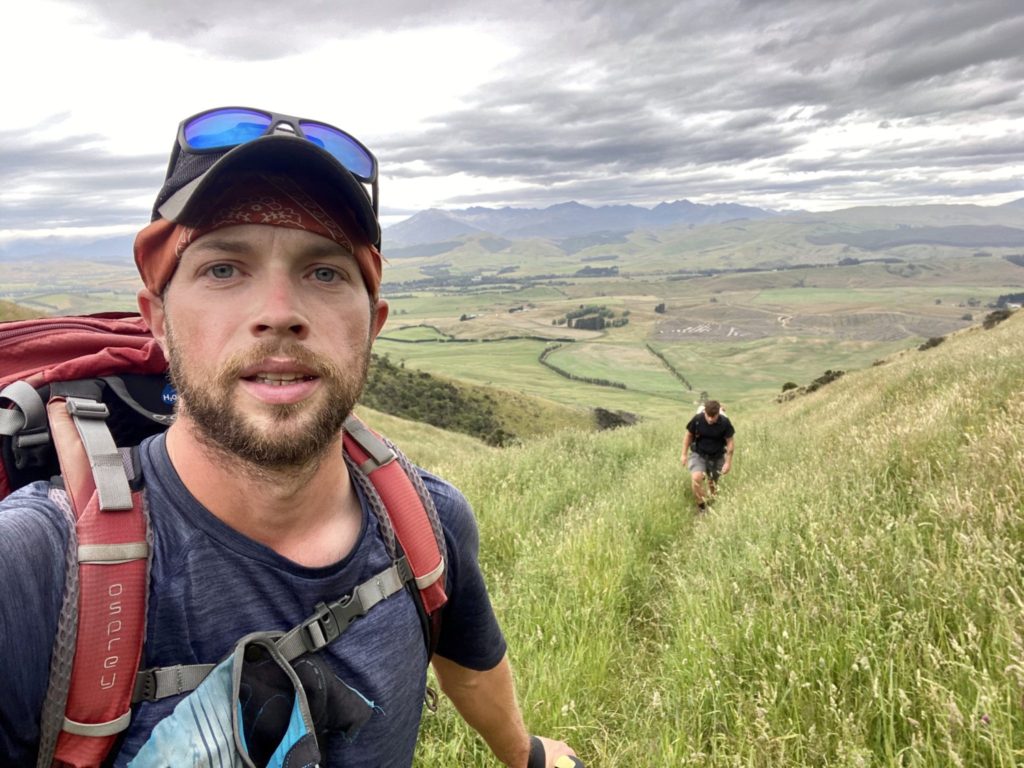 Halfway up the mountain we found a stream and there weren't very many sheep upstream so we deemed it safe and filled up (and filtered the water). Salvation!
At the top of the mountain there was an "exotic forest" as the guide said. This meant that it was nonnative trees, i.e. it was a timber plantation. The thick fir trees did not allow for any camping spots. However, camping was forbidden here as it was private land, just like the farms we've been hiking through. One farmer had built a hut we passed earlier in the day but charged a fee for its use. Basically the farmer doesn't allow camping but does allow hikers to pay to stay at his own hut. What a racket!
So Tom and I walked through the timber plantings and found a small, hidden clearing and set up our tents. Rules were made to be broken.
Day's Distance: 37km (23mi)
Total Distance: 2,853km (1,773.2mi)
Distance Remaining: 147km (91.4mi)
---
DAY 87 – Twinlaw Forest to Longwood Forest
It was a wet morning but if rain had come at night, it was over now. We packed up our damp tents and were on the trail. It was an easy morning of hiking along the logging road and descending down from Woodlaw Forest.
From here we road walked for a ways until we entered a forest called Island Bush. Again we followed logging roads through a pine plantation. It was all relatively easy and kind of boring, but pleasant, nonetheless.
We stopped at a hut another local farmer had set up. There were no other places to camp for quite a ways so it was generous of them. We had lunch here. Tom got lucky and they had an honesty box with food for sale. He bought some noodles to eat and I had wraps. There were also fresh eggs of which we attempted to hard boil. Apparently they take longer to cook in a camp stove compared to a normal stovetop and they turned out pretty runny. Soft boiled it is, then. The Dutch couple caught up to us. It seemed we were on the same timeframe to finish in three days.
We hiked onward down a farm road until it headed into the Longwood Forest. It started first as eucalyptus trees from Australia and then became native trees. It was a beautiful forest as we climbed but also quite muddy. Near the top I stepped up to my knee in mud!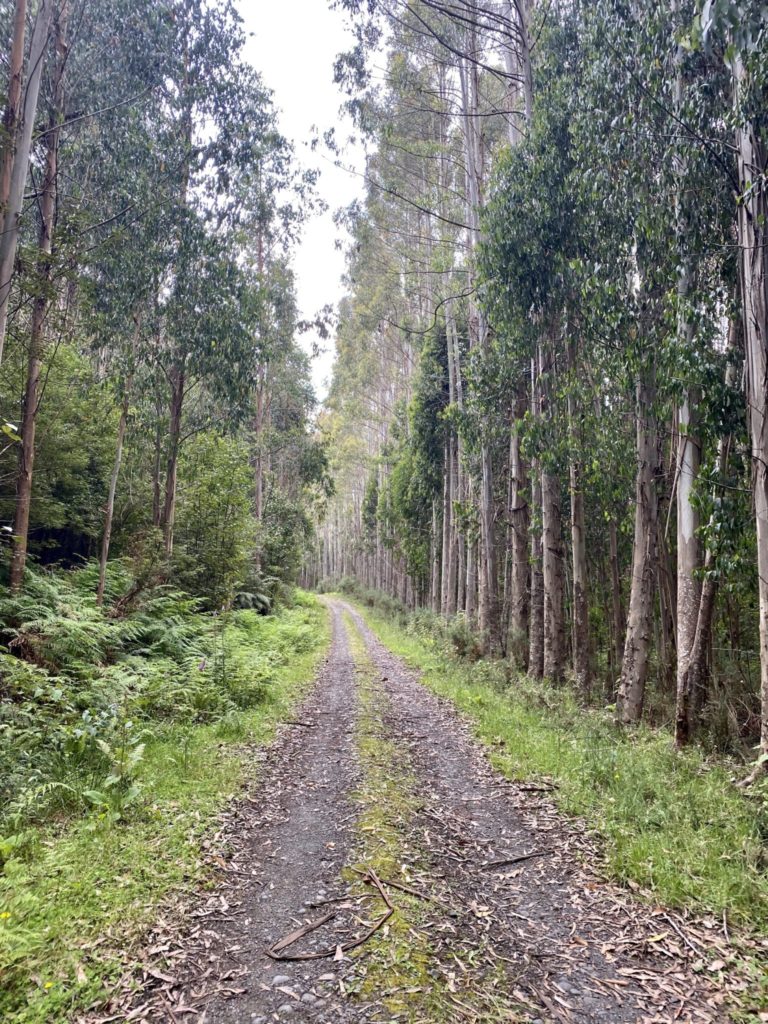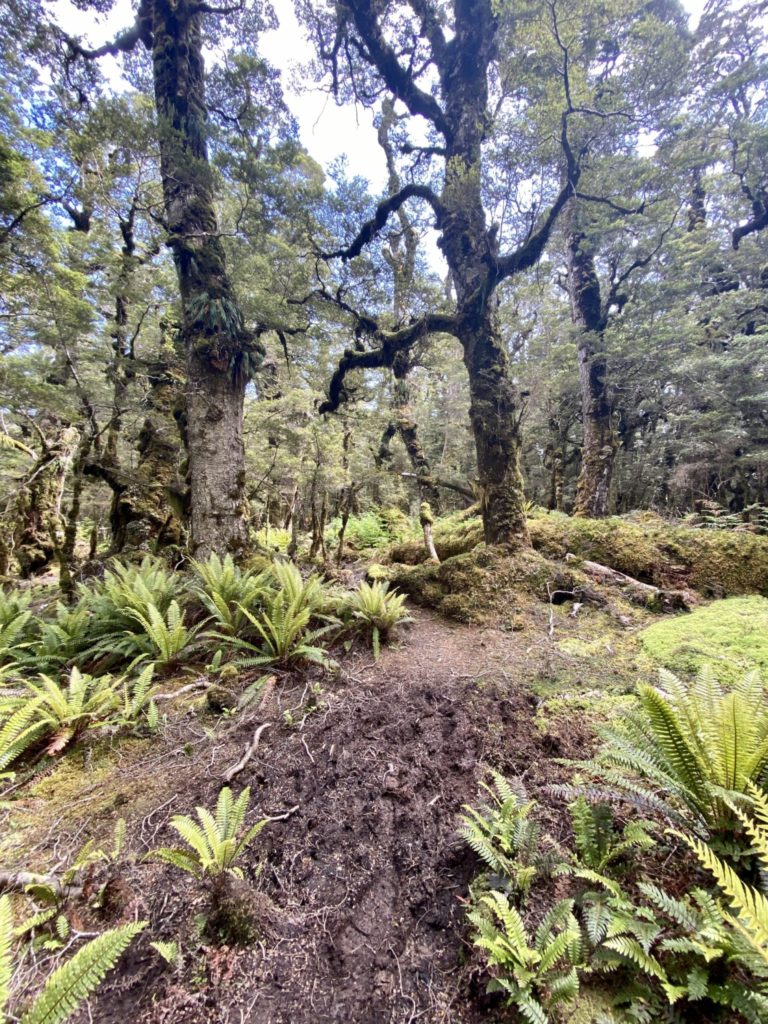 At last we reached the top of Bald Hill (805m/2,641ft) with its radio tower. I dried my tent and we had Nutella wraps for a snack. Then it was a very easy descent down a gravel road to an old quarry where we made camp.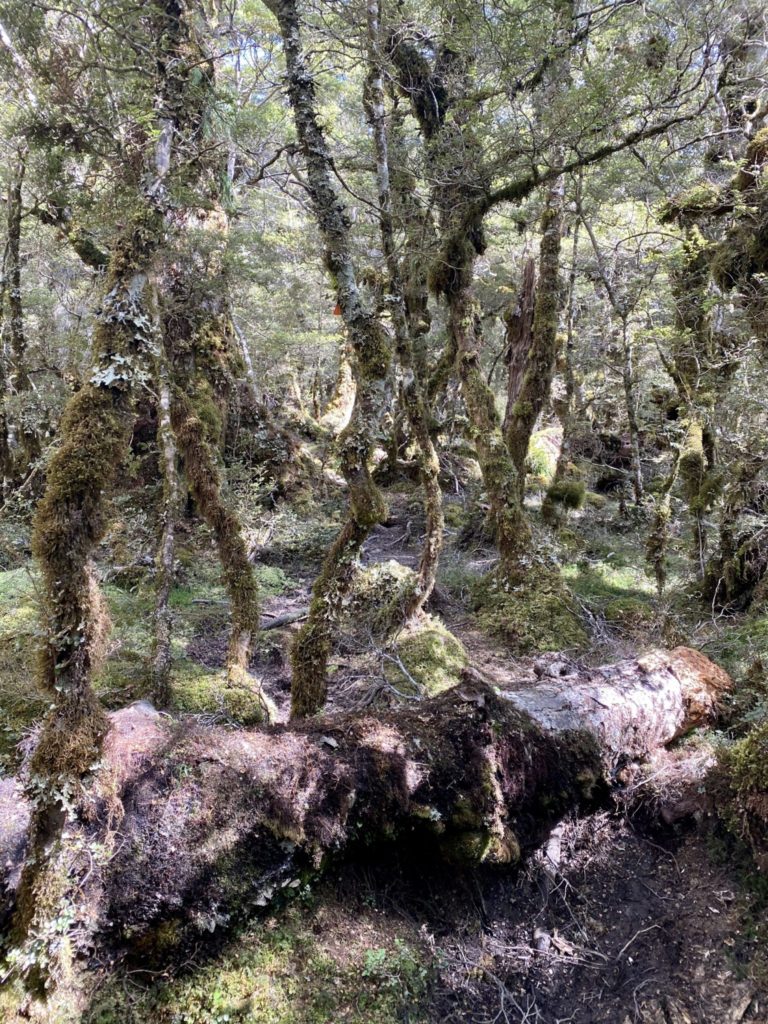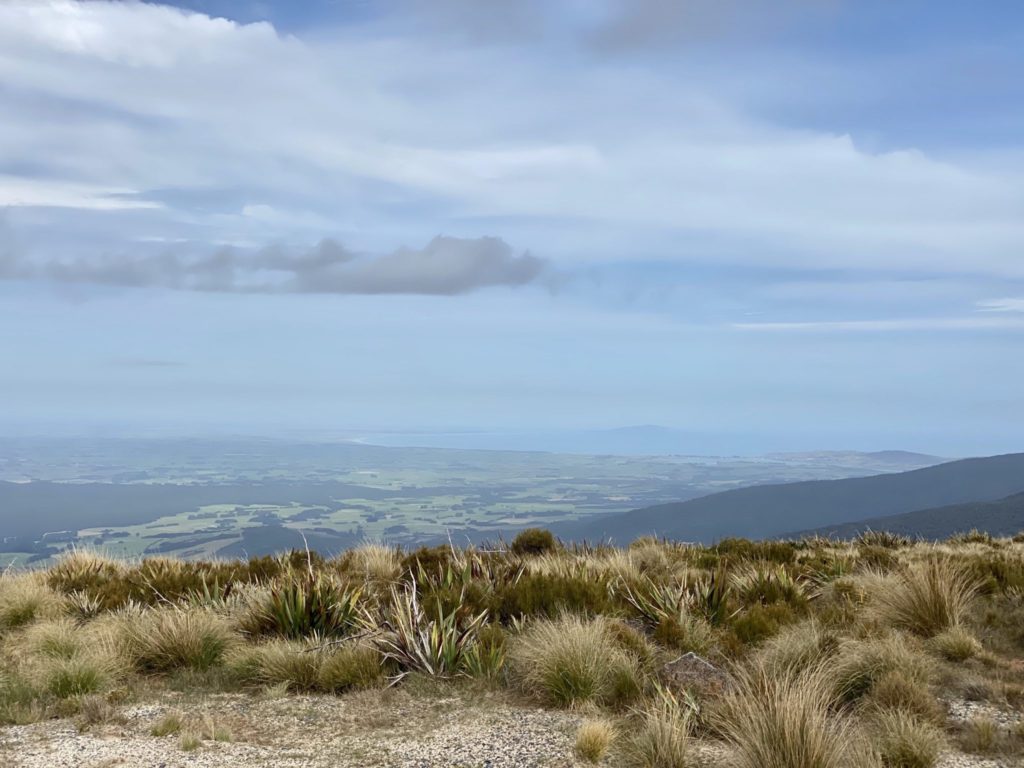 As I ate my dehydrated dinner of lamb fettuccini, I realized this would be my last dinner in the wilderness and the last time I camped in the woods. The next evening we would be camping at a tavern and have good food to eat and the final two days we booked a hostel in Invercargill. It wasn't sad at all; Tom and I were so looking forward to restaurants!
Though the terrain was easier than we thought and the forest was beautiful, we are ready to be finished. On the North Island we moaned about the road walks and now we welcomed them since it means easy and fast hiking! Tom is also trying to go easy on his body as he still experiences pain from time to time so the easier the better. In the morning we'll have the hardest bit left to hike and it should be all downhill from there…three more days!
Day's Distance: 34.5km (21.4mi)
Total Distance: 2,887.5km (1,794.6mi)
Distance Remaining: 112.5km (69.9mi)
---
DAY 88 – Longwood Forest to Colac Bay
We woke up in the quarry. I wanted to sleep in but Tom was raring to go, wanting to get it done. Off we went into the bush.
The day started with a steep climb but it was nice in the cool morning air. The trees were covered in moss, just like the forest in the Tararuas.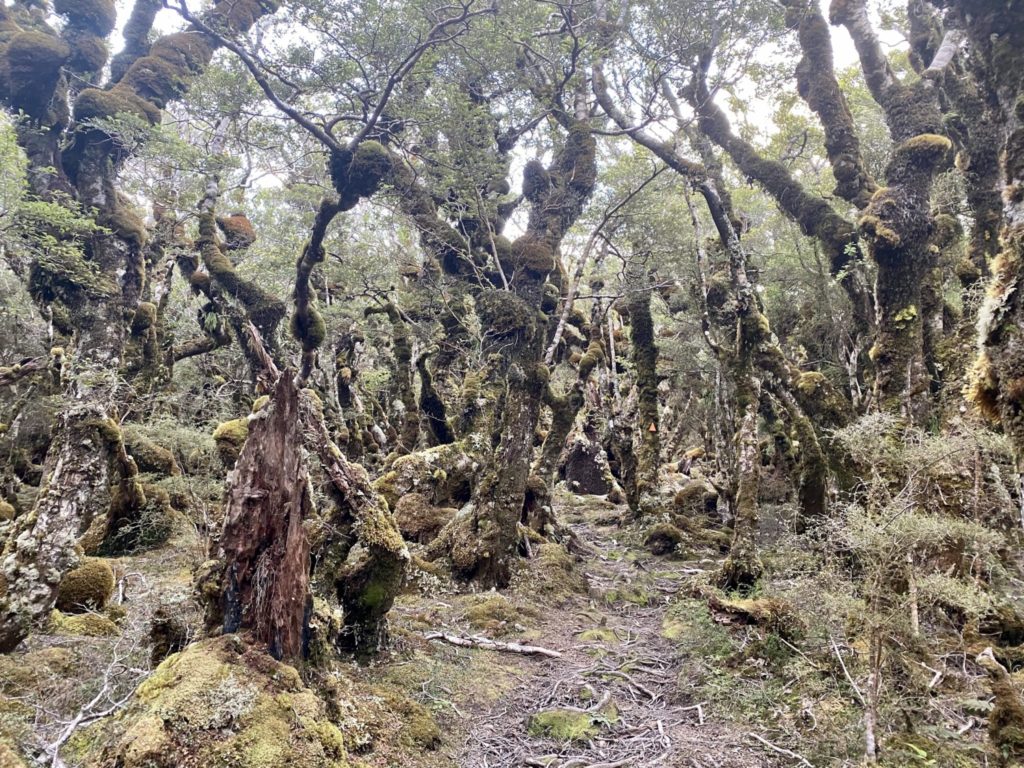 Soon we emerged on the top of Little Baldy. It was open tussock and we hiked along in somewhat marshy conditions.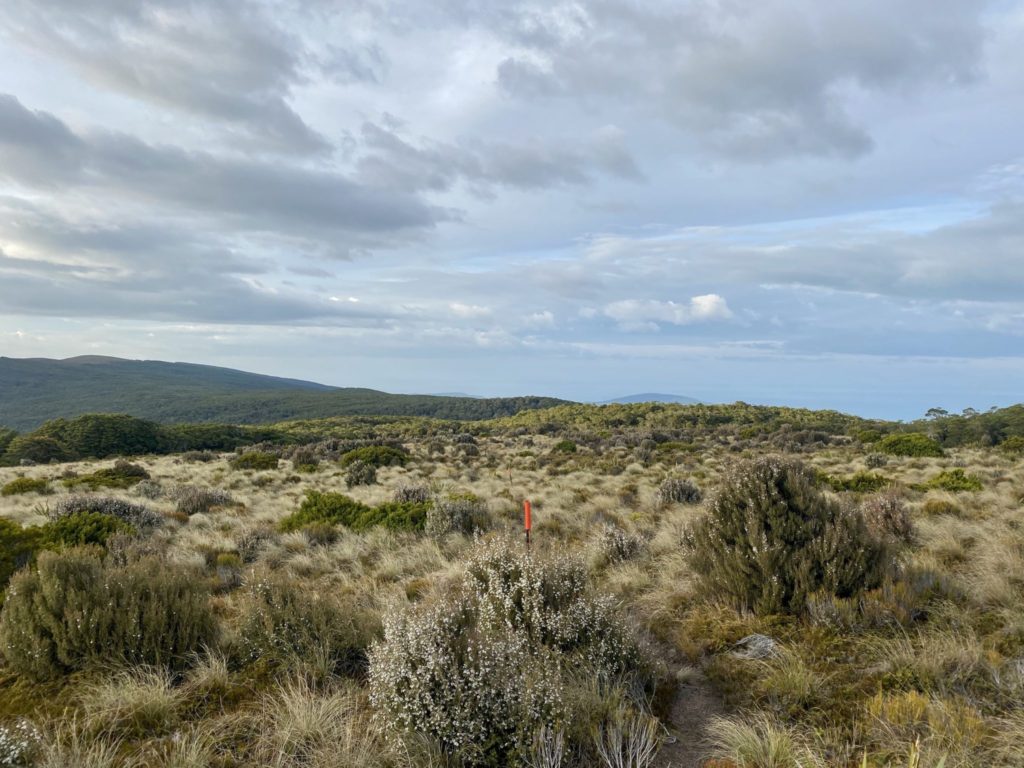 We reentered the bush and the forest became muddy. We'd been warned about this. It wasn't so bad but there were a few large mud puddles to dodge.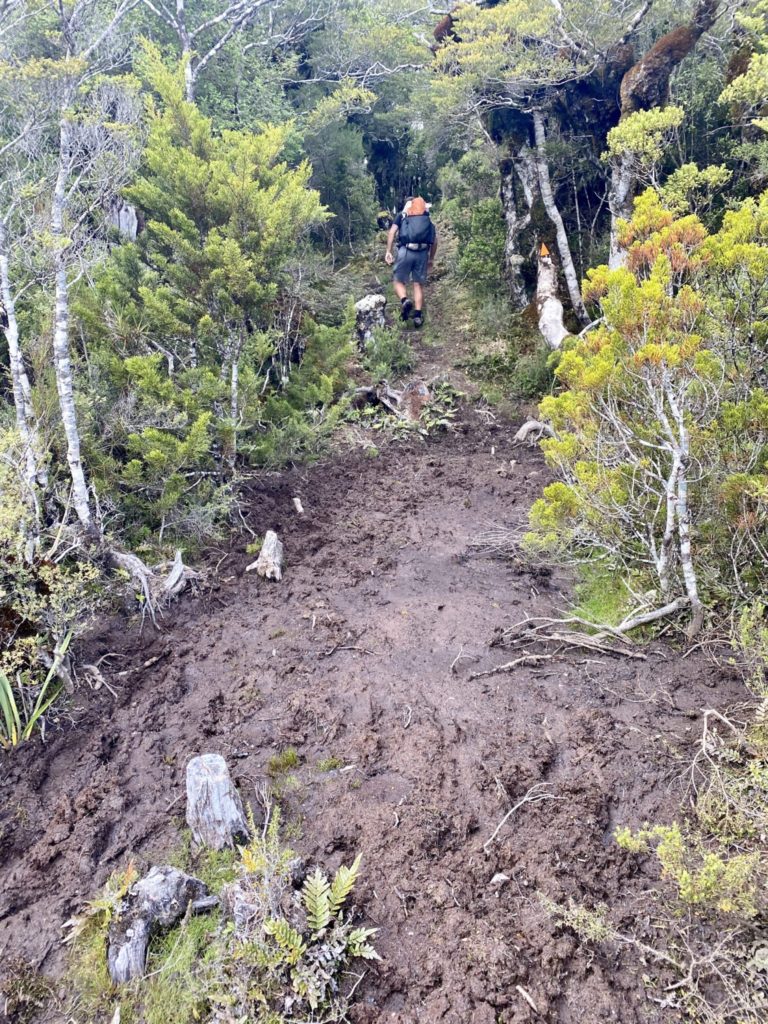 From there we climbed again to the Longwood Trig, another high point at 764m (2,507ft). The rest of the trail would be far below this elevation. This was our last real mountain. From the top I could see Bluff in the distance, so close yet so far. Just two days left!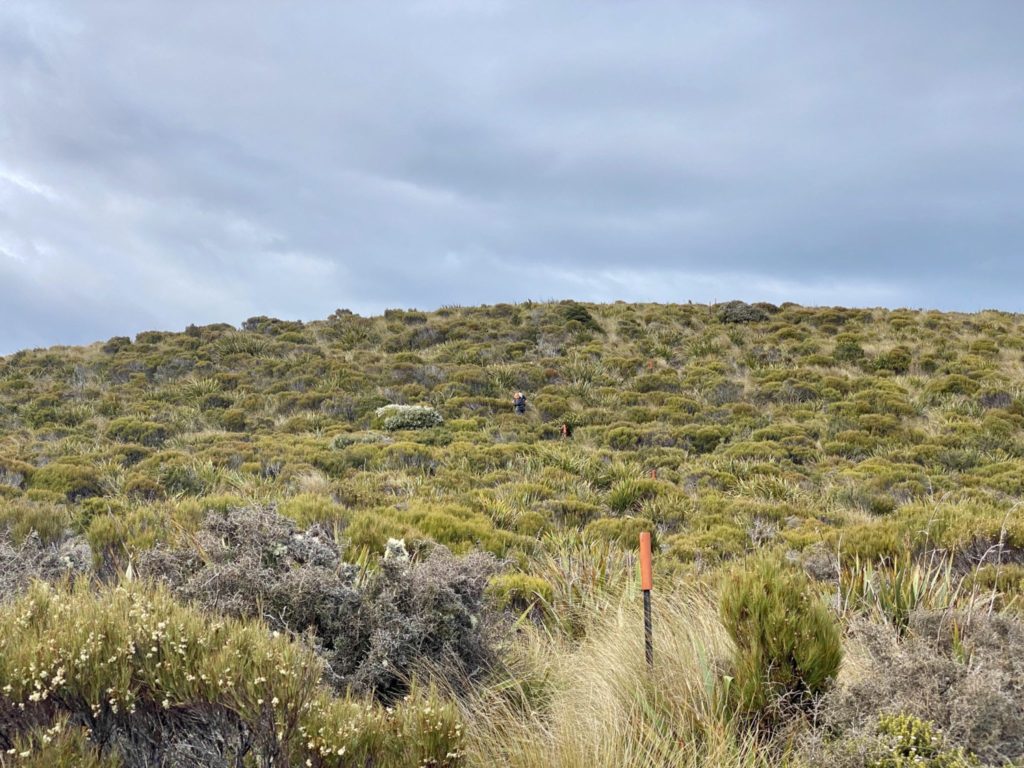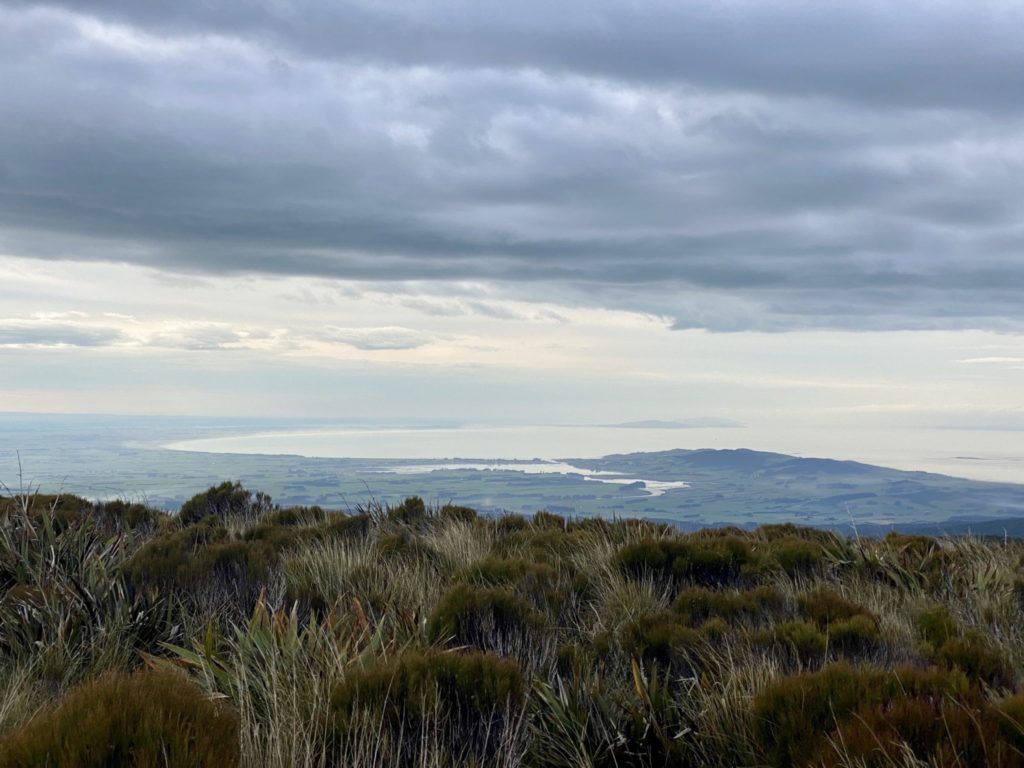 It was a steep descent down to Martin's Hut, our last hut on the trail. I used the privy and we continued on. While crossing a stream I slipped on a rock, dunking half my body. Great, now my tent was wet. Tom found this very amusing.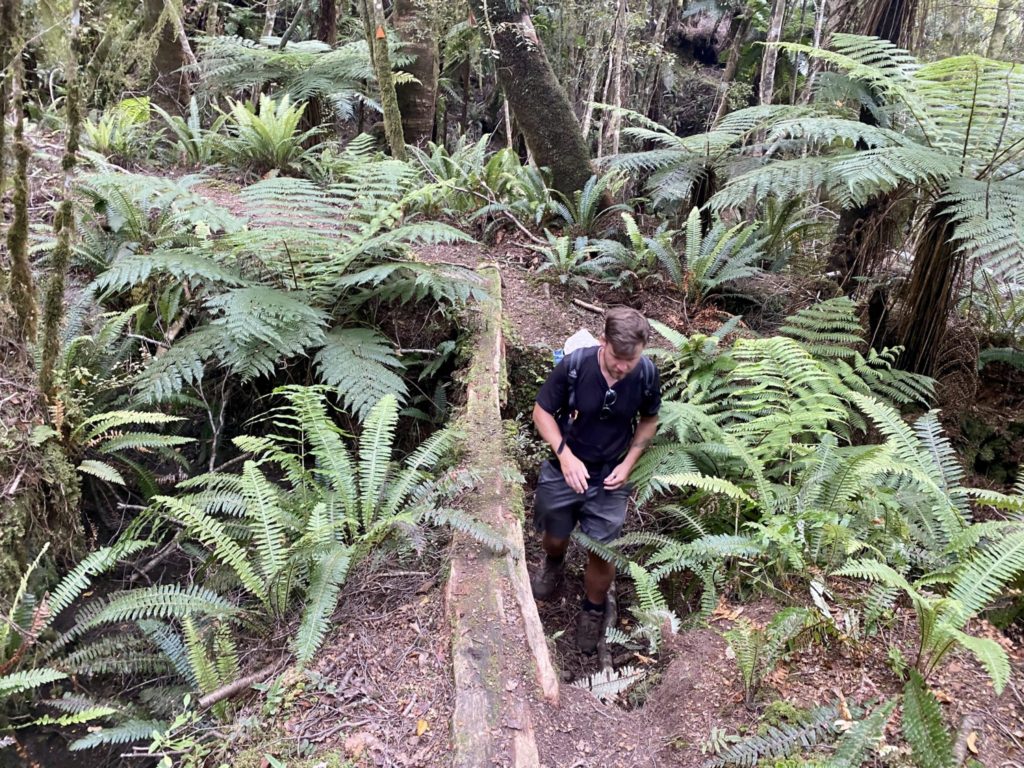 The rest of the day we followed the old water races from the mining days. These were trenches dug to channel water through. It was pleasant walking along these races and mostly flat.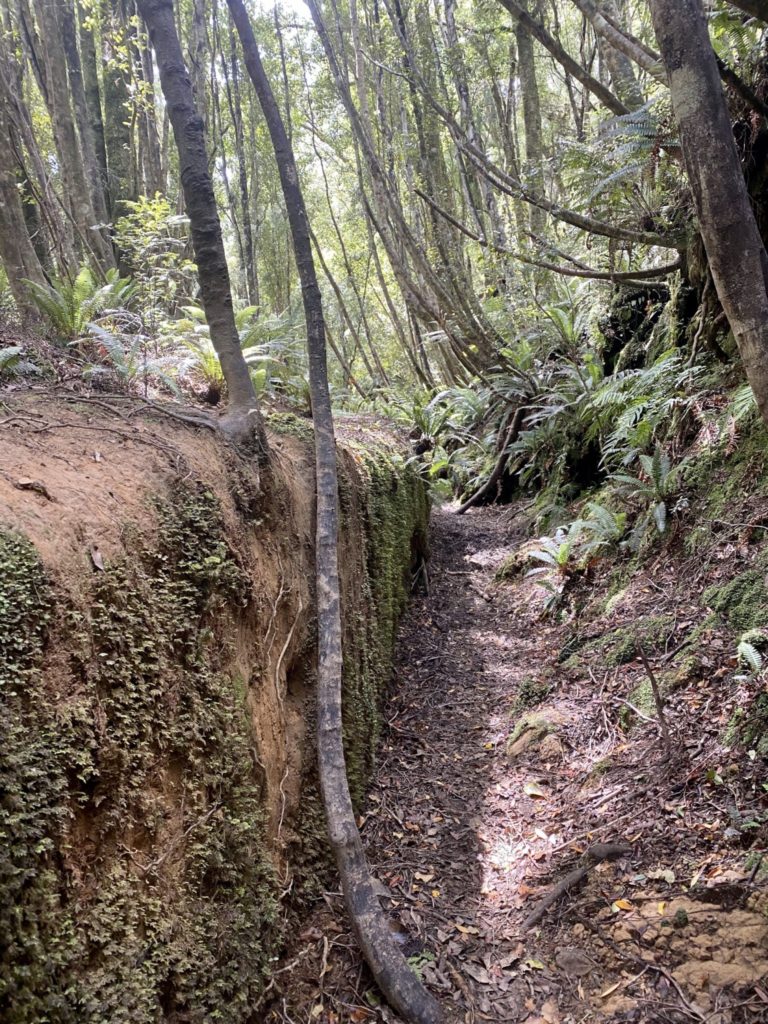 At times it became muddy and I did get a bit dirty but not too bad. Tom got ahead of me and I was on my own. I powered along, listening to The Count of Monty Cristo on audiobook.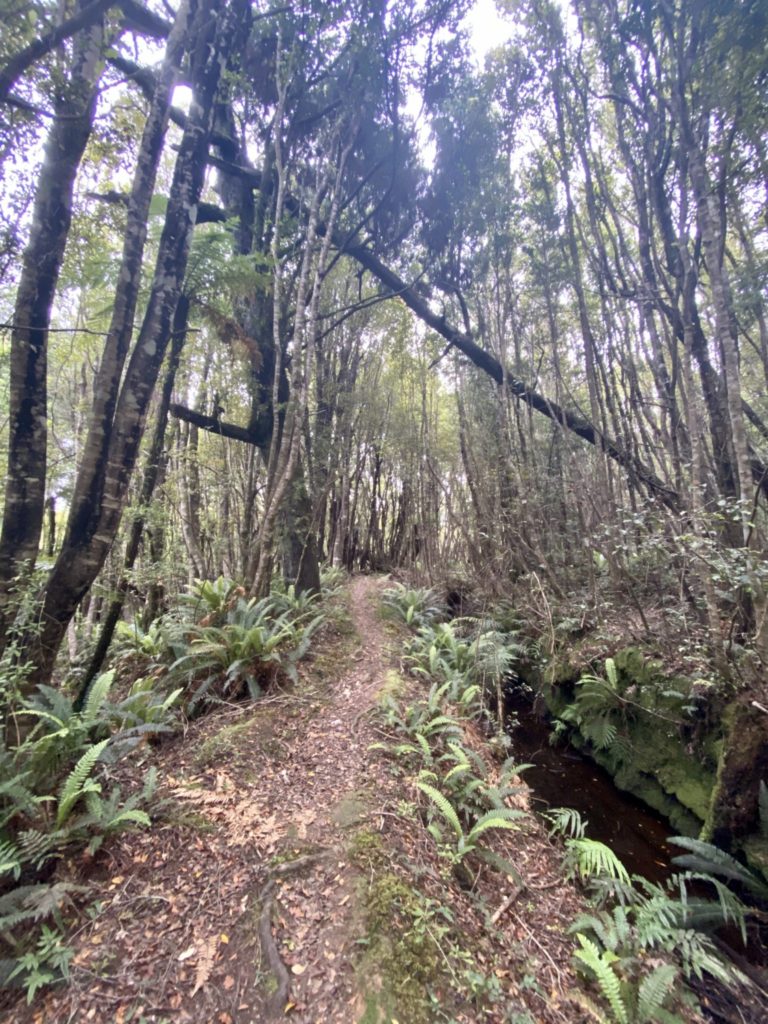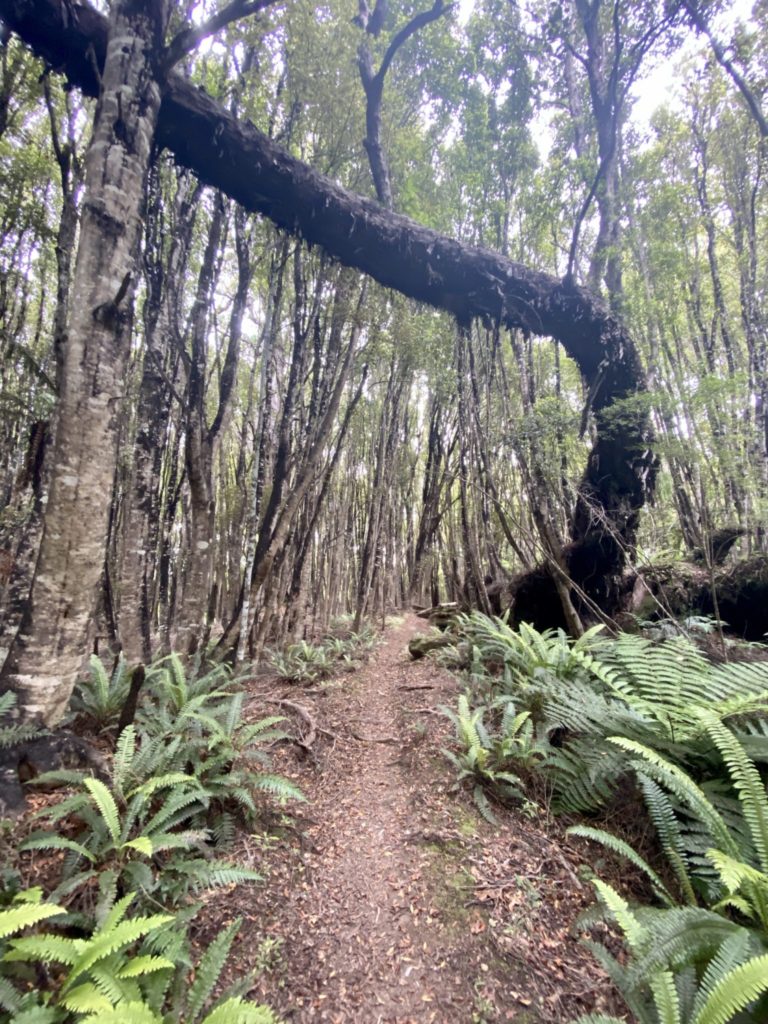 At last I reached the road as it started raining. At first it was light as the temperature dropped. Then the gusting wind picked up and it was freezing. I walked on, getting soaked as the wind blew cold rain in my face. It was pretty miserable.
At last I walked into the town of Colac Bay to the tavern/holiday park. Tom was inside chatting with another northbound hiker. I warmed up with a coffee and eventually our Dutch friends caught up.
Tom and I had planned on camping here but the cold rain changed our minds and we opted for the shared room. Inside the room was a French hiker who was sleeping. When the rain stopped he left and went off to hike to Bluff…nonstop. His plan was to hike the last 100km to Bluff without stopping but the cold rain had made him stop for a nap at the tavern. And now off he went to hike through the night…and I thought my pace was crazy.
I combined some laundry with the Dutch hikers and then we went to have dinner. As I was ordering, four of my old coworkers from my days working in Milford Sound showed up! It was such a surprise to see them! They were on their days off and had come down to the area. I had a great time eating dinner with them and catching up. And then later, the American hiker, John, showed up. It was quite the reunion of all sorts!
I went to bed in a warm bed with fresh clothes and a clean body. It had been a nice morning, a shitty afternoon, and a great evening.
Day's Distance: 40.5km (25.2mi)
Total Distance: 2,928km (1,819.8mi)
Distance Remaining: 72km (44.7mi)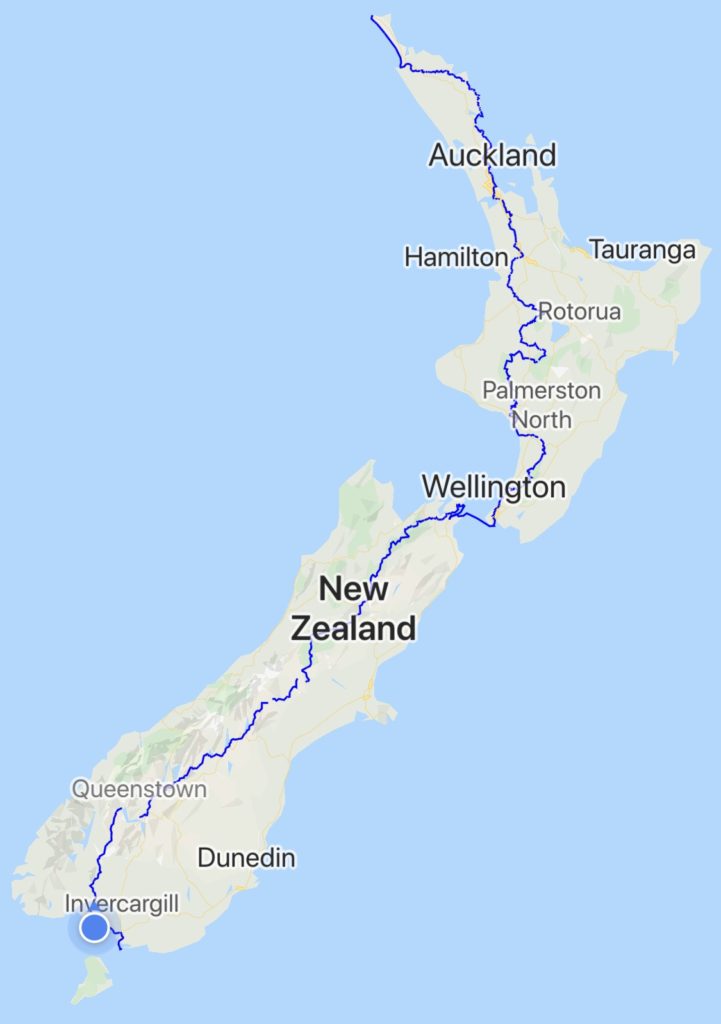 ---
TRAIL TUNES
Perhaps the most underrated Christina Aguilera song.
---
Shop Te Araroa Merchandise
---
From apparel to prints, grab some awesome trail merch at the A Stray Life Shop!
To follow along with my adventures, sign up via email below or like/follow on Facebook, Instagram, and YouTube: