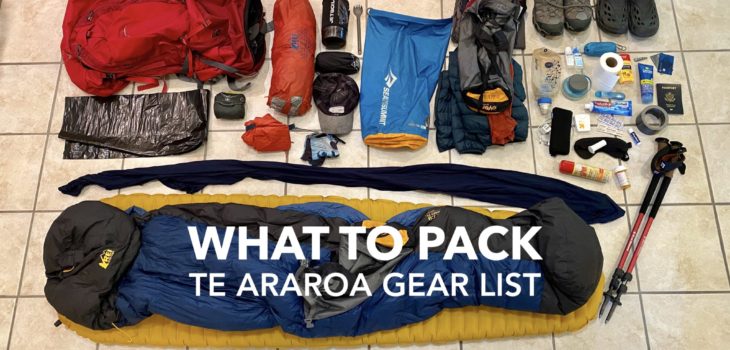 Here's a breakdown of everything I packed for my thru-hike of New Zealand's Te Araroa trail! Because when you're hiking 3,000km from Cape Reinga to Bluff you don't want to forget anything!
Tramping the length of New Zealand is no easy feat. You must ensure you have every item you'll need in your pack and nothing extra. No sense carrying additional weight on your back if you don't need to! Here is my video detailing every item I brought along on my thru-hike:
---
GEAR LIST
Below is a list of each and every item I brought along with me on my Te Araroa thru-hike and why I feel each item is important and necessary. I have also linked to the specific product I used for each item. However, every hiker is different so find what works best for you. There are popular items I did not take on my hike that others may feel are necessities, like a personal locator beacon (PLB) for example. Every hiker should take along whatever items make them feel comfortable since 3+ months on the trail is a long time!
In total my base weight came out to be 10kg (22lbs) and increased to 15.6kg (34.3lbs) with food and water. I've always preferred hiking with the gear that makes me comfortable rather than worrying about shedding weight.
PACK
Pack – Osprey Atmos 65L
Your pack is the most important item you will carry. Make sure it is comfortable and has a capacity that works for you. I chose a 65-litre pack which might have been a bit larger than necessary but it worked for me.
Pack Liner
I use plastic garbage bags to line the inside of my pack in the event that it takes dip in a river or gets wet in some way. It's an extra layer of protection to keep my belongings dry.
Pack Rain Cover – Osprey Rain Cover
It will rain in New Zealand. Make sure you have a rain cover or a waterproof pack!
---
SHELTER
Tent – REI Quarter Dome 1
I always carry a one-person tent. It is not wise to only rely on New Zealand's backcountry hut system. These huts can fill up or you may not reach the hut or town you planned on. Carry a tent!
Tent Footprint – REI Quarter Dome 1 Footprint
New Zealand has a lot of spiky plants, soft ground, rocky ground, etc. A tent footprint is an extra layer to protect your tent and your belongings.
---
SLEEP SYSTEM
Sleeping Pad – REI Igneo 25°F
Find a sleeping pad that works for you. I prefer inflatable pads but foam pads work just as well.
Sleeping Bag – Therm-A-Rest Ultralite
I brought a down sleeping bag rated to 25°F (-4°C) which may have been a bit warmer than needed but I already had the bag.
Sleeping Bag Liner – Cocoon CoolMax
A sleeping bag liner helps wick away sweat and moisture while also keeping your sleeping bag clean. It's easy to wash and can be used in warm weather with your sleeping bag acting as a blanket.
Compression Sack – Sea to Summit eVent
Stuff your sleeping bag and liner in a compression sack to save on space.
---
COOK SYSTEM
Stove – Jetboil Flash
I prefer to cook dinner on trail so a stove is a must. And even more so if you're a coffee drinker.
Lighter
Even if your stove has a self-starter, it is important to have a backup in the event of failure. I always carry a lighter. It can also help sterilize a needle for blister popping amogn other uses.
Fuel
Don't forget your fuel canister! Be advised that you cannot fly on airlines with fuel canisters so it's best to purchase one just before you start your hike.
Food
The type of food you eat on the trail is a personal choice but may also be dictated by cost and availability. I found many of the normal items I found in the United States was not available at grocery stores in New Zealand. Stay tuned for a video of what food items I ate on the trail.
Food Bag – Sea to Summit eVAC
I think a 20L food bag is a good amount for a weeks worth of food. Make sure it is waterproof. Be sure to hang it inside any hut to keep the mice away.
Knife
I mainly use a knife to cut cheese but it can have many uses on the trail. Blister popping?
Oil Container
This item is optional but I like to carry a small 8oz container to carry olive oil. The highest energy by weight food you can pack is oil so I like to add a bit to my dinner each night for extra fuel/calories.
Plastic Bags
I use zip-lock freezer bags to carry my rubbish until I can dispose of it in a bin. They're also handy at keeping items separated such as leaky olive oil containers!
Spork – Long-Handled Spork
Dont forget your eating utensil! I prefer a long-handled spork to get down into those dehydrated meals.
---
WATER TREATMENT
Water Filter – Katadyn BeFree 1L
I always recommend filtering water. Many Kiwis don't feel it is necessary but nobody wants to end their hike with a bout of stomach illness. I even passed a hut where the water tank was contaminated by a dead rat. Needless to say I was happy I had my water filter!
Chemical Treatment – Aquamira Drops
Always carry a backup! Aquamira drops are a great chemical treatment should your water filter fail or become damaged.
Water Storage – HydraPak 1L Collapsible
I prefer to use two 1-litre Powerade or Gatorade bottles to carry my water. I find bladders with tubes and whatnot to be impractical and hard to clean. However, find whatever system works for you. I recommend carrying at least two litres of water. I packed a collapsible reservoir for those moments when I needed more than two litres between water sources.
---
CLOTHING
Towel – Sea to Summit Airlite
Hostels and campgrounds in New Zealand typically don't provide towels. I recommend packing a small, lightweight towel for drying off after a shower in town or a dip in the river.
Underwear – Separatec
Two pairs is enough. Make sure the fabric is synthetic, quick-drying, and comfortable. Avoid cotton, bamboo, and modal fabrics.
Hiking Shorts – Under Armour Raid Shorts
One pair is enough. Again, something quick-drying and synthetic.
T-Shirts – C9 Champion Tech Tee
Find two comfortable, fast-drying tees.
Long Sleeve Shirt – C9 Champion Tech Long Sleeve
I found a long-sleeve shirt was great for Ninety Mile Beach to cover my arms from the sun's rays as well as to keep me warm in the cooler mountain regions.
Convertible Hiking Pants – Columbia Convertible Pants
While not completely necessary, it was nice to have pants to protect my legs from spiky plants, barbed wire, and cold weather. In theory, you could skip the hiking shorts if you've got convertible pants.
Down Puffy Jacket – Columbia Omni Heat
This is a must-have item. A puffy jacket is lightweight,extremely warm, and compact. New Zealand weather is warm most of the time but every now and then you will be glad you brought a jacket to stay warm. My jacket also doubles as a comfy pillow at night.
Buff – Buff New Original
This is a great item that can act as a headband to keep your ears and/or face warm as well as keep the sun off your neck and face.
Rain Gear – Frogg Toggs
New Zealand is a rainforest climate. Rain gear is a must! It can also double as warm weather gear as it does not breathe easily and keeps you warm.
Sock Liners – Smartwool Sock Liner
I like to wear sock liners underneath my socks to help reduce friction and prevent blisters. These are hard to find in New Zealand but I did see them sold at Mac Pac. I carry three pairs.
Socks – Smartwool Socks
I always carry three pairs of socks. That way if one pair is wet, I always have another dry pair plus a backup. I ended up preferring thicker socks to help cushion my feet on the hard surface of the beaches and roads. Find whatever works best for you.
Compression Sack – Sea to Summit eVent
A waterproof compression sack is needed to keep your clothes dry and save space in your pack.
Hat
Keep the sun off your face/neck.
Sunglasses
I prefer polarized shades but don't spend too much money. You're likely to scratch, lose, or break your sunglasses.
---
FOOTWEAR
Hiking Shoes – Oboz Sawtooth II
I prefer the sturdiness of a hiking shoe over popular trail runners. Some prefer a hiking boot that sits higher up the ankle. Find footwear that works for you but make sure it is NOT waterproof. Your feet will be constantly wet on the TA so you want footwear that will dry out quickly. I recommend having at least one extra pair to be picked up or mailed to you on trail as you will go through at least two pairs of shoes on your walk.
Crocs/Sandals – Crocs
Find some cheap sandals or crocs for camp shoes/town shoes. I switched to my sandals when crossing rivers and estuaries to keep my shoes and socks dry.
---
ELECTRONICS
Phone
I used my smartphone for communication, taking photos and video, blogging from the trail, navigation, and more. I prefer not to take extra electronics as it's more weight to carry and more things to charge.
Charging Cables
Don't forget your charging cords. And a wall adapter that fits New Zealand outlets!
Power Bank – Anker Power Bank
I hiked with a power bank that could charge my iPhone about six times on one charge. This was sufficient for most sections of trail while keeping my phone on airplane mode most of the time and turning it off at night. It might be a good idea to invest in portable solar charging panels for hikers that use a lot of electronic items.
Plastic Bags
Plastic zip-lock freezer bags come in handy for keeping your electronics organized and dry!
---
TOILETRIES
Toilet Paper
Store your TP in a plastic bag to keep dry.
Hand Sanitizer
Carry hand sanitizer to stay clean and to treat wounds.
Anti-Chafe Balm – Gold Bond Friction Defense
I like to use anti-chafe sticks on my feet before putting on my sock liners and socks to reduce friction and blisters.
Toothbrush
You want to make sure your teeth look good in pictures.
Toothpaste
Prevents placque
Sunscreen
The sun is very strong in New Zealand. Don't forget to lather up.
Lip Balm – Chapstick
Find some with SPF to protect your lips from the sun and wind.
Nail Clippers
Because you won't be getting your nails done on the trail.
Pain Killers
Your body will ache. Bring some anti-inflammatory pain killers.
Bandages
Pack some bandages for first aid and to treat blister hot spots.
Dental Floss
Floss can be used for your teeth and also to sew and repair any rips and tears in your gear.
Insect Repellent
This item is optional but without it, the minute you stop walking, the sand flies will find you and feed on your blood.
Ear Plugs
Pack some ear plugs to sleep soundly through the night in any hut or outdoors.
Eye Mask
Pack an eye mask so you can sleep in.
Plastic Bags
Once again, use zip-lock freezer bags to keep your toiletries organized and dry.
---
MISCELLANEOUS
Duct Tape
It's always a good idea to pack some duct tape. It can be used to repair your gear as well as act as a makeshift bandage.
Credit/Debit Cards
Most places in New Zealand accept credit cards, though it's always a good idea to have some cash on hand. Store these items in a plastic bag.
Passport
Unless you're a Kiwi, you will need a passport to prove you are of age when buying alcohol.
Hut Pass
While not necessary, the hut pass is a good way to save money if you plan on taking advantage of New Zealand's hut system, especially on the South Island. You can purchase a pass at any Department of Conservation visitor center.
Trail Guide – Te Araroa Trail App
I did not hike with any paper guides. I relied completely on my phone for navigation. The Te Araroa Trust offers a free app complete with GPS maps and all of the trail notes. Guthook is another app that can be purchased but it does not have trail notes and cannot push trail reroutes and updates like the official app can. Or feel free to use both!
Trekking Poles – Black Diamond Carbon Cork
I always hike with trekking poles. They come in especially handy when crossing rivers and estuaries, acting as a brace against strong currents and helping one balance. I highly recommend hiking with poles.
---
READY FOR THE LONG PATHWAY
With everything in your pack, you're now ready to take on Te Araroa! Check out my blog of my 90-day TA hike complete with videos from each section of trail. Be sure to snag some TA swag as well so you can rock the trail in style!
---
Shop Te Araroa Merchandise
From apparel to prints, grab some awesome trail merch at the A Stray Life Shop!
To follow along with my adventures, sign up via email below or like/follow on Facebook, Instagram, and YouTube: