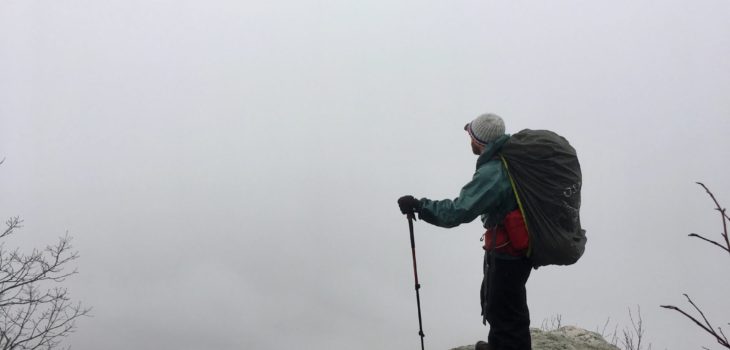 Sticks and I continue pushing our bodies to the limit until we are forced to take a day off the trail in Virginia. Enjoy reading my latest journal entry as I backpack the Appalachian Trail from Georgia to Maine. If you missed it, here are my previous entries and videos from the trail.
---
VIDEO
If you missed it in the last post, here's my latest video showing off some new equine friends, waterfalls, donuts, and more!

---
DAY 41
Sticks and I woke up sore and exhausted from our 29+ mile day. It was snowing wet slop as we packed up; I missed my bed already. We stopped in the grocery store and had sausage, egg, and biscuit breakfast sandwiches. They were delicious. It was less a grocery store and more of a tackle shop. A local asked if we liked to hunt and upon learning from Sticks that most guns are banned in the U.K., he replied "I could never live there."
The snow was irritatingly wet but it wasn't windy and it wasn't cold. The trail was relatively easy but the snow slowed us down. We sang a lot of 80s classics and one-hit-wonders very loudly.
Halfway into our day, we ran into Josh, a soft-spoken hiker who recently earned the trail name Donkey Kong. He was on his way to a hostel because his stomach hadn't been feeling well. That makes two, Sticks and Josh, that have gotten stomach bugs. I wished him a speedy recovery and we trudged on through the slush.
On Instagram I learned that Jon the Baptist was behind us. Funny that we passed him without knowing it; he stayed at a hostel and we must have missed him. Sticks was still trying to catch up with Mumbles and Gandalf. We planned to push almost 26 miles to reach Pearisburg that night since the weather was so wet.
The trail was relatively easy but the snow just sucked. All of our views were ruined by thick fog. The day dragged on but we were intent on making it to town by dark. The snow turned to a misty rain and the slop on the ground soaked through my once-waterproof boots. Soon my feet were swimming in my socks. At last we arrived at Pearisburg, yet another trail town with abandoned homes and questionable motels.
We were very disappointed Pizza Hut didn't deliver so we settled on Hardee's. I spent $17 for a 1/3 pound burger with cheese and bacon, a 5-piece chicken tender, jumbo chili dog, fries, onion rings, and Dr. Pepper. Afterwards I stopped at the Dairy Queen next door for a blizzard—I was still hungry.
We relaxed at our motel and discovered on Instagram that Mumbles and Gandalf were not ahead of us as we thought but behind us by 40 miles! Apparently they both caught norovirus and had to hang back! That makes four hikers that have gotten sick. Sticks had been pushing ahead for naught. All of our friends were behind us. We also heard that Glyph had fallen, hit her head, and had to take a day off. Knock on wood I'm still feeling good!
Day's Mileage: 25.8
Total Miles Hiked: 644.2
Remaining Miles: 1,555.5
---
DAY 42
The motel bed was very comfy and I didn't want to get up. But I was hungry despite my huge dinner. Sticks and I were happily surprised to find Dairy Queen served breakfast. I had pancakes, bacon, hash browns, and a chicken and gravy burrito…oh, and a blizzard!
I had planned on hitting the trail after lunch but I was so sore from three days of 20+ miles. Sticks decided to take a zero day and stay another night. I looked up at the mountains and saw the snow hadn't melted yet. It didn't take much more than that for me to join him; I didn't want slip and slide in that slush today. Besides, my feet could really use a day to recover after being wrapped up in wet socks the previous day.
However, I didn't want to be a total bump on a log all day. There were two roads into town that also met up with the trail. We had hiked in the day before on the first road and would have to return to the trail to hike a mile to the second road before we climbed back into the hills. I decided to knock this mile out of the way today, so technically I wouldn't be taking a zero day but a nero (near zero)! It was an easy mile with nice views of the area's industry and highway. It was odd to hike without my pack, poles, and unintentionally in crocs!
On my way back into town via the second road, I stopped at Pizza Plus for their all-you-can-eat (AYCE) pizza buffet and salad bar. So worth it! Later Sticks and I went to dinner at Lucky Star Chinese for another AYCE buffet. This was of course followed by Dairy Queen blizzards. Jon the Baptist arrived in town as well and we swapped trail tales. By evening my feet and legs were starting to feel almost normal. I had needed the day of rest.
Day's Mileage: 1.3
Total Miles Hiked: 645.5
Remaining Miles: 1.554.2
---
DAY 43
Sticks and I planned a day of big miles. We left the motel and had pancakes at Dairy Queen and Sticks goaded me into having yet another blizzard. He says he hasn't met anyone on the trail who talks about food as much as me. We walked a little over a mile down the road to where the trail picks up again. The trail stayed on the road as we crossed the large New River and eventually entered the woods. The river is one of the five oldest rivers in the world geologically. The French Broad River that I crossed in Hot Springs, NC, also holds this distinction.
The sun was out but it wasn't too hot. We climbed back up on a ridge and were treated with gorgeous views of the countryside. We ran into an elderly hiker named Hickory. Onward we followed the ridge and came pretty close to a deer who was not startled by our loud shouting of ABBA songs. The ridge ran along the state line with Virginia to the right and West Virginia to the left. I started singing John Denver.
Over 20 miles in, our day became tedious: lots of rocks and climbs. We stopped at a shelter to rest when we discovered someone left two bananas: trail magic! I ate one and was too lazy to pack out the peel with the rest of my garbage so I attempted to throw it into the woods. My "leave no trace" attempt was not my best work, yet humorous. No bears will be getting at it.
Sticks stayed behind to use the shelter's privy and so I continued on. The climb was obnoxious. The trail wound around a river with nice homes on the opposite side as I went up and down and over tons of fallen oak trees that have succumbed to gypsy moths. It was going to get dark soon and I hadn't reached my goal destination.
I stopped at another shelter only four miles from my goal to have a quick dinner whilst there was still daylight. I met Three Mile and Super Mario Brother. They told me to slow down and enjoy the trail and that the next few days are really pretty. As I ate pizza tortillas, Sticks caught up and we continued on.
As dusk fell, the trail was extremely rocky and Sticks' ankles were killing him. My knees were sore but I really wanted to push through a few more miles. Eventually he threw in the towel and decided to go no further and find a place to camp. I hesitated but opted to keep going.
I put on my headlamp and set off in the dark. I hadn't been night hiking on the trail yet. It was very eerie. I kept thinking I'd see a bear and all the dead trees were very creepy. I sang loudly to make my presence known to any animals. A small bird startled me.
Finally I reached the campsite I had been aiming for. There was another tent set up with a fire going. I had seen a car at a parking area a ways back so I figured they were townies car camping. I found my own spot to pitch my tent.
I was very glad I pushed on ahead of Sticks because next to the campsite was Wind Rock. It was a beautiful rocky cliff that had a panoramic view. Though it was dark, I could see thousands of stars and a very bright Venus. It was truly magical to sit there alone, in awe of the universe. I could have slept there on the ledge but I finally dragged myself away from the cosmic show and put myself to bed.
Day's Mileage: 26.9
Total Miles Hiked: 672.4
Remaining Miles: 1,527.3
---
DAY 44
I woke up at 6:45am and it was already bright out. After packing up, I returned to Wind Rock in the daylight to see the view. It overlooked a long valley with mountains on the other side. I liked it better with the stars but I've been seeing a lot of mountains recently!
I hiked solo for the first half of the day. I thought Sticks might catch up to me but he never did. I ran into some guys doing trail maintenance and helped them tip over a large oak stump. The day was sunny with temperatures in the 60s; a little on the warm side for hiking but still nice.
I was treated with many gorgeous views and vistas as I hiked along ridges and dipped into valleys of farmland. This was one of my favorite days. At one point I passed an enormous oak tree which is the largest on the southern portion of the trail.
I stopped at Kelly's Knob for lunch and enjoyed the view. Later I ran into more trail maintainers, one of which had hiked over 20,000 miles and the other having completed his hiking triple crown (Appalachian Trail, Pacific Crest Trail, and Continental Divide Trail). They were painting fresh white blazes to mark the trail and let me do the honors. I also was gifted some fried chicken trail magic! Afterwards I had a brutally steep and sweaty climb up to the top of a ridge. The trail maintainers said this was going to be rerouted next year for an easier climb but it wasn't ready for me to test out!
In the latter half of the day I ran into fellow hikers Shaggy, Mighty Mouse, and Trail Fish. Shaggy and I ended up talking for much of the afternoon. He studied civil engineering and had worked for a year before quitting to come hike the AT. For those who don't know my background, I studied and worked as a civil engineer before quitting in favor of a more unconventional lifestyle. Check out my video of how it all came to be if you haven't seen it yet!
The four of us stopped at some beautiful views along the rocky ridge and hung out. Eventually I had to split from my new friends; I had some special visitors to meet up with.
Also at one point I saw a sign for the Eastern Continental Divide. The trail follows the divide for a bit, I believe. All the water east of the divide flows to the Atlantic and the water west flows to the Gulf of Mexico.
I was late and had to hurry the last few miles. I was expected at the next road crossing. By 8pm I arrived at a road where my parents were waiting for me. They had driven from Michigan to spend a few days off the trail with me.
After a long drive out of the boonies of Virginian Appalachia, we arrived in Salem, VA, and had dinner at Applebee's. I conservatively guessed my meal was 3,100+ calories (appetizer sampler, Caesar salad, burger, fries, chocolate cake, Dr. Pepper). Our Fairfield Inn hotel was brand new and seemed so posh. I still think my tent is pretty nice, too.
Day's Mileage: 24.5
Total Miles Hiked: 696.9
Remaining Miles: 1,502.8
Daily Average: 15.8
---
TRAIL TUNES
Sticks and I sang all the songs we could remember. I was surprised how well he knew the words to this classic Don McLean song!
---
To follow along with my adventures, sign up via email below or like/follow my Facebook page aStrayLife! For more photos, follow me on Instagram.