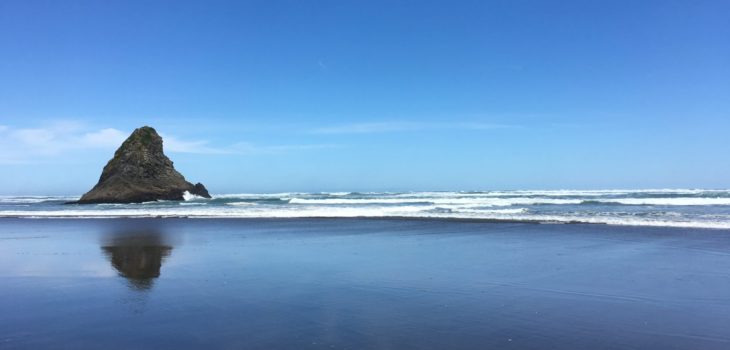 Since arriving in New Zealand my days have been packed as I explore the North Island, from hot springs and waterfalls to beaches and mountains!
---
Here's a video of my first few weeks in New Zealand:
---
AUCKLAND
After a wonderful multi-day layover on Hawaii's Oahu, I finally arrived in Auckland, New Zealand. The largest city in the country is nearly surrounded by water. I stayed at an Airbnb downtown and found the city to be very walk-able. Upon my arrival the thing that surprised me the most was how American it felt. I walked down the main street and within a few blocks came across McDonalds, Burger King, Wendy's, Starbucks, Dunkin' Donuts, KFC, Pizza Hut, Dominos, and a Denny's of all things. I was excited at the number of Mexican establishments; in Europe and even Hawaii finding a Mexican eatery was near impossible. It seems that visas are easy for Latin Americans to obtain for New Zealand compared to other countries. There were several large parks in the city to wander about. Mount Eden was one such park that comprised of an ancient volcanic crater.
My friend, Jennifer, whom I met when working on Mackinac Island, joined me for this exciting adventure. We both have working holiday visas and will be spending the next year in the country. We were lucky enough to find a job working at a winery on the South Island. Our newly found employment does not start until mid-November and is located on the South Island. We decided to kill the time by exploring the North Island via camper van.
---
HOT SPRINGS AND HIGH POINTS
We drove south from Auckland in search of hot springs. There are loads of thermal pools in New Zealand and it didn't take long to reach one. Kerosene Creek featured several small waterfalls but wasn't quite as hot as we would have liked. Jennifer described it as a warm spring. Nevertheless we went for a dip and left smelling like sulfur.
From the hot springs located in the Rotorua area we continued on to the coastal city of Tauranga. It was here we were finally greeted with sandy beaches, blue skies, and sunshine. The city is on a peninsula and at the end is Mount Maunganui, a 761 foot tall rocky mountain known locally as The Mount. Of course I had to climb it and the views were not disappointing.
To reward ourselves after the hike we found a happy hour to enjoy a late lunch and beer. Next we drove off in search of a place to park our camper van for the night. We ended up finding a naturist campground, a.k.a nudist colony, to set up camp. We were in the middle of nowhere and it was the only campground we could find and was cheap. Luckily the weather was a bit chilly so we the required dress code (or lack thereof) was optional. The best part about the campground was the stream nearby that had a population of eels which were fun to watch.
Following our eel encounter we drove to the Coromandel region which featured beautiful coastlines and national forests. One of these beaches features the much-photographed Cathedral Cove natural arch.
---
THE PINNACLES HIKE
In the heart of the Coromandel Forest Park is the Pinnacles summit, a 2,490 f00t peak with panoramic views of the Coromandel peninsula. To reach the peak we hiked the Kauaeranga Kauri Trail through the jungles and over many streams. When hiking in New Zealand I've found that trail signage likes to forgo with distances and only list travel times. So instead of saying 6km to the summit it will says 4 hours. This is frustrating because I never really know how much farther I have to hike and the suggested time is usually much slower than my pace. The Pinnacles hike suggested it would take 1-2 days online. Out in the field Jennifer and I planned to do it in one afternoon.
We hiked from the car park (parking lot) into the thick jungles. I did not expect New Zealand to be so tropical at such a low latitude. We crossed several streams on narrow rope bridges. It felt like we were in an Indiana Jones movie.
Eventually we reached the Pinnacles Hut which is an overnight lodge for hikers to stay. It only took us three hours to reach the hut so we knew we could finish the hike much faster than the suggested time. The Pinnacles summit loomed above.
It was a steep ascent beginning with stairs and followed by metal ladder rungs bolted to rocks. Jennifer held back and I summited alone. The view was incredible, forest and mountains all around and the ocean off in the distance.
I hurried down from the peak as storm clouds headed my way. I met Jennifer back at the hut where we braved the misty rain and returned to the van. All in all the 1-2 day hike was about 6-7 hours for us!
---
WATERFALLS AND BEACHES
After leaving the Coromandel forest we drove along the coast and found a spectacular place to camp along the sea. Maybe living out of a van is the life for me? Eventually we made out way back towards Auckland to check out some amazing beaches. Along the way we stopped at Hunua Falls.
Karekare Beach was spectacular. The weather was great and the waves crashed along the shore. Nearby was the another waterfall.
Not far from Karekare Beach and only 30 minutes from Auckland is Piha Beach. A popular holiday and surf spot, Piha Beach did not disappoint. Separating the beach into two sides is a giant rock formation called Lion Rock. At low tide it is easily accessible to reach the rock and climb halfway up for incredible views of the beach and surrounding hills. This was one of my favorite places in New Zealand. I've never seen the ocean look so wonderful.
---
WELLINGTON
Back in Auckland, Jennifer and I returned the camper van and hopped on a bus to Wellington. It was a long, 11-hour trip down to the south tip of the north island but the views were worth it. The motorways (highways) in the country are two-lane roads usually without any shoulder and they wind through the mountains and hills. So travel takes much longer than back in the states.
The capital city of Wellington is much smaller than Auckland. Also surrounded by water, Wellington served beautiful views of the ocean and the windiest weather. We visited a few museums and hiked to some viewpoints. A bartender gave us a tip to visit Hawthorn Lounge, a secret speakeasy in the city. There was not sign for the establishment, only a nondescript door in between some shops. It was definitely worth a stop for some insanely creative and delicious cocktails.
After a few days in Wellington we bid farewell to north island and boarded a ferry to the south island. Stay tuned as my New Zealand adventures continue!
---
TRAIL TUNES
Here's a song I discovered soon after arriving in New Zealand. It's a simple but catchy little song by Rex Orange County.
Get it on iTunes or listen on Apple Music.
---
To follow along with my adventures, sign up via email below or like/follow my Facebook page aStrayLife! For more photos, follow me on Instagram.