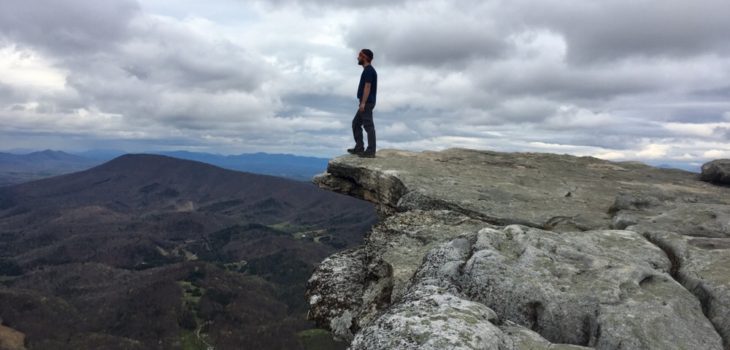 My parents dropped me back off in the Virginia wilderness as I continue my Appalachian Trail thru-hike with one-third under my belt! Enjoy reading my latest journal entry as I backpack the Appalachian Trail from Georgia to Maine. If you missed it, here are my previous entries and videos from the trail.
---
NEW VIDEO
Here's the latest video from the trail with special guests…my parents!
---
DAY 48
My parents and I ate our last breakfast together. My dad and I then weighed my pack at the hotel with the ridiculous amount of food I resupplied with. It came in at a whopping 45 pounds—it was only 35 when I left in February! I also weighed myself and found I've gained back some of the weight I lost on the trail.
My parents dropped me off by 9:30am at the trail next to a river. The storm the night before was pushing the water levels pretty high. It was a heartfelt goodbye as my parents drove back to Michigan and I returned to the wilderness.
The trail was very wet in places with streams overflowing and water running down the trail. My new shoes were not waterproof but I had waterproof socks (they exist…who knew!).
It felt strange to be back on the trail again after four nights off. Though my parents and I did two day-hikes, it wasn't the same as being back on my own. It didn't take long to get used to my pack again or for my feet and knees to feel sore.
I climbed to the top of a rocky ridge and picked through the terrain tediously. I stopped midday at the Dragon's Tooth rock formation which was pretty impressive. It made all the rock hopping slightly worth it. The descent from here was extremely tricky and I had to take it slow. Wet rocks equal slippery death—maybe I'm exaggerating.
I followed some more ridges when it began to hail! I thought I'd dealt with all Mother Nature had to offer (rain and snow) but I'd forgotten about hail. Now I'm only missing forest fire and volcanic eruption. It ended up hailing four times throughout the afternoon, never for very long, thankfully.
From the ridge I could see The Homeplace where we had eaten lunch the day before. I also walked through some farm fields and acquainted myself with the resident cows.
Near the end of my day I crossed the parking lot for McAfee Knob and began hiking to the formation just as I had three days prior. This time I did not take the dirt road shortcut but stayed on the AT. I was surprisingly alone; I'm sure the spontaneous hail storms helped.
At the knob I was treated with its beautiful panorama once more. Gone were the day hikers and I had the place to myself, though the wind had picked up and the temperature dropped. I had planned to have a snack there but the falling temperature made me rethink. I propped my backpack up and balanced my iPhone on top to take a few timed selfies.
I quickly descended a mile to a shelter and campsite. Three older guys were spread out in the shelter. Because I snore, wanted more warmth, and prefer to be alone, I set up my tent instead. The forecast said 30 for the low; my tent would be warmer than the shelter. The wind came in 40mph gusts and I had to position my tent so that the wind wouldn't rip out my stakes. I could handle one more night below freezing; I just hoped a branch didn't fall on my head whilst I slept.
Day's Mileage: 18.2
Total Miles Hiked: 722.6
Remaining Miles: 1,477.1
---
DAY 49
It was a chilly morning with snow flurries. My new sleeping pad that had replaced my leaky one kept me warm through the night despite the below freezing temperatures. I packed up my tent and set off into the cold. I was hoping this would be the last of the snow!
Soon I reached the Tinker Cliffs. These were giant rock outcroppings, much like McAfee Knob, and they actually looked out across the valley at said knob.
The views were spectacular and it was really fun to follow the trail as it skirted the edges of the rocky cliffs. This was one of my favorite sections to hike.
The trail was fairly easy except for some rocky sections. I think I am getting used to these obstacles because they don't really stand out in my mind anymore. I remember they were there but nothing seems particularly difficult anymore—I'm a seasoned hiker.
After the Tinker Cliffs, I passed countless overlooks with sweeping views down into the valleys, towns, and reservoirs in the surrounding area.
The sun came out and made everything even prettier. After the rain storm and snow, the greenery was starting to really pop. Spring is starting to poke out of the ground.
Eventually I made it down to the valley below. The leaves were out down here and I got a taste for why they call the AT the green tunnel. My gorgeous views will soon be obscured by leaves with the coming warm weather.
I entered the town of Daleville and walked down the busy highway to Three Li'l Pigs BBQ. I had pulled pork with hush puppies, buffalo chips, coleslaw, and of course Dr. Pepper. Hikers also got a complimentary serving of banana pudding. I would definitely recommend this place to anyone ever in Daleville, VA.
I walked a long mile or so along the highway to the local Holiday Inn Express. I had some reward points saved up and got myself a free room. After a nice bath and rest, I called a Lyft to take me to pickup some Little Caesars (the only place one can get Detroit-style deep dish pizza outside Michigan). I wasn't about to walk two miles round-trip for pizza on that noisy highway. Why not live it up in fabulous Daleville?
ARBITRARY MILESTONES
I've officially been on the trail for seven weeks. In that time I've managed to meet my goal of 100 miles per week and I am actually 38 miles ahead of that goal going into week 8. Also, I have now completed one-third of the trail! At this rate I'll be finished by late July, a week earlier than expected.
Day's Mileage: 15.4
Total Miles Hiked: 738.0
Remaining Miles: 1,461.7
---
DAY 50
I had a big breakfast at the hotel including three cinnamon rolls. I lounged around until 11am when they kicked me out. As I walked along the busy streets past construction sites and roadwork, a pickup pulled over and offered me a ride. I was extremely grateful to the driver; I did not enjoy walking along the busy highway.
It was a hot day on the trail. I wasn't sure how far I'd go with my late start but the sun and heat were working against me. My facial hair is getting longer and it does not serve me in this weather. I could feel the sweat gathering underneath my beard and mustache. Fun stuff…or should I say fun scruff.
I passed another hiker, Choo Choo along the way. I took a lunch break at a shelter and talked a while with a section hiker, Kiwi. Overall the day was pretty uneventful as I hiked along. I did see some deer multiple times.
Near the end of the day I crossed the Blue Ridge Parkway. The trail follows this road and crosses it many times for quite a while. There were great views since the Forest Service or whoever cuts down the trees to maintain the views. Go figure…America goes out of its way to make sure people can enjoy nature from their cars—it's the American Dream.
I reached Bobblets Gap Shelter where there were a decent number of hikers. There weren't very good camping spots but I did my best to find a semi-flat space. My tent is tiny enough that I could squeeze it on this slightly sloped piece of ground. All the other possible tent sites had been taken. At least mine was next to a nice babbling spring that would drown out the sound of other people.
There are so many section hikers now; it's starting to displease me. Gone is our small, little thru-hiker community. I better get used to the day trippers and section hikers as they will only multiply as the weather warms.
Day's Mileage: 18.5
Total Miles Hiked: 756.5
Remaining Miles: 1,443.2
Daily Average: 15.1
---
TRAIL TUNES
I discovered this Jon Pardi song while hiking along. I'm in the South so might as well listen to some country!
---
To follow along with my adventures, sign up via email below or like/follow my Facebook page aStrayLife! For more photos, follow me on Instagram.