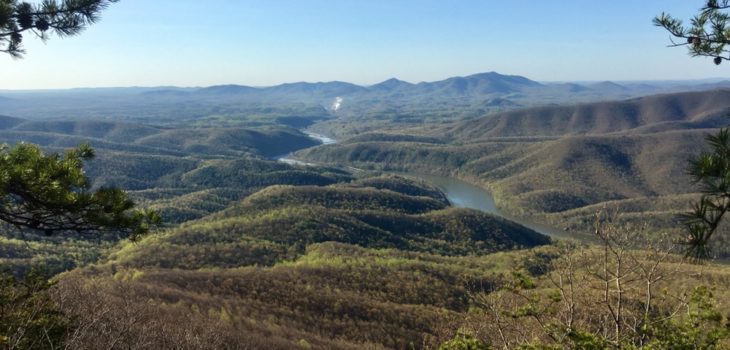 The weather warms as I continue hiking the Appalachian Trail through Virginia. Spring arrives and the leaves and flowers begin to bud. Enjoy reading my latest journal entry as I backpack the Appalachian Trail from Georgia to Maine. If you missed it, here are my previous entries and videos from the trail.
---
NEW VIDEO
From the Blue Ridge Parkway to cows and cliffs, here's my latest video from the trail:
---
DAY 51
Before dawn I noticed some of my fingers wouldn't unbend. I had to use my other hand to straighten them out and it was slightly painful. Some WebMD work seemed to indicate the condition known as trigger finger. Perhaps I'm gripping my trekking poles too tightly.
It was 7:15am when I finally awoke and it was quite bright out. I sleep with an eye-mask so the sun doesn't wake me up. Everyone else at the shelter and surrounding tents was packing up and hitting the trail. I took my time; I'm in no rush and have no agenda. There's no need to rush to a road to meet a visiting friend and there are no towns with Dairy Queens anytime soon.
I set off around 8am and in short time I arrived at another shelter six miles away. I stopped to use the privy and read the log book to see if any of my friends had passed through. No luck. But, someone wrote a note about a campground off the trail that had a grill and free shuttle service. Food has incredible influence on my decision making these days. I had three miles to decide whether or not to call for the shuttle.
I hiked on in a sprinkle of rain but it wasn't enough for me to put on my raincoat or pack cover. About half a mile later I checked my GPS app and realized I had been hiking south! This was the first time I'd gone the wrong way that I can recall. I turned around and tried not to get angry with myself but laugh. One bonus mile for me today! I definitely was going to that campground for lunch now.
My lunch plans were nearly ruined when my phone lost service and I couldn't call the campground shuttle. I managed to get one bar of service if I stood on my toes and balanced my trekking pole on my nose (kidding). I barely got a call through and eventually got my ride.
I was worried my eyes were bigger than my stomach when I ordered a double bacon cheeseburger with a fried egg, onion rings, and a grilled cheese sandwich. This proved not to be the case and I was glad I made this little side trip for lunch.
As I've been hiking these last few days I seem to alternate between audiobooks, music, and quiet thinking time. I also listen to a beginners Spanish podcast because I'm trying to learn; I wish I knew of more advanced lessons or tools.
Recently I finished the book "You Are A Badass: How to Stop Doubting Your Greatness and Start Living An Awesome Life" by Jen Sincero. It's one of those new-age self help type books but it had some good advice and humor to it. It got me wondering what I'm going to do after this hike, or more importantly what do I want to do. I guess I'm supposed to send out positive vibes to the universe and things will manifest themselves?
I also started listening to "Brave New World" by Aldous Huxley but was immediately bored. So now I'm halfway through Neil DeGrasse Tyson's "Astrophysics for People in a Hurry" because as you know, I'm pressed for time while I hike.
After 18 miles I reached the shelter and joined two other guys. They were already in their sleeping bags. I understood that the temperatures were dropping to the 30s but it was only 6pm—two more hours of daylight! I had dinner and studied my guidebook before joining them. Apparently I get to enjoy another below freezing night!
Day's Mileage: 18.4
Total Miles Hiked: 774.9
Remaining Miles: 1,424.8
---
DAY 52
I hit the trail early and had put in four miles by 9am. I stopped at a shelter for an early lunch of peanut butter on smashed party rolls. I was in no hurry.
It was a beautiful day for a hike. The sun was out and the leaves were budding. Flowers bloomed, and at one point a deer stopped 20 feet from me right on the trail. It didn't seem to care I was there and grazed for a minute before moving on.
The one thing I don't like about spring is that in the morning I need a jacket, hat, and gloves, but by midday that's all gone and I'm in a t-shirt. However, after I get all hot and sweaty climbing a mountain, the wind chills me at the top and on the descent. Oh well.
As I hiked I finished my audiobook on astrophysics and began listening to George Orwell's "Animal Farm." It was a quick and enjoyable listen.
I noticed I've been slowing down these past few days. At least it feels that way. I'm not sure if I got soft after all those days off with my parents or if it's the heat I'm not used to. I don't know how Sticks and I were able to crank out such crazy mileage but then again, we crashed hard in Pearisburg.
Throughout the day I summited Apple Orchard Mountain and Highcock Knob, the latter of which was a long and hard climb (truthfully and humorously). Near the end of the day I crossed the James River on the longest footbridge on the AT. After this crossing the trees seemed to change and the geology became different. I don't know how to explain it but I can tell I'm hiking north into different biomes.
I stopped at Johns Hollow Shelter and set up my tent. A stream noisily splashed nearby. The three guys from the previous night were here as well as Glyph. I was surprised and excited to see her. She recovered from her head injury from weeks back and we caught up on trail gossip: Nomad, a hiker who had started on the same day as I, was now off the trail; Sticks and Mumbles were ahead of us as well as Transformer and Willow. Shaggy and Mighty Mouse were likely a day or two ahead as well. And from what I'd seen on his Instagram, I told her how Jon the Baptist had flown to Vegas and then road-tripped to the Grand Canyon and Moab, and was heading to Yellowstone. We had no idea if and when he might return to the trail. All my trail friends were spreading out.
The three guys from the night before were in bed by 6pm. It was so strange to me with the weather being nice and two hours of daylight left. After dinner I retired to my tent. I have one toenail that has started to fall off so I clipped part of it away to reveal a new toenail growing underneath…crazy and gross. Another toenail looks to be on its way out, too, or should I say off. Also, the warm weather is making me more aware of my personal fragrances. I need to make sure my dirty clothes are packed separately from the clean ones.
Day's Mileage: 21.6
Total Miles Hiked: 796.5
Remaining Miles: 1,403.2
---
DAY 53
It was another beautiful day. Highs in the 50s but it felt much hotter going uphill. There were amazing views pretty early on after I climbed Big Rocky Row. The trail meandered along some streams and passed through an area that used to be a settlement for freed slaves called the Brown Mountain Creek Settlement.
Glyph and I kept running into each other throughout the day. I also ran into some trail maintainers who gave me a granola bar; I'm always grateful for trail magic. I stopped at the Brown Mountain Shelter for a late lunch and contemplated my next moves.
I planned to end my day with a huge climb up Bald Knob and stay at a shelter nearby. The shelter was 0.6 miles off the trail which is very far for a shelter. I could also push a little further to Cole Mountain and stealth camp in the meadows at the summit. There wouldn't be any water sources up there.
I decided to see how I felt in the afternoon heat and continued on; I was getting tired. The climb up the knob was exhausting. Virginia had been pretty easy compared to other sections so I wasn't used to an elevation gain of 2,600 feet in four miles. It was rough.
When I was almost at the top I met Double Nickel who was hiking south. He was trying to hike the state of Virginia before returning to work. He was nice to talk to and I thought it too bad he wasn't going northbound. I had remarked to Glyph earlier how all of our friends are ahead of us and the bubble is behind us. We are kind of in this middle no-mans-land with very few NOBO hikers (northbound). Nonetheless, Glyph and I are both glad that we aren't in the bubble.
The bubble is what we hikers refer to as the multitude of thru-hikers that started their hike in March and early April. This is the most common time to start hiking north and it's extremely crowded with 50+ people beginning their hike each day. I purposely started the end of February to avoid these crowds. I heard reports of 67 tents at one shelter in the Smokies right now. I don't even know where 67 tents could fit! I'm glad I started when I did. I'll take the snow and freezing temperatures over crowds of loud hikers.
Anyway, I made it to the top of Bald Knob, having rationed my water. I continued on to Cole Mountain where my idea of watching the sunset on a peaceful meadow was ruined by hoards of high school students and couples taking engagement photos. Apparently this was a popular spot for the locals. So I took a few pictures and hiked further before eventually reaching Hog Camp Gap. There was a meadow here with campsites and I quickly set up my tent before dark. As I suspected, some of the high school kids decided to camp nearby. I hoped they wouldn't be loud into the night.
Day's Mileage: 26.4
Total Miles Hiked: 822.9
Remaining Miles: 1,376.8
Daily Mileage: 15.5
---
SIDE NOTE
I guess the universe does have my back. Last week I applied to TheTrek.co to be a blogger from the trail. The site specializes in writing articles and blogging about backpacking the Appalachian Trail as well as other long hikes such as The Pacific Crest Trail. They recently invited me to blog for them as I hike. It must have been all those positive vibes, haha.
This does not mean I will stop blogging here. I will continue updating you on my progress but will also write different content for The Trek that's geared more towards a hiker audience.
---
TRAIL TUNES
A fun, new song by Kylie Minogue, "Dancing" emotes a good way to look at life.
---
To follow along with my adventures, sign up via email below or like/follow my Facebook page aStrayLife! For more photos, follow me on Instagram.