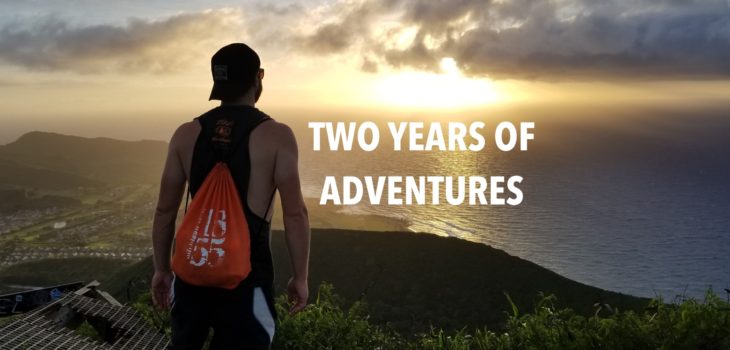 Never in my wildest dreams did I think one day I'd find myself ringing in the new year, sixteen hours ahead of Times Square because I was living in New Zealand! Life is pretty damn unpredictable. I still have to step back at times and look at all the amazing and crazy things that have happened these last few years. It all started back in 2016 when I quit my office job, took a leap of faith, and tried out the unconventional gypsy life. After an amazing year in 2016, I made a little music video chronicling my journey. Fast forward to 2019 and I haven't looked back. My days, months, and years have been filled with so many incredible experiences I never could have imagined.
I traveled to eleven countries, roadtripped across America, and swam in all five Great Lakes. I spent two summers working on Mackinac Island, Michigan, and a winter working at a ski resort in Park City, Utah. I visited Alaska and Hawaii for the first time! I met so many new people, made new friends, and visited old friends. I experienced everything from extreme highs to depressing lows. I backpacked for my very first time across the Grand Canyon and then decided to hike the entire Appalachian Trail two months later! I even started my own blog! And just the other day I swam in a river with my new friends here down under and discovered a cave filled with glow worms! I never know what's coming around the next corner!
But it's not just about the wonderful places I've been or the things I've done. A checklist of extraordinary experiences doesn't define my life and it doesn't guarantee happiness. The real treasure has been the people I've met along the way and the people back home who I miss. As I tramp across the globe, it's the people that I shared my life with and the memories we created together that mean the most. So for 2017 and 2018 I put together a music video focusing on the people that have made a mark on this chapter of my life:
---
2019 AND BEYOND
Now I know it's not possible for most people to just leave their life and go on a crazy adventure on the other side of the world. But that doesn't mean we can't make our own adventures whenever and wherever we may be. I constantly have to challenge myself to step out of my comfort zone and take that leap of faith time and time again. So I challenge anyone reading this to take a different route home from work, say hello to a stranger, go on that trip you've always wanted to go on, try a new restaurant, rekindle a forgotten friendship, tell someone you love them, and don't take life too seriously! Let's make 2019 and the rest of our trips around the sun count—there's no time like the present!
As for my adventures, I hope you keep following along. I've got lots more to show you of my travels through New Zealand! Feel free to follow me on Instagram as well for more photos and videos along the way!
---
TRAIL TUNES
The song from my video, "The Heart is a Muscle" by Gang of Youths, I discovered while hiking the Appalachian Trail. This song really resonated with me as I continue working on my own self-love.
Get it on iTunes or listen on Apple Music!
---
To follow along with my adventures, sign up via email below or like/follow my Facebook page aStrayLife! For more photos, follow me on Instagram.