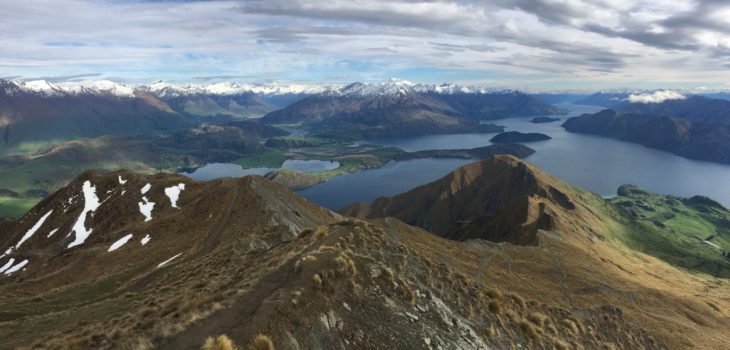 The adventure continues as I explore the beautiful South Island of New Zealand. Check out the video of my travels:
---
NELSON
After touring through the North Island of New Zealand, my travel companion, Jennifer, and I took the ferry from Wellington across the Cook Strait to the South Island. We landed in the small port town of Picton and took a bus to Nelson, another coastal town. I suppose I should call these towns cities but everything in New Zealand is so small, calling anything a city seems a little generous.
We stayed at an Airbnb for a few days and explored the town. We went on several hikes, on of them to what they call the "center of New Zealand." The easiest way for me to understand this term is to imagine New Zealand as a two dimensional shape, the center of gravity of this shape would be where we hiked to. I wonder what the center of the U.S. would be?
The town had a nice garden to walk through and a beach to the north. A trip to the local tourist information office enlightened me of a nearby national park. I left Jennifer behind for a few days and set off to backpack through the Abel Tasman National Park, as seen in my previous blog post.
---
DUNEDIN
Without a car, we were rather limited in our travels. I decided to remedy that situation and go exploring farther south hopped a plane down to Dunedin, city on the southeast coast of the island. Along the way I learned that one does not need to pass through any airport security in New Zealand when flying on a turboprop plane. Once in Dunedin I explored the city and its beaches. It wasn't summer yet but the sun was strong and the beaches busy with surfers and families. I haven't heard waves crashing so loudly!
I visited Baldwin Street, billed as the steepest residential street in the world. At its steepest it is a 35% grade. I climbed to the top for a photo and luckily there was bench at the top for a rest! Another fun spot in Dunedin was Larnach Castle. It was a faux castle built by a prominent businessman back in the 1870s and is now a tourist attraction.
---
WANAKA
From Dunedin I headed into the interior of the island to the town of Wanaka. The town is situated on the enormous Lake Wanaka and surrounded by the breathtaking Southern Alps. It was too chilly for a swim for me but others were braving the waters. I also spotted some enormous eels hoping for some food.
While I was in Wanaka I set off to hike Roys Peak, a 5,177 foot mountain overlooking the lake. Unfortunately the trail was closed for lambing season. The farmers don't want hikers to scare off the sheep while they are giving birth and raising their young. However, it was nearing the end of the season and the lamb were getting quite big. And so I decided to hike at first light and quickly make my way from the carpark up the mountain. There aren't many people in New Zealand and definitely not any policeman out patrolling a closed trail.
I made quick time up the mountain slope. It zigzagged up a dirt road through multiple sheep pastures. I was constantly dodging heaps of shit. In a little over two hours I ascended 4,000 feet to the summit. The view from the summit was incredible. I could have sat on top of the mountain for hours. In the distance I could see the snow-capped peaks of the Southern Alps. I was shocked at how quickly I made it to the top. Less than a year ago I had hiked from rim to rim to rim in the Grand Canyon and dealt with similar elevation gains. But in the Grand Canyon I was exhausted but now I sped up the mountain lickety-split. After hiking the Appalachian Trail, it's good to know I still have my trail legs!
Before I left Wanaka I made a quick day trip down through the Central Otago wine country and visited some wineries. I also hiked through the hills there which had been ripped apart by mining operations back in the day. The land was thought to be useless after the mining operations but now pinot noir vineyards have been planted all over.
---
ROADTRIP
From Wanaka I made my way to Queenstown. The mountains towered above the city and I thought, now this is a place I'd like to spend more time in. Unfortunately, I was only in town long enough to pick up a rental car. In New Zealand, many tourists come to the top of the South Island, rent a car, and drive south. Therefore, there are an abundance of rental cars in southern cities like Queenstown that need to be driven back north to places like Nelson and Picton, where my journey began. To remedy the situation, rental car companies offer people like me the cars for free if I drive them back north.
And so, behind the wheel I took to the left side of the road and headed off through mountain passes back toward the coast. Along the way I picked up a hitchhiker for a few hours. He was heading to Christchurch and so was I. Jennifer was in Christchurch now and I planned to pick her up and we would both drive back up north together. After I dropped the hitchhiker off I found a camping spot to pitch my tent for the night.
In the morning I found Jennifer at a hostel in town and we set back off into the mountains. We crossed the Southern Alps through an area known as Arthur's Pass. It was here we made a quick lunch stop and hiked to Devils Punchbowl Falls. We also checked out the unusual rock formation called Castle Hill. The drive continues and was absolutely gorgeous as we wound our way through the mountains.
We made a quick stop on the west coast in the town of Greymouth. This side of the island is very wet. The Southern Alps stop all the rain clouds from moving to the east coast so they just sit there over the west coast. We visited the ruins of an old coal mine which featured a beautifully restored truss bridge. Afterword we continued north and eventually settled down for the night at an Airbnb in Havelock.
---
BLENHEIM
With the rental car dropped off in Picton, we were back to where we started at the north tip of the South Island. But we had a plan and made our way to the city of Blenheim, 30 minutes away. Blenheim is the most populous city in the Marlborough region of New Zealand with 31,000 people. The region is known for wine making and there are vineyards stretching out across the valley. As it so happened, Jennifer and I had both been hired by Cloudy Bay Vineyards to work in their cellar door, serving wine to the tourists who come to try the sauvignon blanc for which the region is famous. Jennifer and I first met on Mackinac Island two years ago and we worked at a restaurant where the owner's favorite wine was Cloudy Bay sauvignon blanc. And now here we are working together for that very same winery. Life is crazy.
We found rooms to rent at a house in town not far from the river and a nice stretch of parks. In New Zealand it is typical to pay rent on a weekly basis, not monthly. Our landlords are a young couple with a crazy, fluffy puppy. They also have bikes for us to ride to work. Cloudy Bay Vineyards is only 9km away or about a 30 minute bike ride. Blenheim is known as being the sunniest place in New Zealand so biking to work isn't a problem. I also discovered some good mountain biking trails in the Wither Hills nearby.
And finally, after more than a year of being unemployed, I came out of retirement and rejoined the workforce. Cloudy Bay spent four days training us on wine making and tasting our products as well as visiting competitors and comparing. I learned a lot about wine and have a much better appreciation for the drink. No more three-buck chuck for me! So far, the job is fun and my coworkers are great. I am the only guy hired for the summer staff and everyone is from different countries. And the tourists we serve are from all over as well. I'm surprised at how many American tourists I serve but it's good to see more of us out there traveling the world.
---
TRAIL TUNES
Here's a new track I discovered on Apple Music. I listened to it a lot as I biked around my new town.
Get it on iTunes or listen on Apple Music.
---
To follow along with my adventures, sign up via email below or like/follow my Facebook page aStrayLife! For more photos, follow me on Instagram.