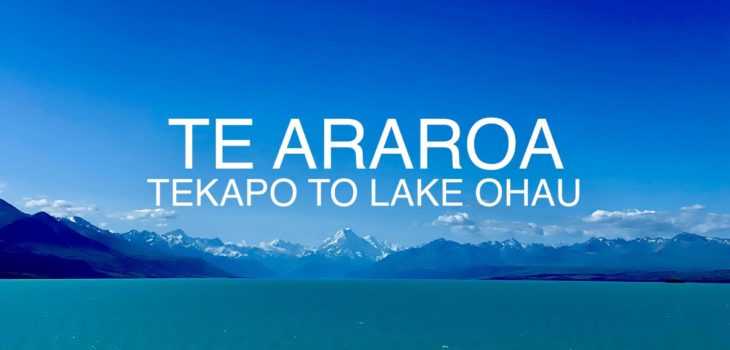 The Te Araroa followed the canals between Lakes Tekapo, Pukaki, and Ohau with stunning views of Mt. Cook.
If you missed it, here's the last post as well as all the previous blogs from the trail.
---
VIDEO
Lakes and canals were the theme on this section of trail.
---
DAY 75 – Tekapo to Lake Pukaki
I slept in until about 7am in the trail angel's yard. By 7:30 I headed to a bakery in Tekapo for breakfast of a chicken sandwich and a brownie. And then I was off.
The trail followed the Alps to Ocean cycle route which in turn followed the Tekapo Canal. New Zealand dammed up the Tekapo River creating Lake Tekapo. Then they built a canal from the lake to Lake Pukaki, another dammed up river.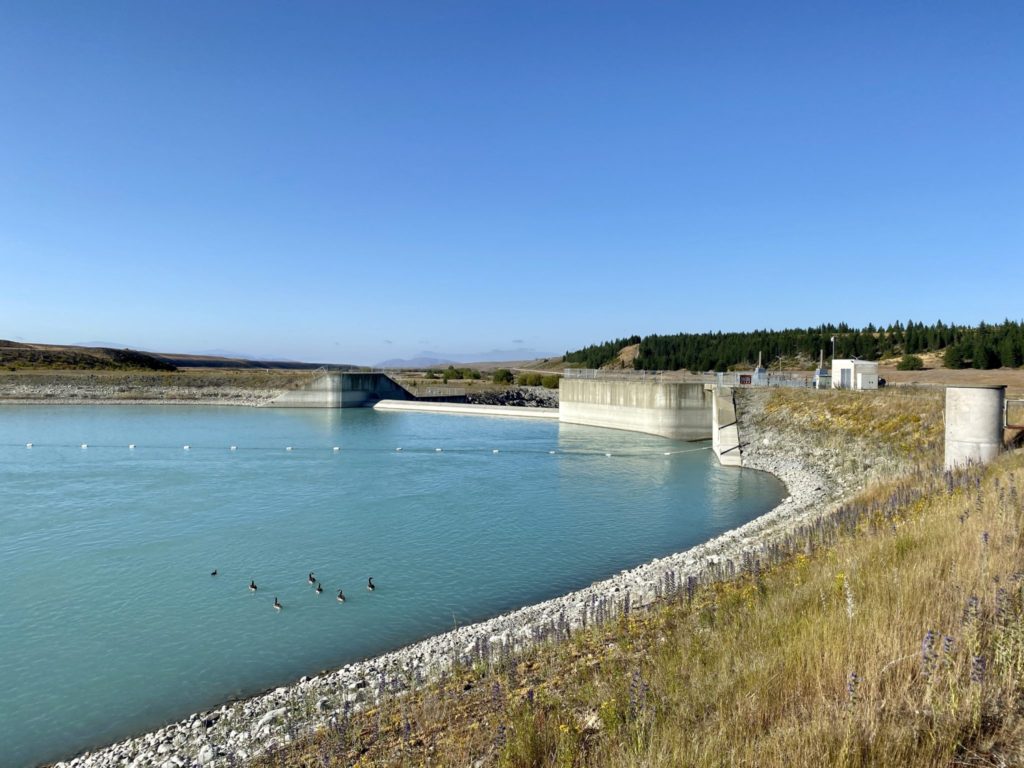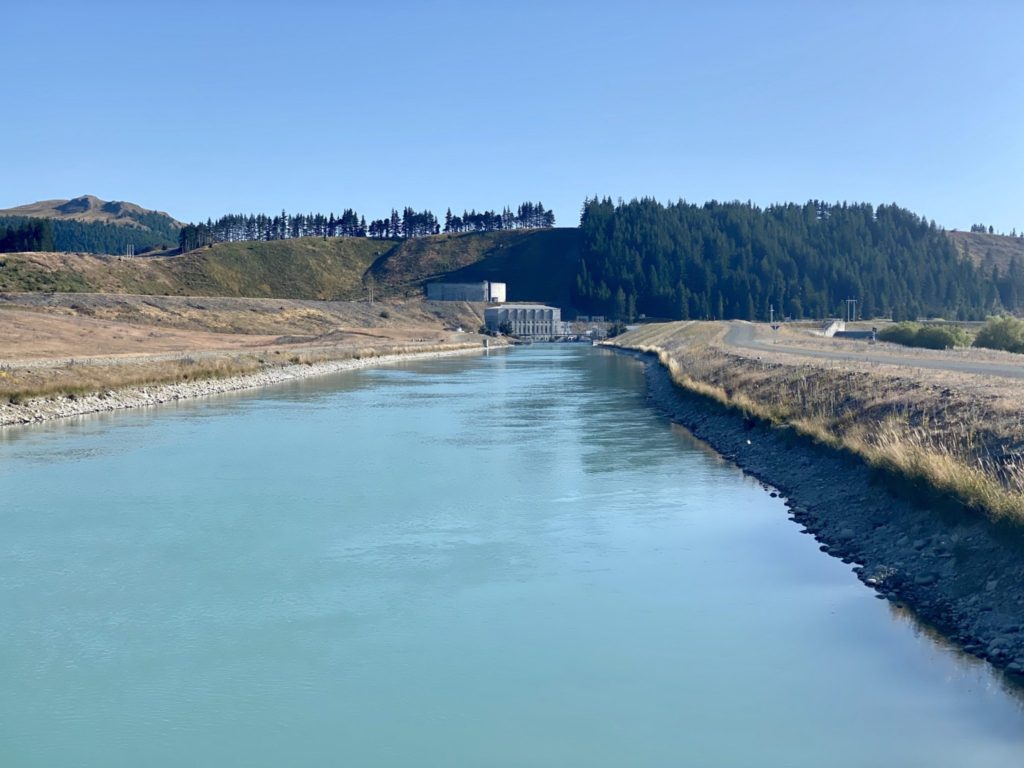 And so I followed the road next to the canal all day…and I mean all day! It was so dull and boring. And hot.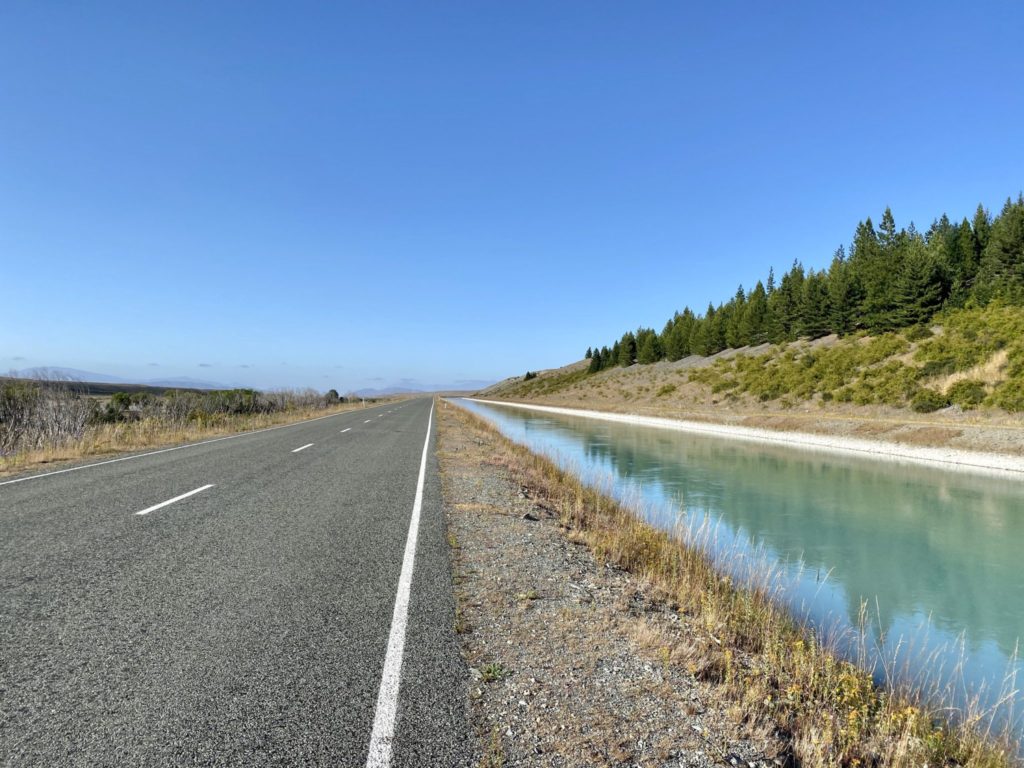 It was interesting at first, seeing the power station and the spillway. The water color is such a pretty shade of blue from the glacial water.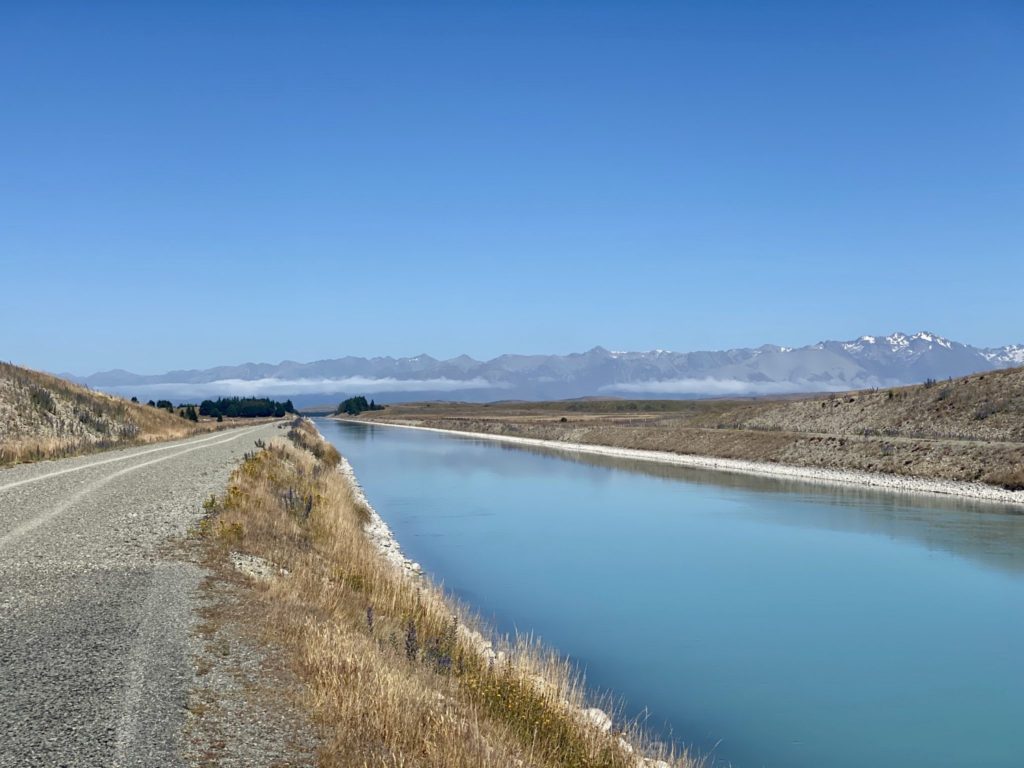 But soon it got extremely boring. The guidebook actually recommends biking this section since there is nowhere to camp or get water except for the canal. I was stubborn and chose to walk rather than bike. I have walked the entire trail up to this point save for the canoeing and kayaking bits so no sense stopping now.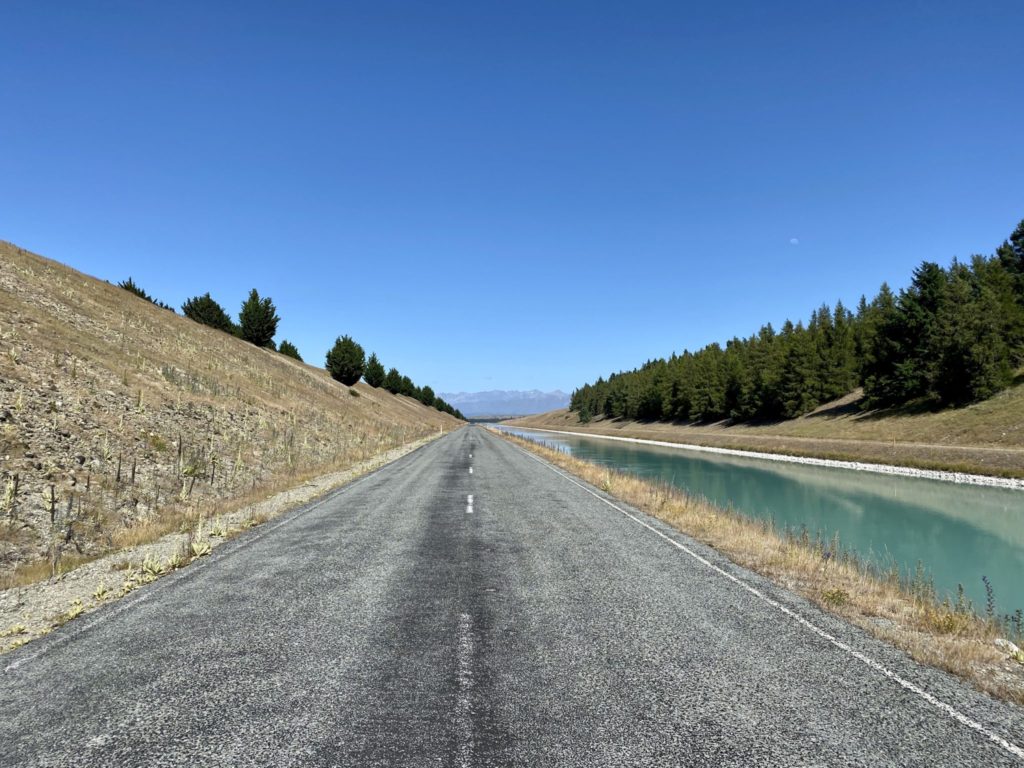 Two hikers from the trail angel's house passed me on their bikes and gave me an apple; they felt sorry for me having to walk for two days along the canal when they're biking it in one! But the apple was nice trail magic on a hot day…the trail provides!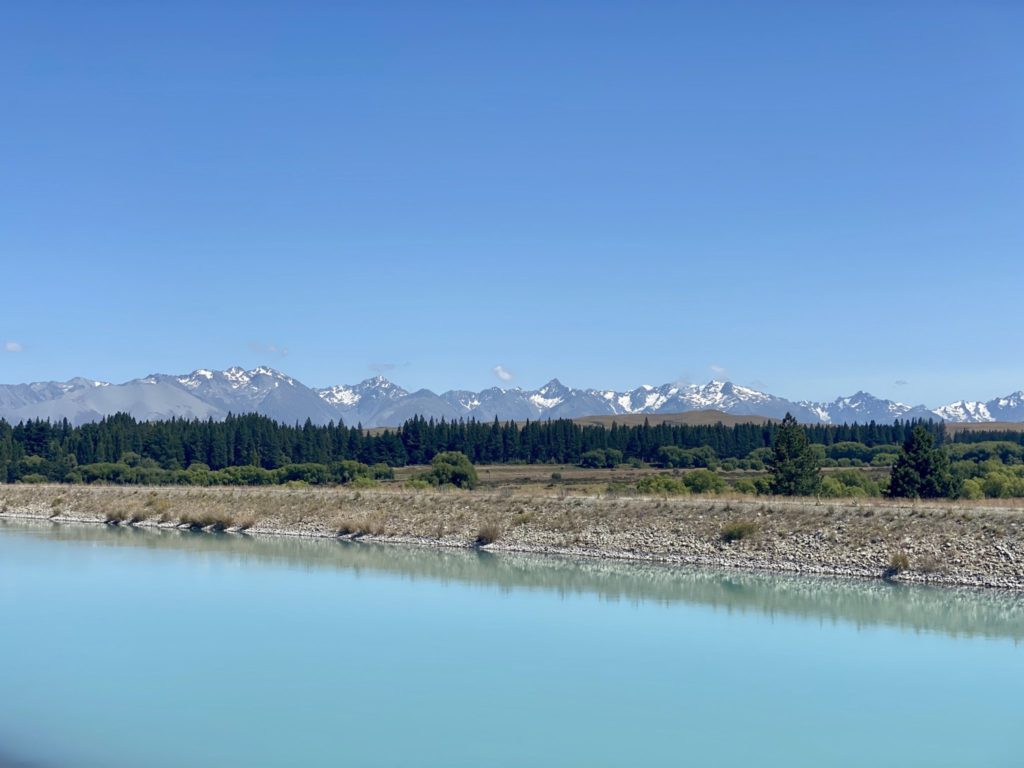 I listened to music but was generally bored. I took breaks when I could find shade from the sun.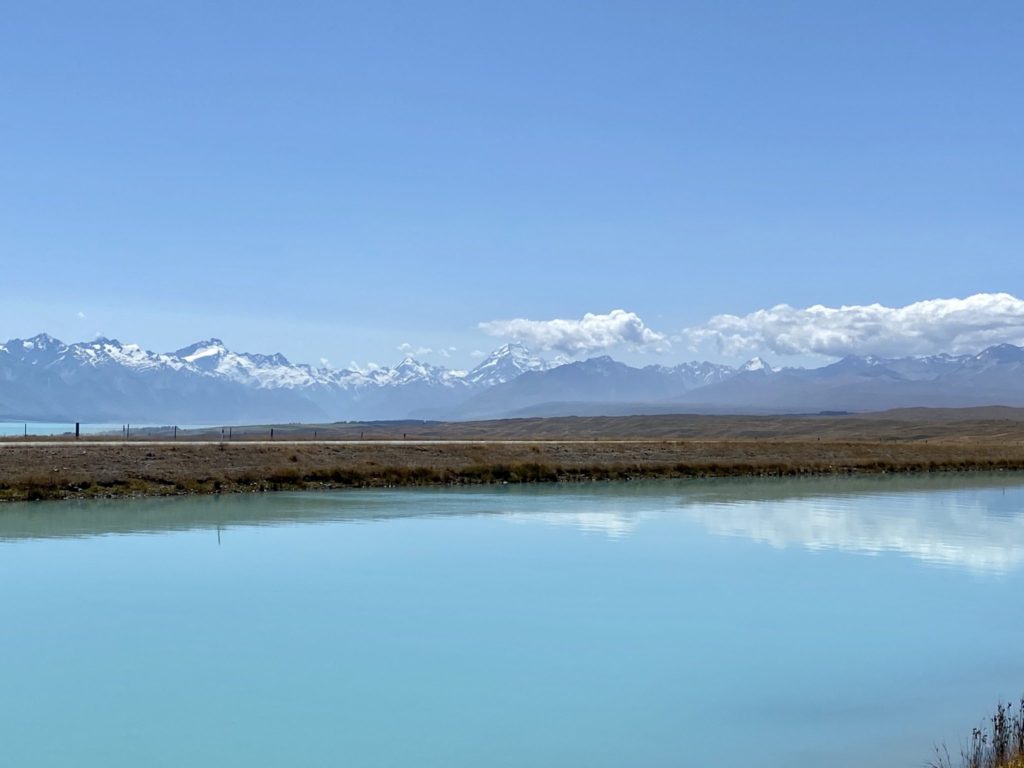 I did pass a salmon farm which was interesting for ten minutes. But the day wore on and my water levels were lowering.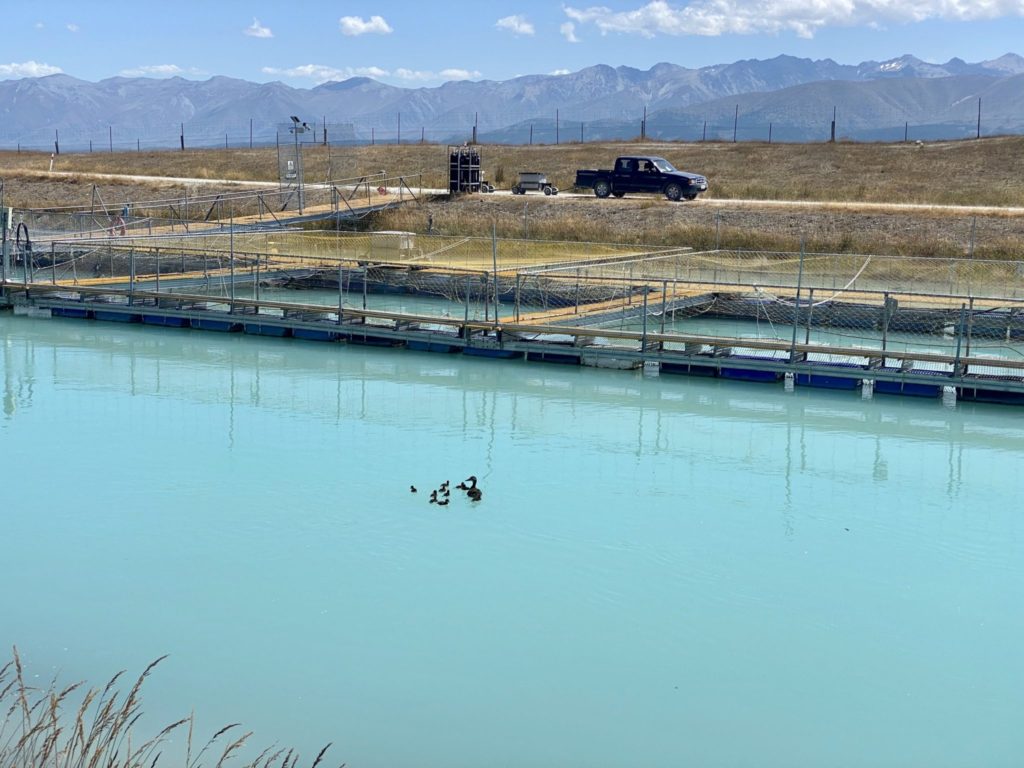 My friend Ron and Ger planned to meet me at my campsite in the evening. They've been following my journey and wanted to come see me on the trail. It was nice to have a light at the end if the tunnel.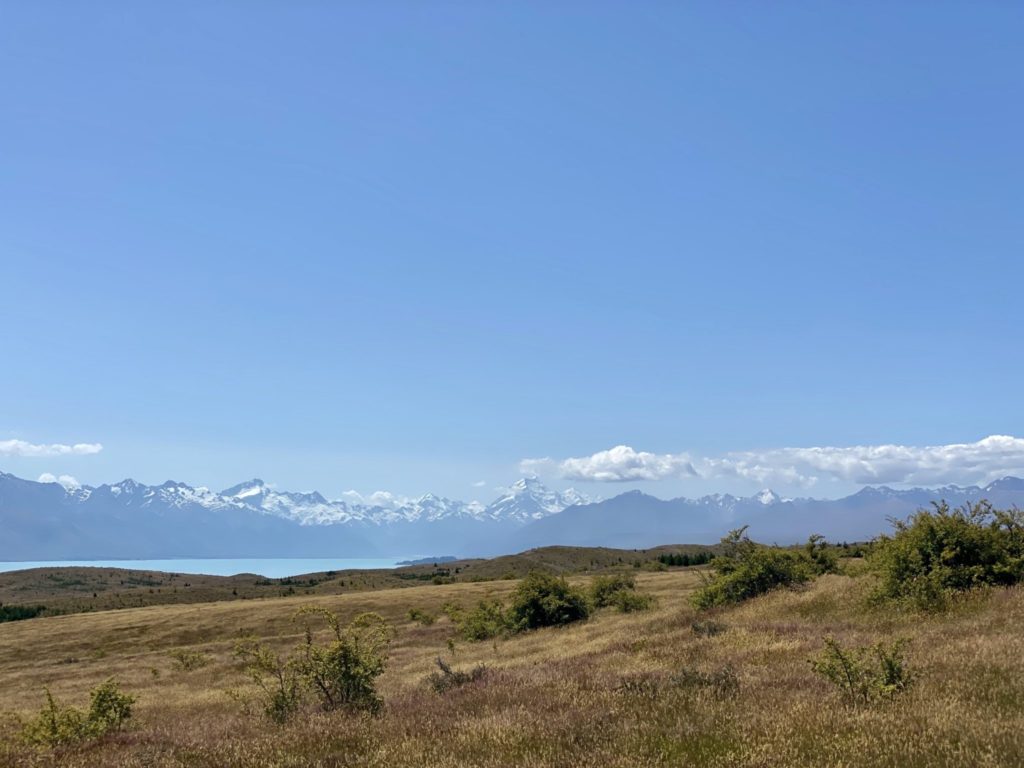 At last the canal ended above Lake Pukaki where it was piped down a hill to another power station. Lake Pukaki is even more turquoise than the canal and Lake Tekapo. It's water comes from Mount Cook/Aoraki and the surrounding Southern Alps.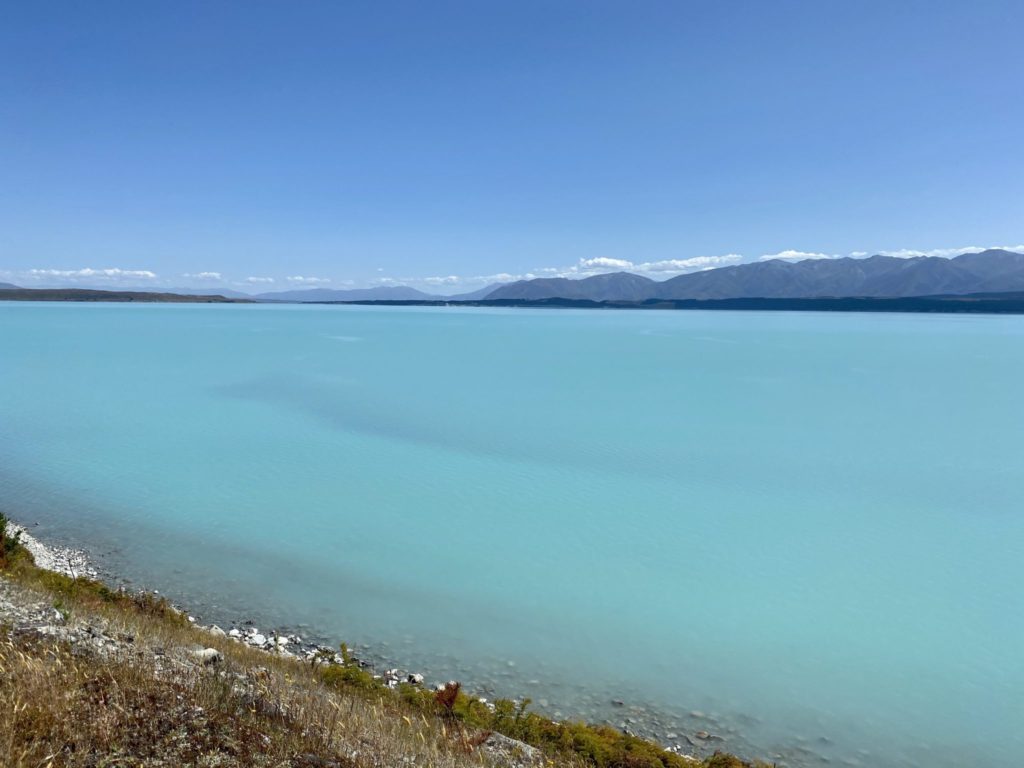 The lake was beautiful but my feet hurt. The road walk in wet socks the day before had messed up my feet. Though my shoes and socks were dry today, the endless road walk was taking its toll. My feet were in pain.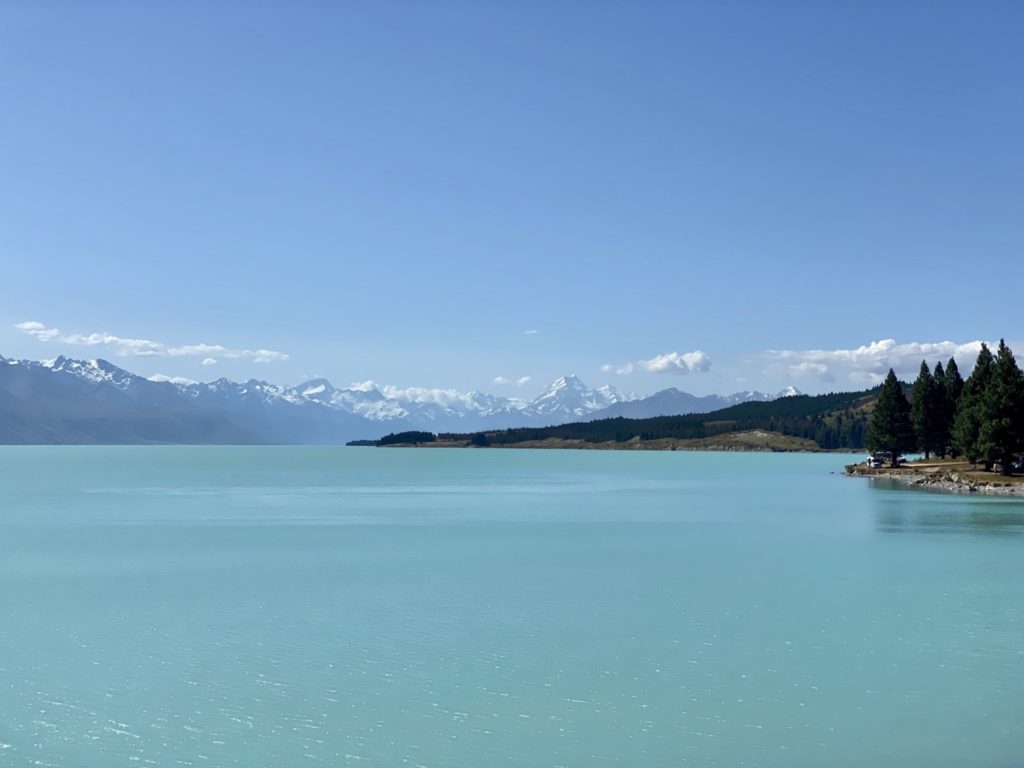 Also, I only had a half liter of water and still a few hours to go. I sat down in the shade of a tree and let my body rest and cool off. It was so hot in the sun, I was sweating away the little water I drank.
I followed the road around the lake, wondering if I might pass out from dehydration. Then, just as death was reaching out to me, a car pulled up beside me. It was Ron and Ger! They tempted me to get in the car and cheat the last 10km of my day but I said I couldn't let myself do that. So they did the next best thing and gave me their bottle of water. The trail provides (or rather my friends)!
With renewed spirits and hydration, I hiked along the shoreline, leaving the highway and following the bike path. It was a truly gorgeous day, albeit hot, with Mt. Cook towering above at the other end of the lake.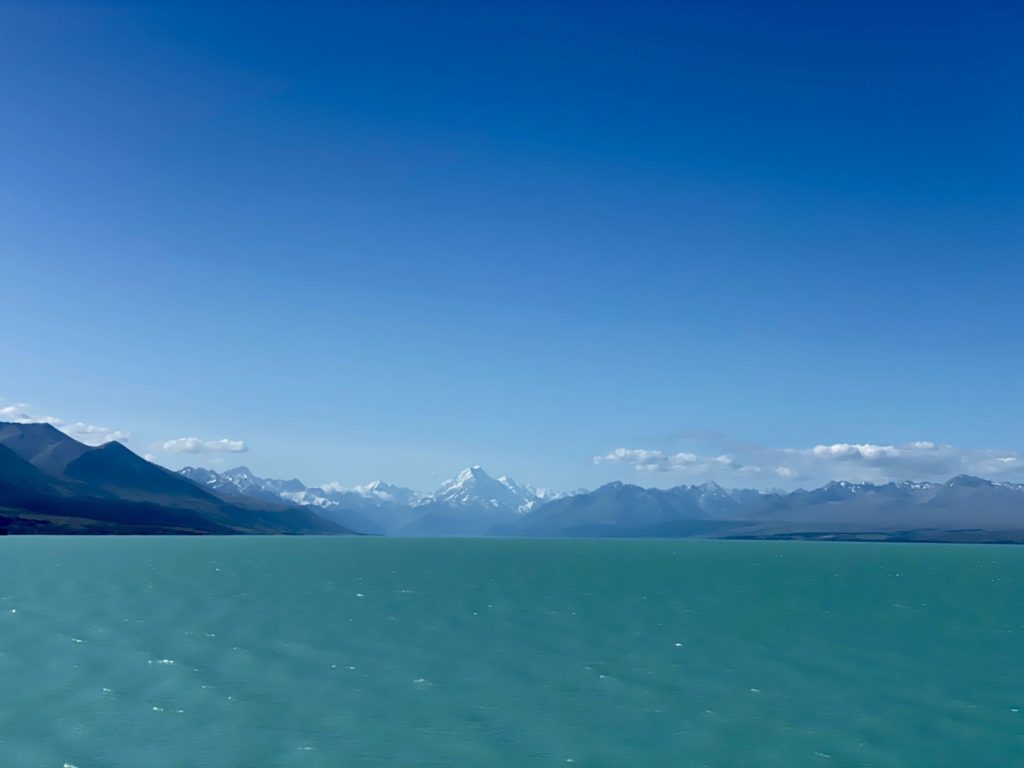 Finally I reached The Pines campsite. Apparently they no longer allow tent camping, only camper vans. My guide specifically said I could camp there but it must be outdated (even though it's the official guide and can be updated at any time…go figure). Nevertheless, Ron, Ger, and I sat under some shady pines and had beer and snacks. We talked about the trail and they even tried on my pack, only to realize it was ridiculously heavy. I still have way too much food!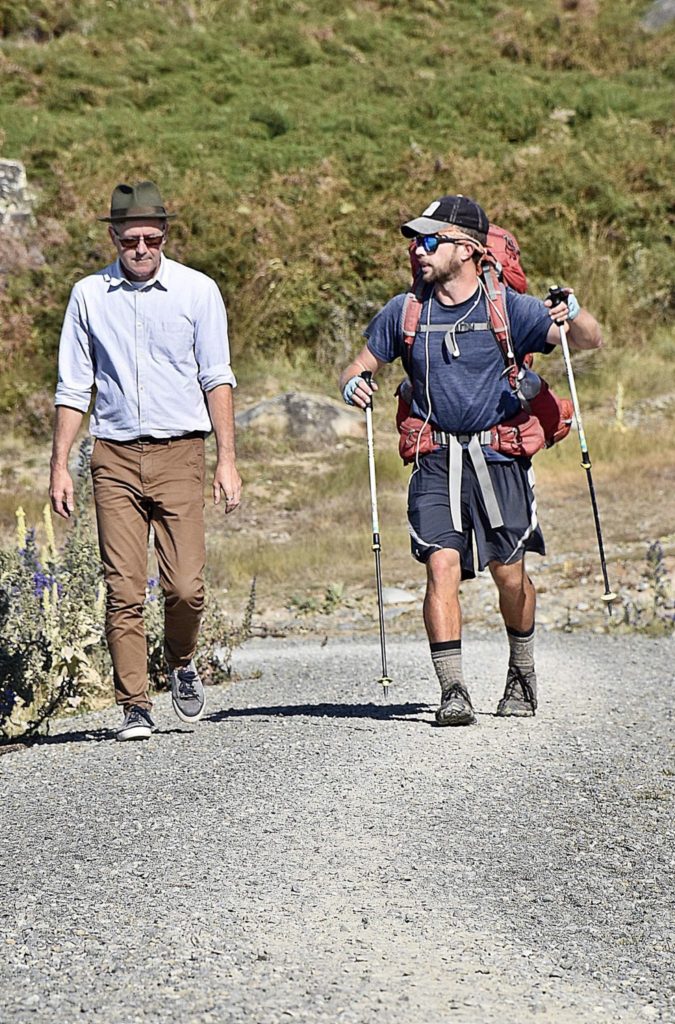 It was a refreshing end to a hard day, hanging with my friends who are now trail angels! I was so grateful for their generosity and it was nice to see them. They kept saying "I don't know how you do it." The only response I could think of was, "Sometimes I don't know how I do it either!"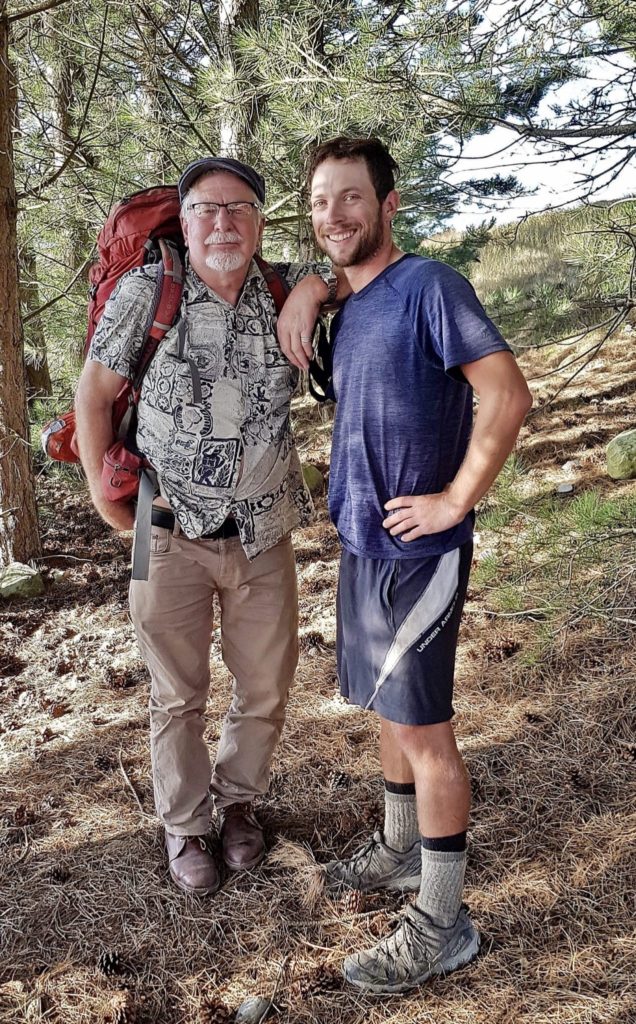 It was sad to see them go but they had to drive a few hours home. It was the perfect day for them to come out to the lake as the sky was clear and the mountains stunning.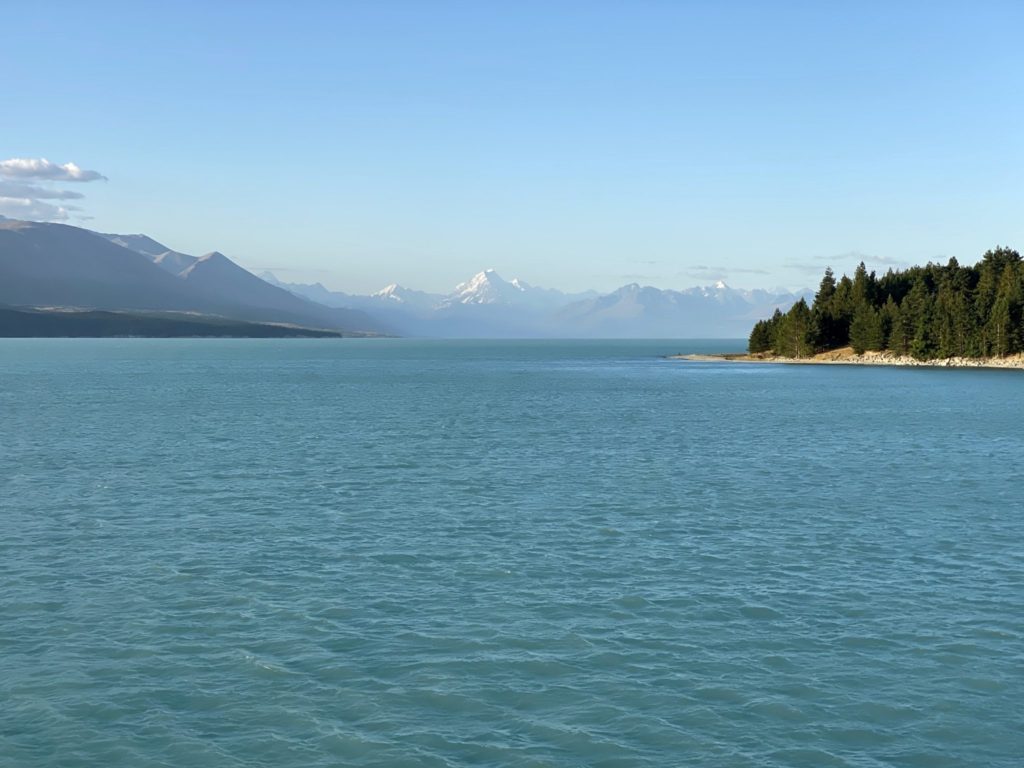 Now I had to deal with my camping problem. Ron and Ger had talked to the staff at the visitor center nearby and were told that someone goes around to check the campsite to make sure it's only camper vans. Not wanting to get caught in my tent, I decided to hike on despite it being past 8pm.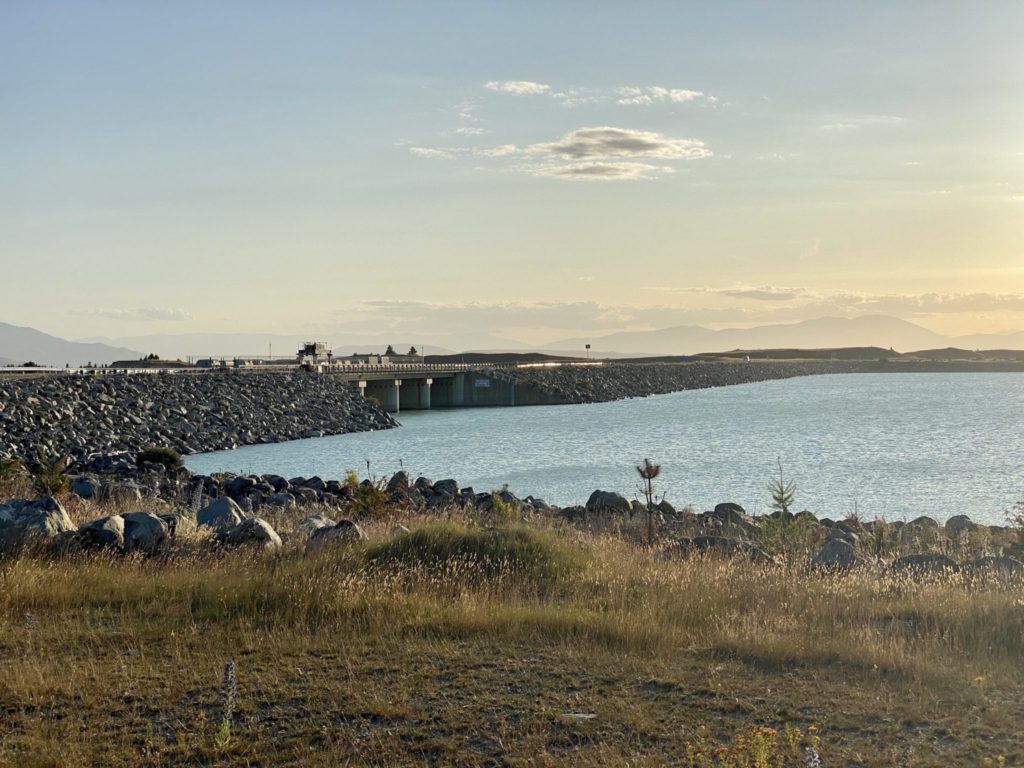 I crossed the Lake Pukaki dam and then headed along the bike path as it went into the bush. The land was actually owned by the power station and it said no camping, etc. but there was a perfectly good stand of young pines and it was obvious no one goes looking in this area. I stepped off the path and found my own secluded clearing in the middle of the pines and made camp. What a day!
Day's Distance: 44.5km (27.7mi)
Total Distance: 2,433.5km (1,512.4mi)
Distance Remaining: 566.5km (352.1mi)
---
DAY 76 – Lake Pukaki to Lake Ohau
I had a nice sleep in my private grove of pines. Once on the trail it was a pleasant morning through the pines.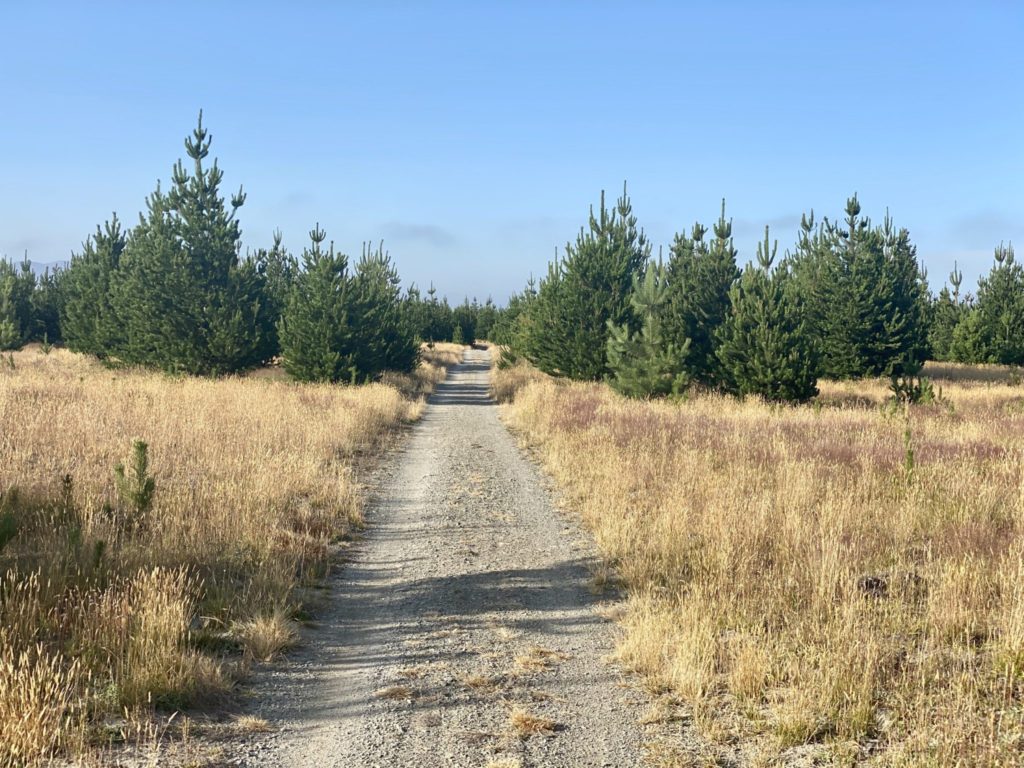 Then I was out in the open field walking along the gravel bike path. It was rather boring so I edited some videos and blogged whilst walking.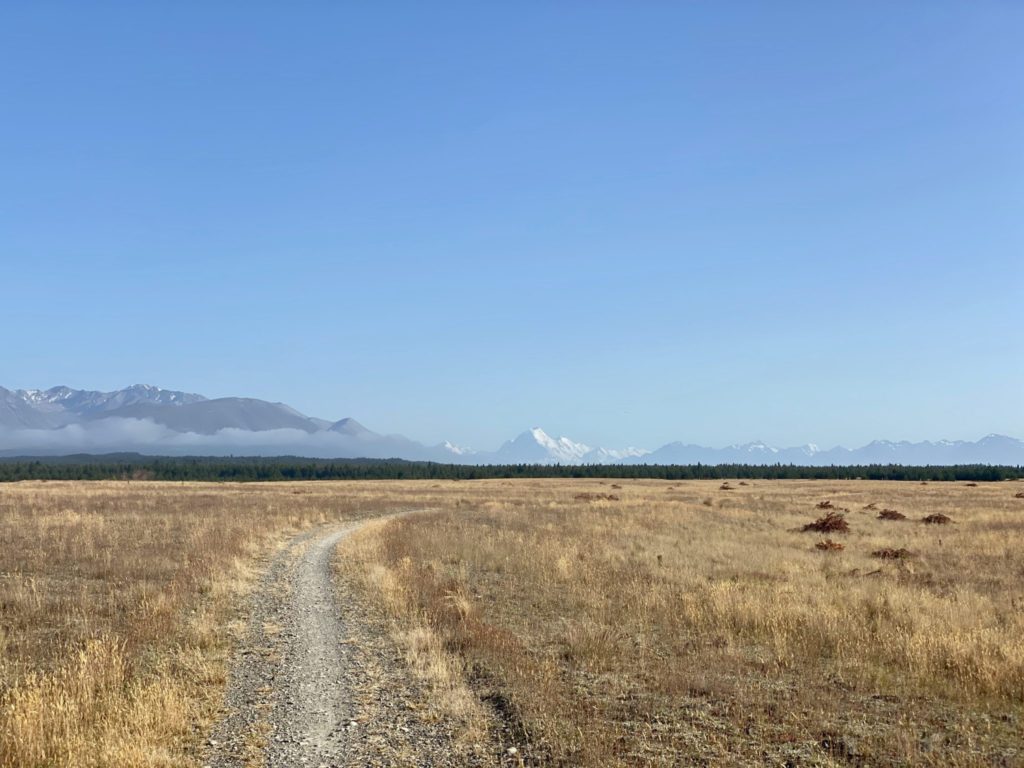 Soon enough I was in the town of Twizel. This is a planned community when they built the power station. Now it's a tourist town…the only town in the area to serve nearby Mt. Cook/Aoraki National Park. So hordes of tourists are about. I walked in to get some breakfast.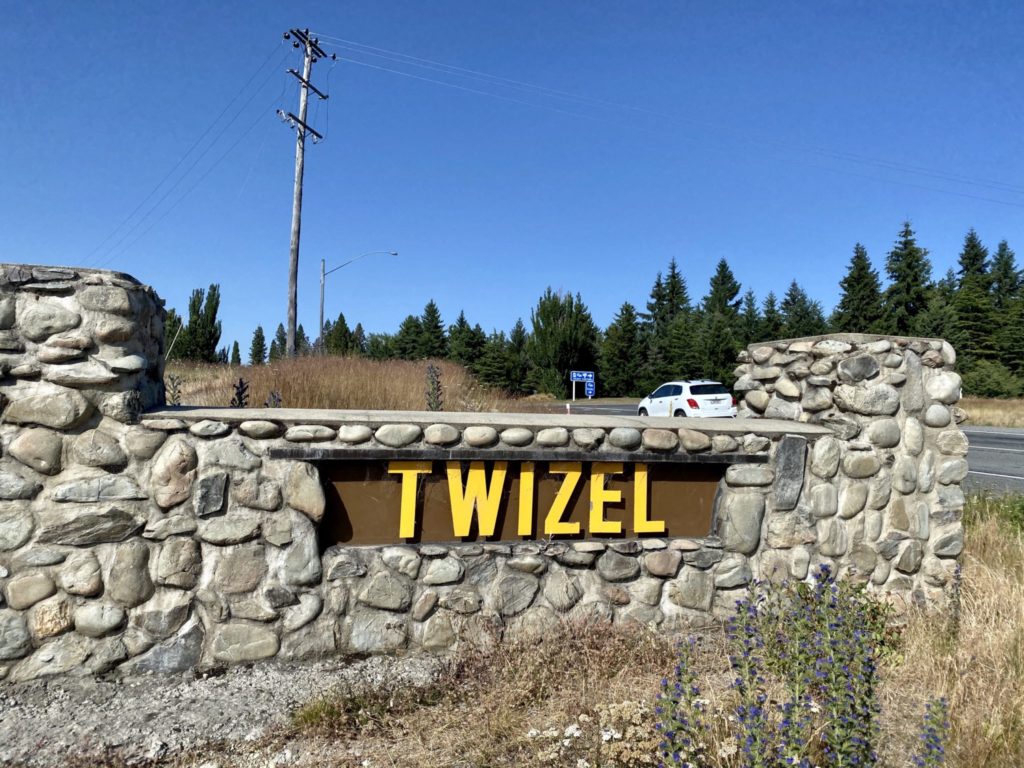 After some food and a nice sit, I headed back to the trail and was completely bored. First I crossed a canal for the power station and saw one of the giant turbines. Other than that, nothing of interest was seen.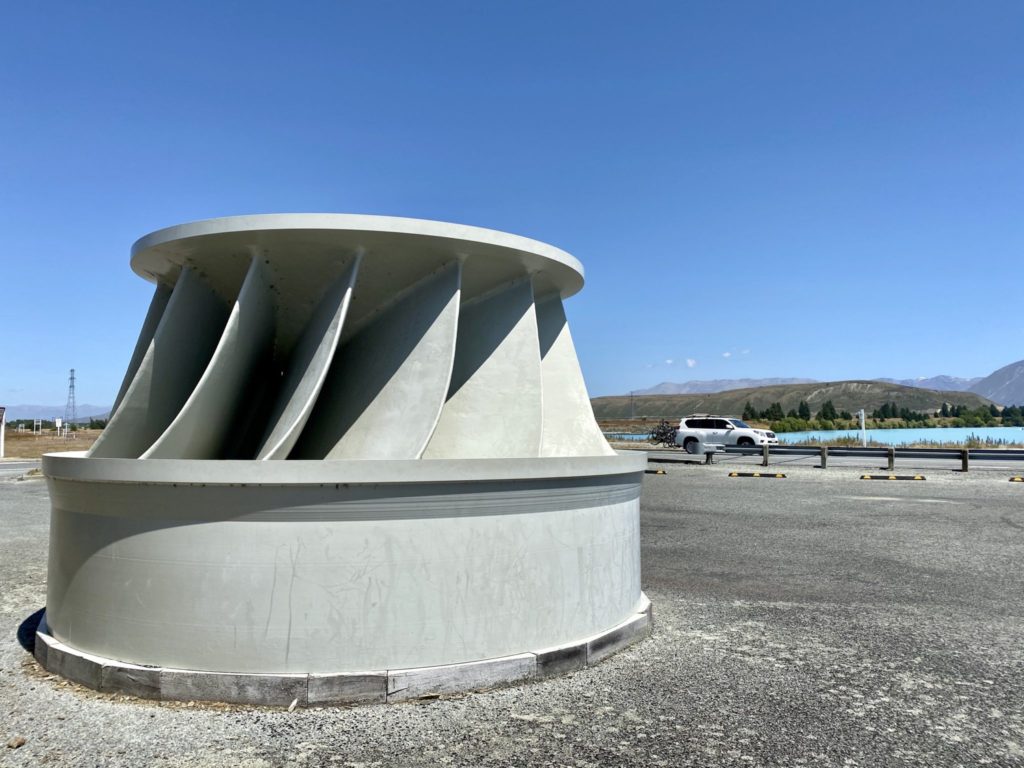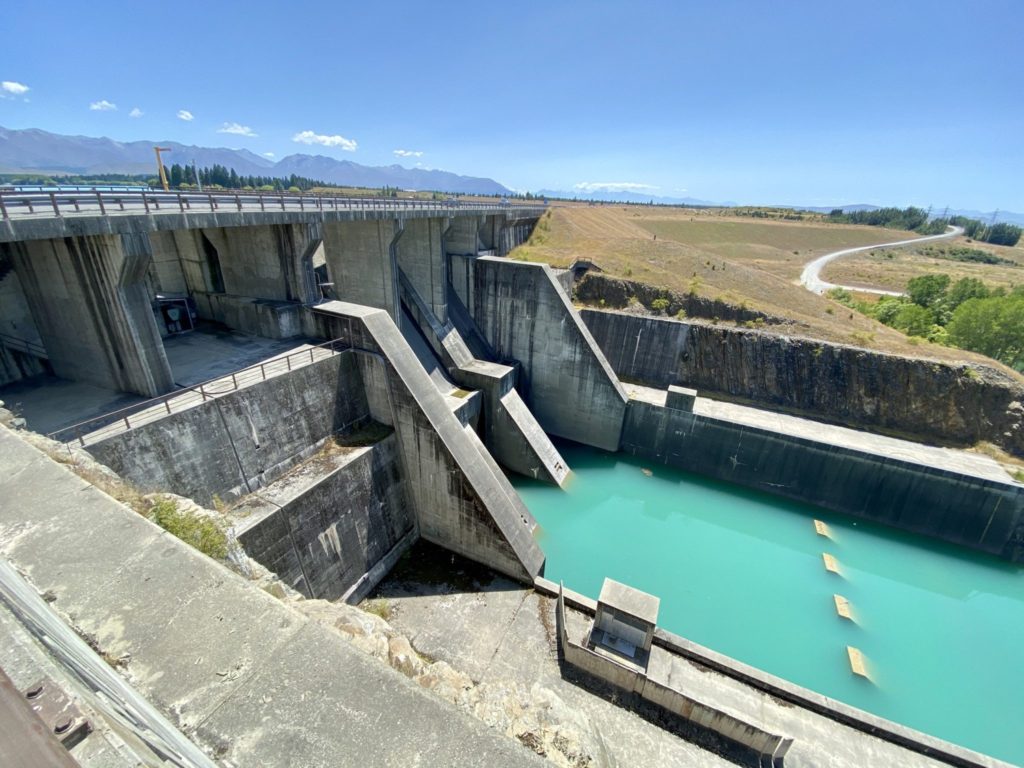 I walked in the hot sun on an exposed dirt road forever. There were no trees, only farmland and desert plants. Tom had worked on a dairy farm out here and told me how miserable the winter was with relentless wind, cold, and misery. He didn't last long at that job. Now I can tell him how the summers are…hot, dry, and bleak.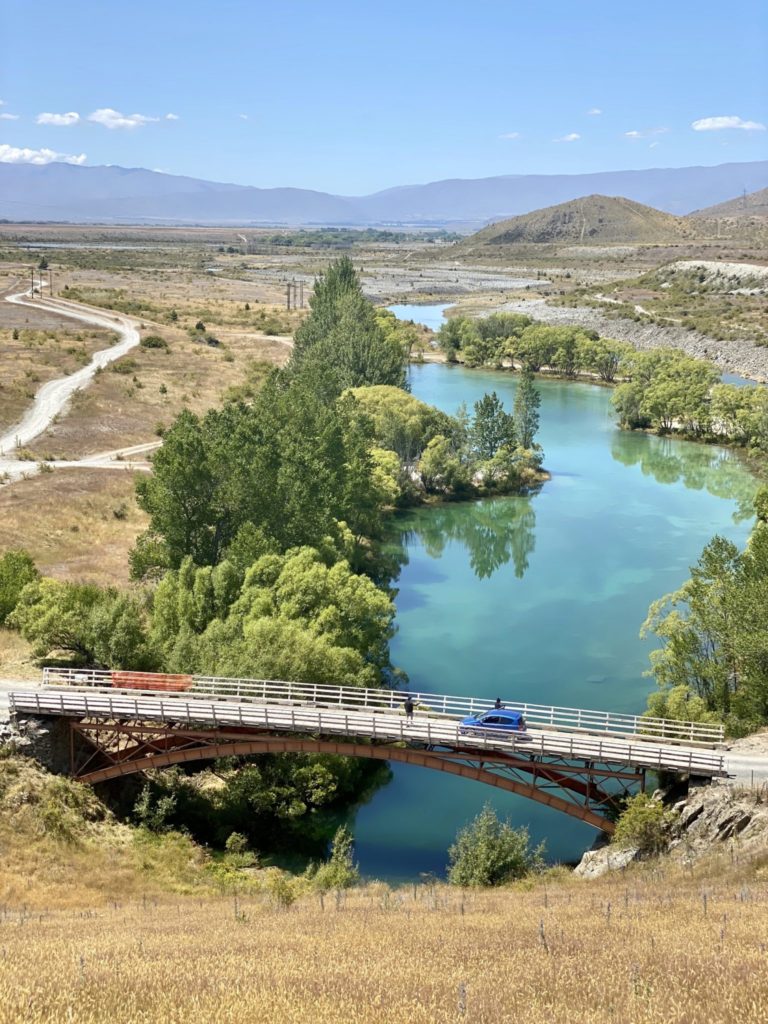 I was melting as I walked along. My feet hurt from the endless road walking and the large gravel was uneven. I completely understand why everyone chooses to bike this section. I didn't bike because I've walked every bit and if I biked now, I'd be mad I didn't bike the road sections on the North Island that were so awful.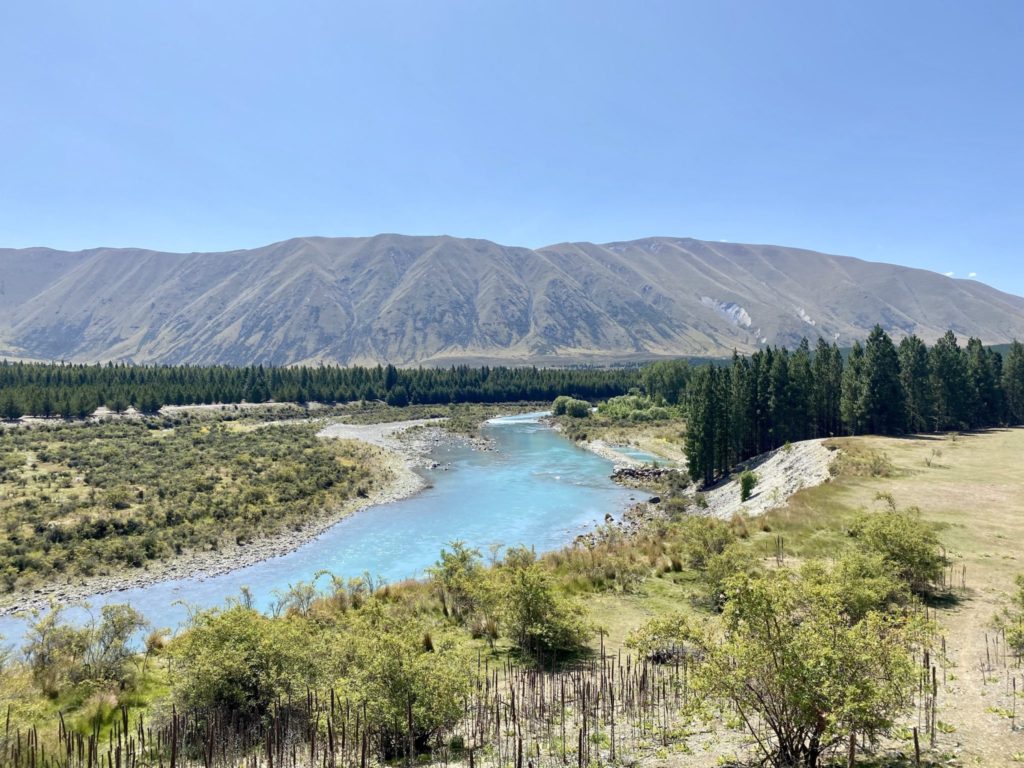 Eventually I reached Lake Ohau, a beautiful lake in the mountains, dammed up I assume. I followed the shoreline for a while. I was barely hanging on to my sanity.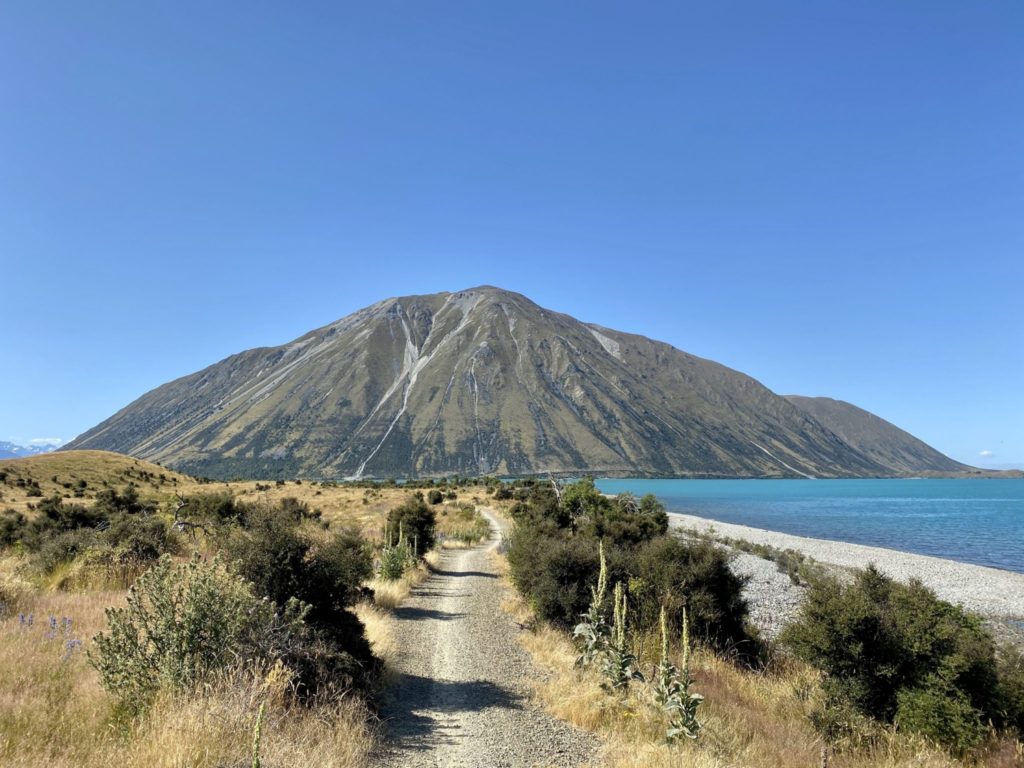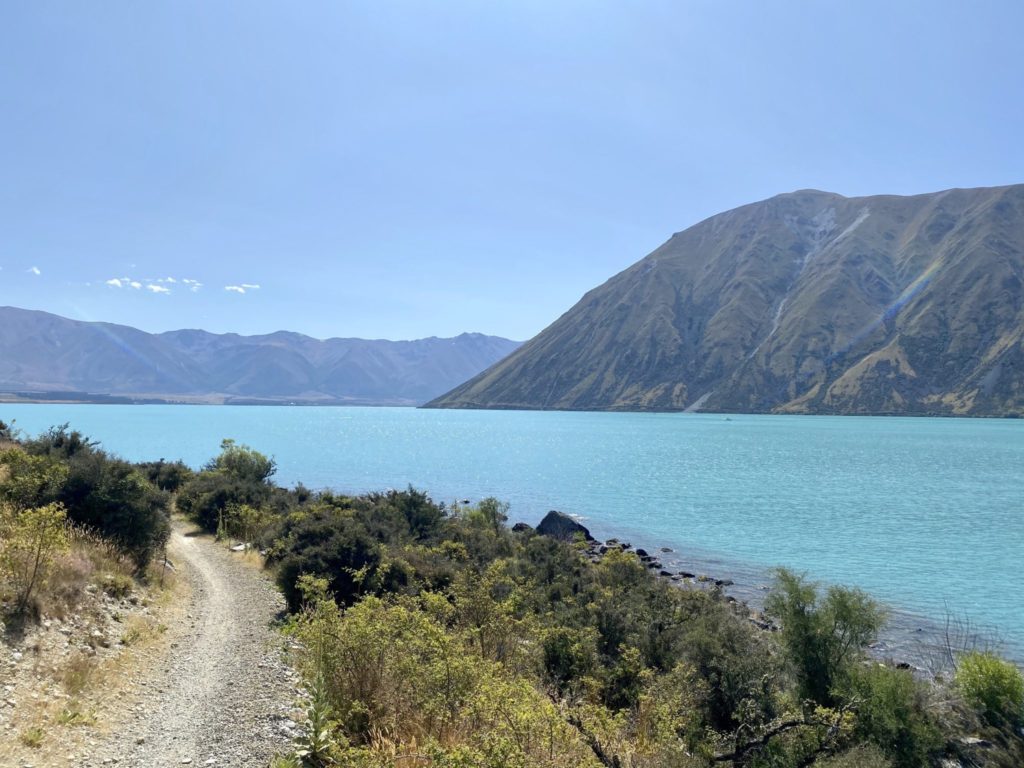 At long last I reached the little tiny cluster of vacation homes. I had arranged with a trail angel to stay the night and it was paradise.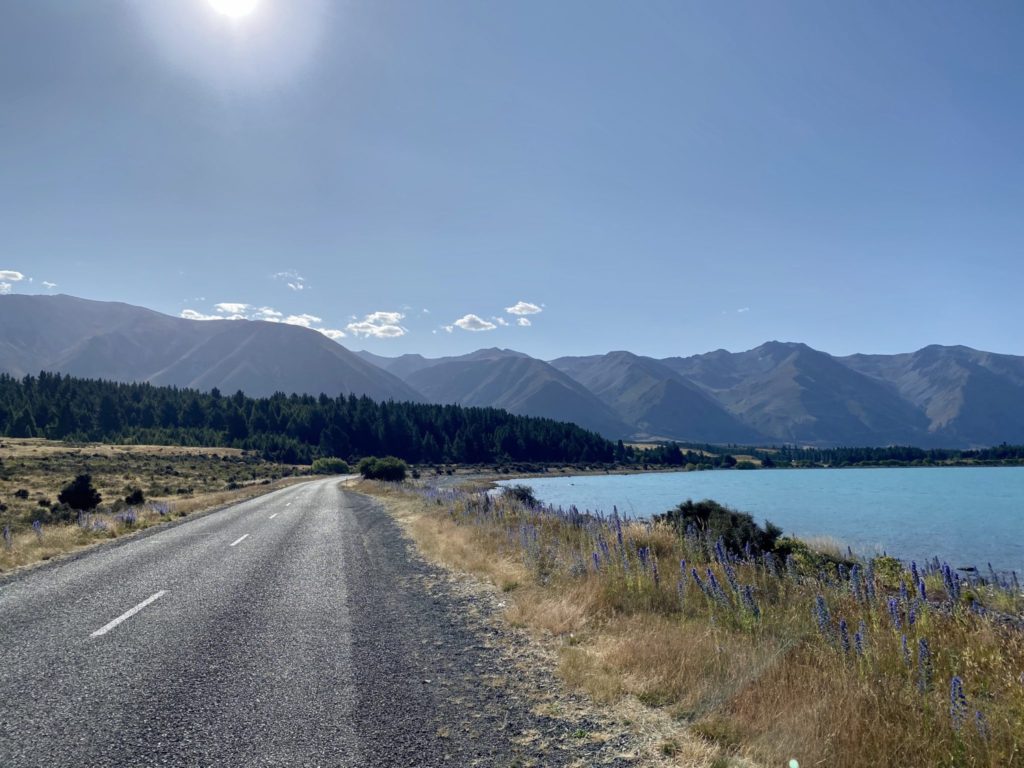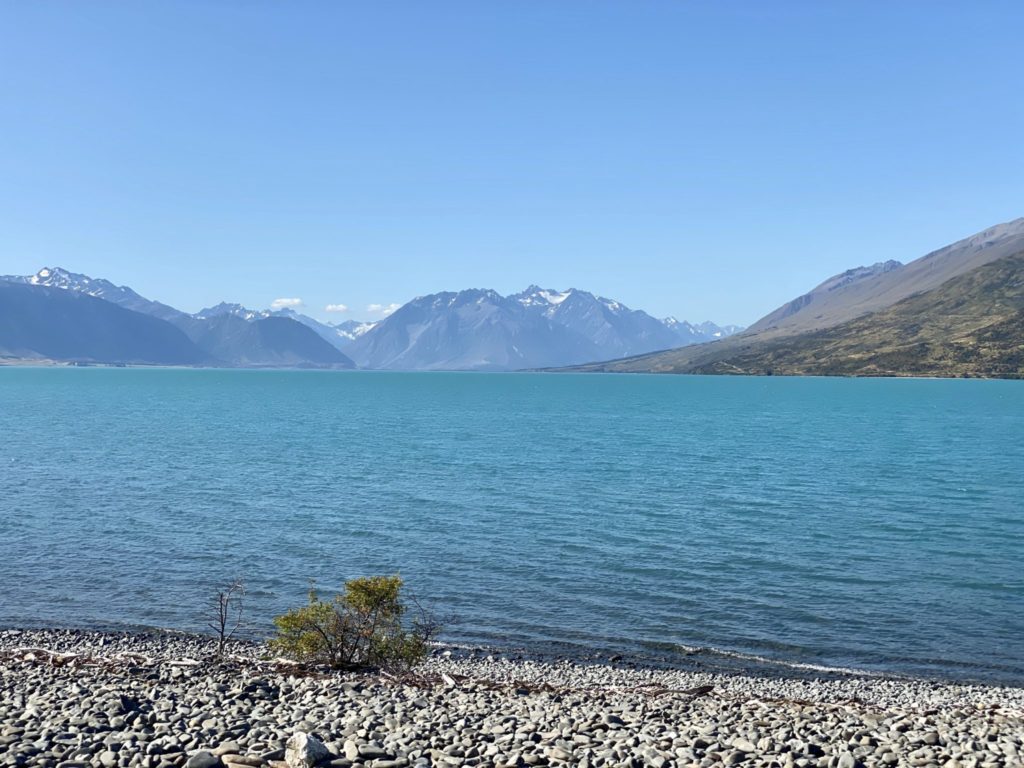 Joey invited me into his house and made homemade pizzas and we drank wine on the deck. The view was magnificent. We stayed up much too late talking and admiring the stars. I was thankful for a bed, a shower, and his hospitality. He was working at the nearby lodge and was renting this place. It reminded me so much of my job and living situation in Milford Sound (blog post on that will come post-hike).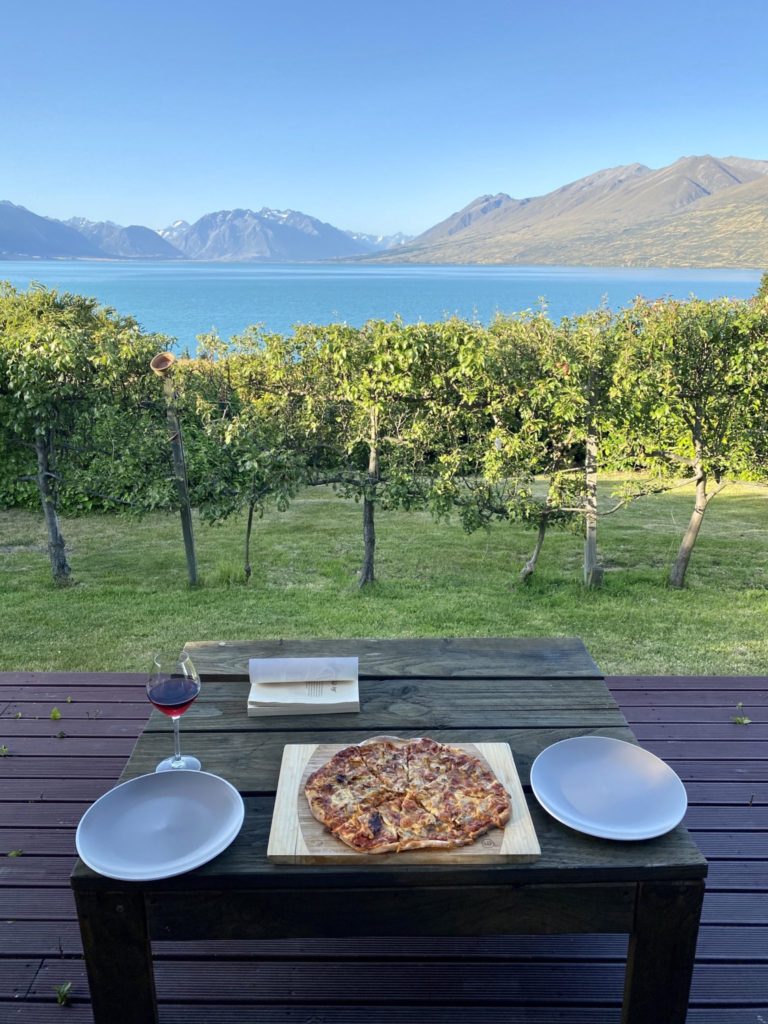 It was a rather dull day made special by the finale! Joey even invited me to come back after the trail if I wanted to enjoy the lake some more. I might have to oblige!
Day's Distance: 39.5km (24.6mi)
Total Distance: 2,473km (1,537mi)
Distance Remaining: 527km (327.5mi)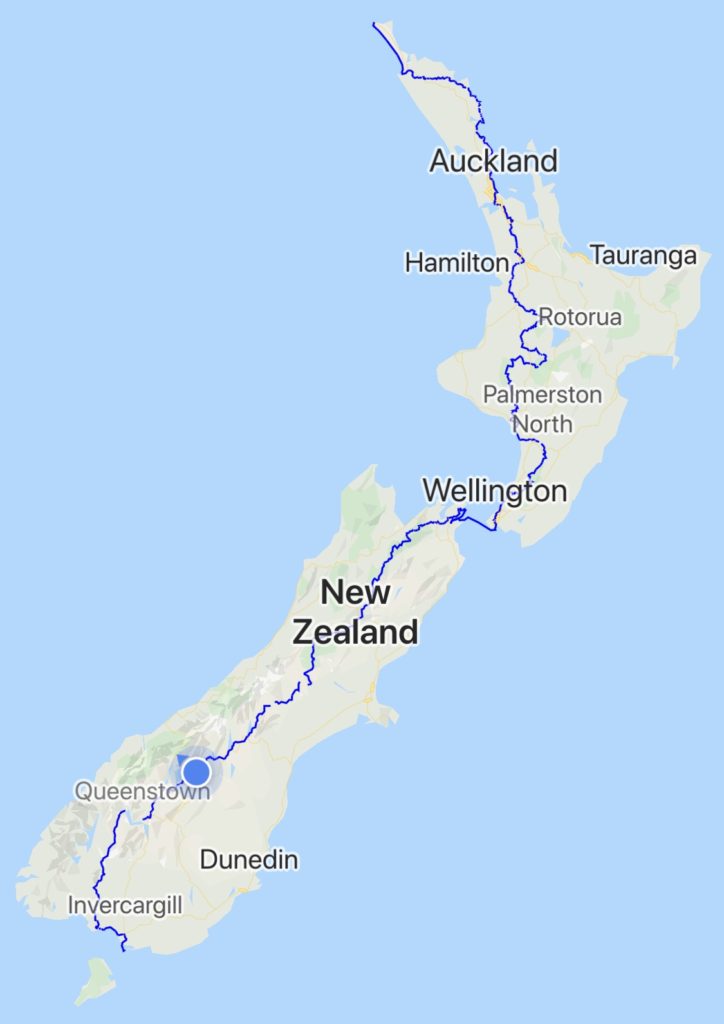 ---
TRAIL TUNES
I know I put a lot of Dolly songs on here but I couldn't stop singing this old American folk song as I camped "In the Pines."
---
Shop Te Araroa Merchandise
---
From apparel to prints, grab some awesome trail merch at the A Stray Life Shop!
To follow along with my adventures, sign up via email below or like/follow on Facebook, Instagram, and YouTube: